How This Bespoke Suit Startup Became One of America's Fastest-Growing Companies
Knot Standard is changing the fashion game, one custom suit at a time.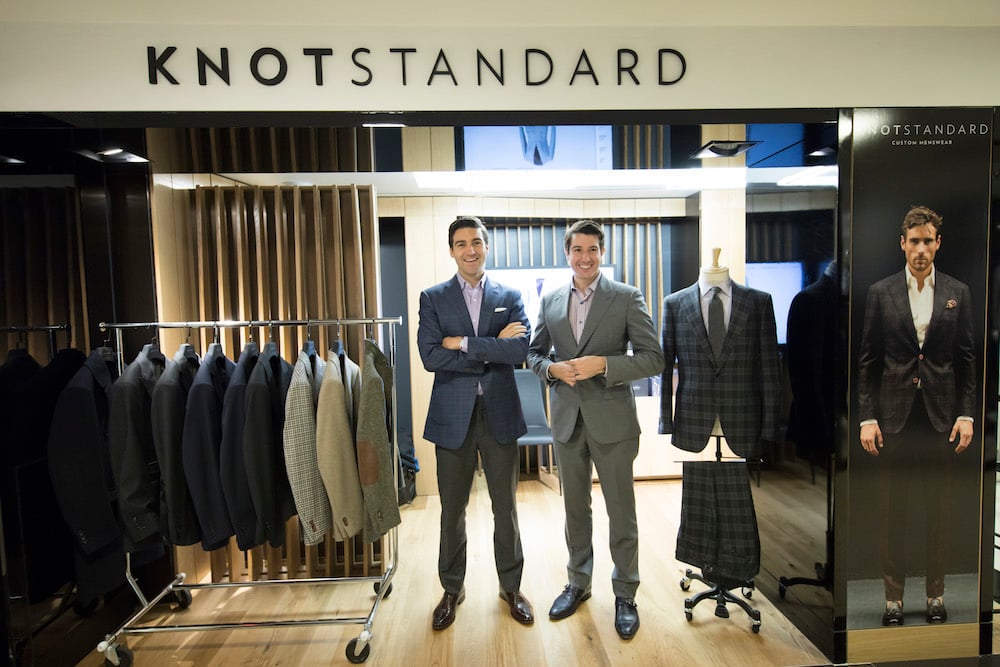 A bespoke suit is a must for any man of status, but not all of us are so keen to make the schlep over to London's Savile Row. What's more, the experience of hunting for a great custom suit, blazer or tuxedo can be confusing and daunting to tailoring novices.
But a relatively new company, Knot Standard (founded in 2010), speaks to the average suit shopper more on his level, allowing him to customize a suit with with an impressive range of fabrics and styles and an array of button, pocket, lapel and stitching options, all available entirely online.
Just check out some of their select fabrics and cuts in the gallery below:
Launched by former finance-types John Ballay and Matt Mueller, the New York-based Knot Standard intended to fill a dearth in bespoke suiting in the United States, after the founders noticed their American colleagues in Dubai weren't dressing up to snuff at international business meetings and didn't have the desire to seek out a traditional tailor.
"In the U.S., we just didn't have anything available that was well-fitting. All the customizable options in the United States were 1,500 bucks and up—and it took eight weeks," Ballay told Inc. magazine, which described Knot Standard as "one of the fastest-growing private companies in the U.S."

"The whole process was relegated to an age-old system: an old tailor on Madison Avenue or downtown Nashville or uptown New Orleans," Ballay said."They made it in the back of the shops. But what about those who didn't even have those options?"
The suits are still expensive, in the thousand and two-thousand range, but that's appreciably less than the usual three to five grand, and the process has been remarkably expedited: shoppers just enter their measurements online and pick and choose fabrics as they like.
Here are some end results:
Still, Knot Standard has incorporated brick-and-mortar showrooms into their model, where specialists are on standby to help men create the best suit for them. There are now outposts in Washington, Dubai, Austin, Dallas, Houston, Chicago and San Francisco in addition to a New York City flagship store.
Remarkably, the fashion world has welcomed the disruption, and Knot Standard has become a new standard in the suit game. The company just recently opened a 125-square-foot showroom in New York's Bloomingdales flagship, a cutting-edge new clothing experience unlike any in a traditional store or showroom.
With assistance of stylists, shoppers can digitally design and visualize custom garments on large in-store touchscreens or on any iPad they bring along with them. From there, selections are applied to 3D models on the big screen, helping men get a better look at the end result.
"Our store-in-store shop within Bloomingdale's represents a milestone within the custom clothing industry," John Ballay said in a statement. "For the first time, 3D technology brings the customer experience above and beyond the traditional tailor fabric swatch books, and now allows clients to visualize full products before buying."
"The level of customization our proprietary technology enables is exponentially higher than made-to-measure," Matt Mueller added. "From the shape of the lapel to the lining choice to the color of the button hole thread, the customer for the first time can become the designer with 100% creative control."