These Lamborghini Desks and Sofas Will Rev Up Your Home Office
Interior design goals for supercar superfans.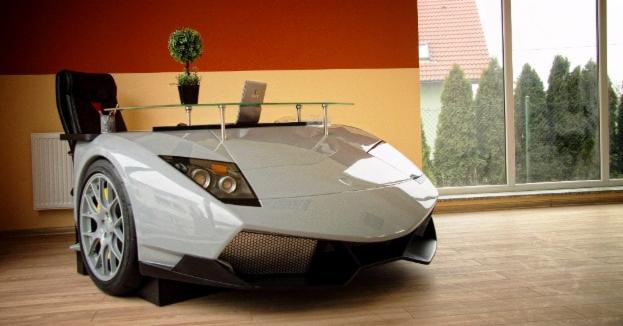 Credit: Design Epicentrum
Never mind that totally sweet, race car-shaped bed you once coveted as a kid. Now it's possible to own a truly insane line of Lamborghini-shaped desks and sofas courtesy of the inspired minds at Polish furnituremakers Design Epicentrum.
Taking inspiration from the nose of a Lamborghini Murcielago, the desks will be limited to an edition of 44 pieces only. 
The predominantly fiberglass design can be customized to individual specifics in terms of color (even down to the brake calipers) and some elements of the desk itself. 
There's an additional plate of glass above the headlights for promotional purposes or even lighting options to make it pop even more.
Equally eye-catching are Design Epicentrum's Lambo-inspired sofas. Featuring the same nose, these deceptively look almost like a regular couch, until you walk around it to see the hood and bumper integration. 
Like the desk, the sofa is highly customizable in terms of color and materials, especially for the upholstery and cushion elements.
The Lamborghini desk and sofa are both priced well into five figures, with the sticker starting at around $34,000 for each piece.  
Of course, it's up to you whether you want to drop that kind of cash on a statement desk, bank it for your actual Lambo fund, or spend it on a BMW, Mercedes, Cadillac or Jeep from this best cars under $35,000 list. Your call.