'Suit Shorts' Are the Unlikely Fashion Trend Dominating the NBA Finals
Does this look really suit anyone?
(Photos: Getty Images)
No, that wasn't a 6-foot-8 schoolboy sauntering into Oakland's Oracle Arena for Game Two of the NBA Finals on Sunday night. It was LeBron James once again donning some seriously questionable "suit shorts."
The NBA's greatest player had previously turned heads with his pre-game apparel before his Cavaliers lost to the Warriors in Game 1. He rocked a slick gray suit, complete with shorts, by designer Thom Browne, along high socks, pebble grain leather boots and a $41,000 crocodile bag.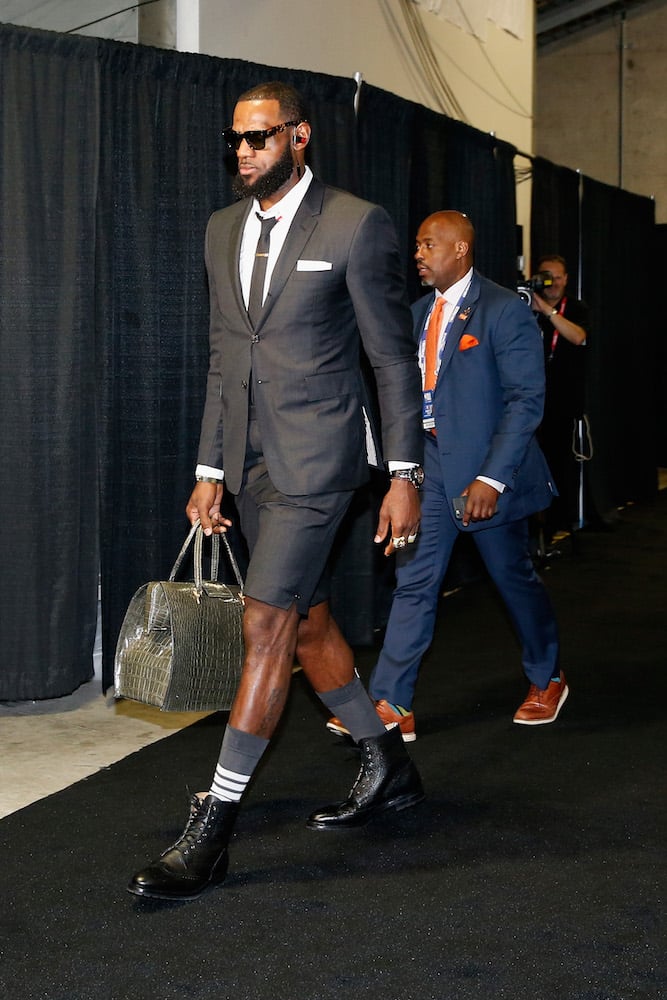 If it wasn't for LeBron's reaction to J.R. Smith's epic fuck-up, photos of him wearing the shorts would have been the meme of the night.
He even put them back on for Game Two, although at least he went with a more locker room-appropriate duffel bag this time around. Not that the outfit tweak prevented the Warriors from dominating the Cavs yet again.
Golden State's resident troublemaker Draymond Green showed two came play at that game with blue suit shorts of his own.
The oddball looks definitely turned heads, and coaches of both the Cavaliers and the Warriors were asked to chime in by reporters (they declined). But suit shorts aren't a new phenomenon.
They were first popularized by two-time CFDA-winning menswear designer Thom Browne, who started up his eponymous line in 2001. Wearing his own suits with shorts and knee-high socks has become his trademark.
Beyond the realm of New York fashion, you've probably only seen British royal children like Prince George wearing them. Known as "breech pants" in the U.K., they are a custom for posh kids until around the age 10 (when they stop looking cute).
Would you ever rock suit shorts as a grown-ass man?