These New Air Jordans Are Made From Levi's Denim
Jean dream or denim disaster?
The denim-on-denim look, often a trucker jacket or denim work shirt worn with a pair of jeans, is beginner-level stuff.
Jordan Brand and Levi's are looking for the true denim-heads among us, seeing who would be willing to rock a denim-on-denim-on-denim look. To that end, the brands have collaborated on a new Trucker Jacket and pair of Air Jordan IVs, made of denim no less.
The Air Jordan 4s boast the kind of sturdy, washed jean material for which Levi's is known. Reverse denim (the kind on the inside of your trucker jacket or blue jeans) is used on the liner and outsole for contrast.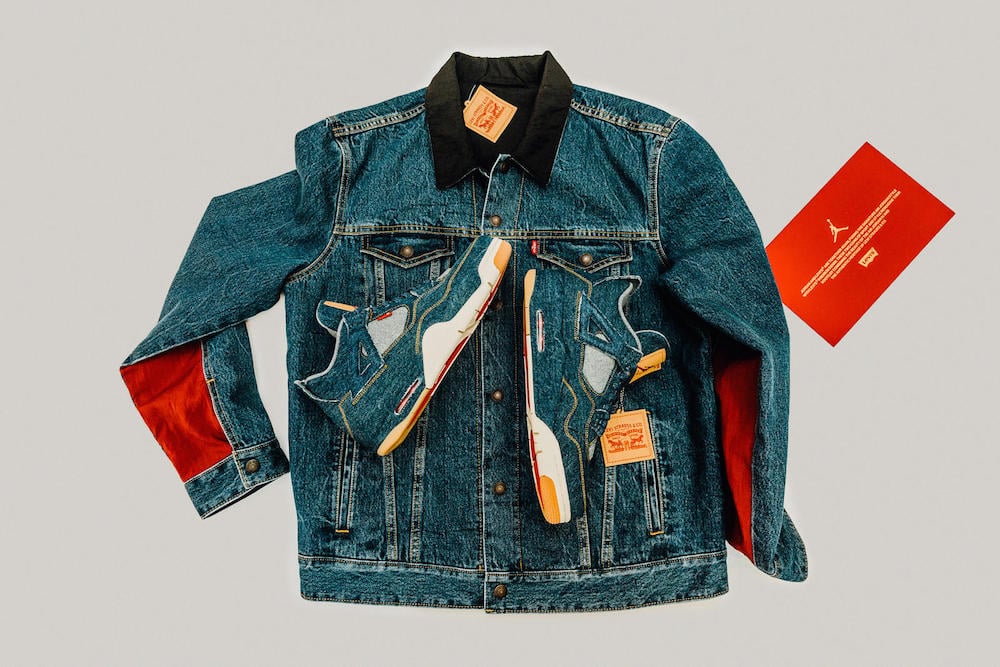 The iconic Levi's "Two Horses" emblem has been mixed with the equally recognizable Jumpman logo. Gum details have been added to the thick white outsole while gold stitching and indigo laces bring some harmony to the mix. So don't worry about looking like a projectile loom has exploded on your kicks.
With a pair of Levi's 501s of course, throw on the new denim Trucker Jacket to complete the look. Now, red underarm panels that evoke the material of the classic Jordan Flight Suit have been added.
Jordan Brand and Levi's know all that denim could be too much for some sensibilities. So they've made the Trucker Jacket reversible. Flip the jacket, and you'll have the same jacket but made of black Flight Suit material with denim details on the collar.
The Jordan x Levi's® Air Jordan 4 and Jordan Reversible Trucker Jacket release January 17. The Air Jordan 4s are rumored to cost around $225.