Louis Vuitton Buys Second-Largest Diamond In the World
The fashion house would not reveal what it paid for the carbon-coated gem, which could yield millions in profit if flawless.
Louis Vuitton/Lucara Diamond Corp
In April 2019 Lucara Diamond Corp. announced the discovery of a 1,758-carat diamond from a mine in Botswana. In photos, it looked more like an innocuous lump of coal, but the Sewelô diamond, as it was later dubbed, was an incredible find, ultimately determined to be the second-largest gem of its kind in the world.
Last week, Lucara entered into a collaboration with the Louis Vuitton luxury fashion house to knock the soot off the giant jewel and see just what kind of treasure it can yield.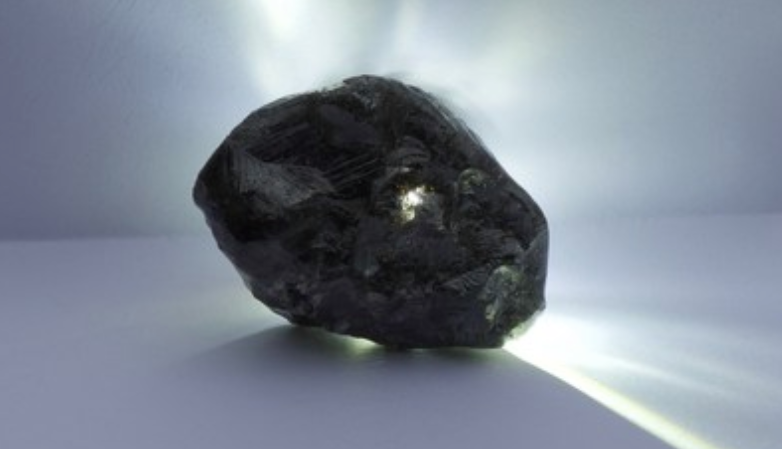 This is from Lucara's January 15th announcement:
Lucara believes that the full potential of this special stone will only be revealed once polished. The purpose of this unprecedented collaboration between a miner, a cutting edge manufacturer and a large luxury brand will be the planning, cutting and polishing of a collection of diamonds from Sewelô . Lucara will receive an up front non-material payment for the Sewelô and retain a 50% interest in the individual polished diamonds that result. 
The New York Times reports that this purchase is "the latest sign, following the $16.2 billion purchase of Tiffany by the French behemoth LVMH (the parent company of Louis Vuitton) in November, that LVMH is out not just to compete, but to utterly dominate the high jewelry market."
The Times also reported that Louis Vuitton CEO Michael Burke "declined to say how much the company had spent on the stone, though he acknowledged it was in the 'millions'…"
Lucara says their profits will not just go to their bottom line, but also "be invested directly back into Botswana" and company initiatives designed to benefit the region.
https://www.youtube.com/watch?v=LOe4xIGcmyk
The purchase is a gamble of sorts for Vuitton, reports the Times. The diamond is encased in carbon (which is why it looks like a hunk of coal) and its ultimate yield is a mystery at the moment. Will it return perfect, flawless stones, proving itself an excellent investment, or just be good for the kind of basic, raw diamonds that end up used in manufacturing?
If the Sewelô (the name literally means "rare find") is basically a dud, Louis Vuitton and its parent LVMH can take the loss, given they were raking in over $50 billion in profit in 2018 alone.
And if the diamond is significantly flawed and only good for industrial use, there's surely a market out there somewhere for stylish Louis Vuitton diamond drill bits.