Live the High Life in Europe's Premier Penthouse Suites
These ultra-luxurious rooms are truly tops.
(Photo: Hotel Metropole Monte-Carlo)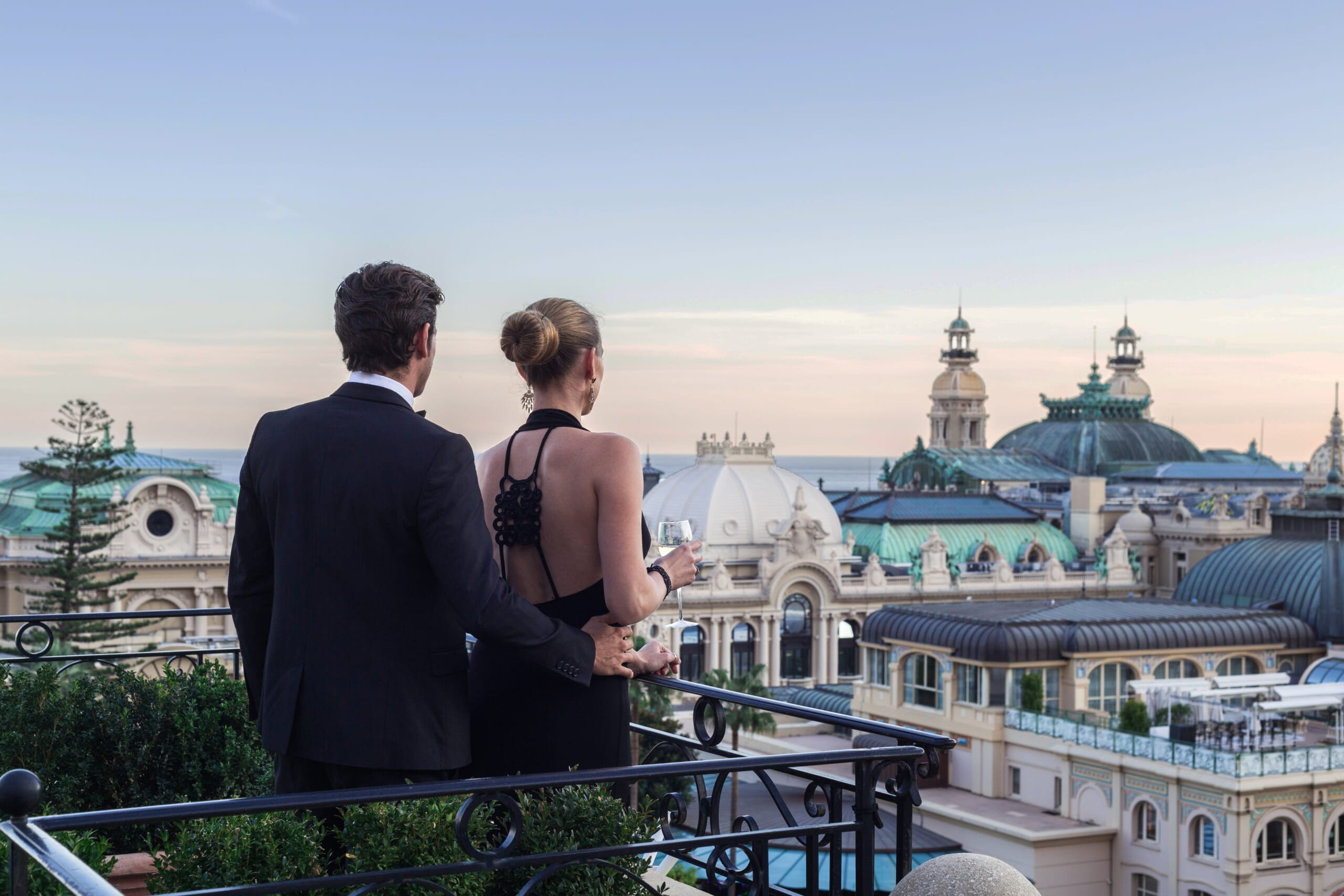 What's better than taking an extended trip to one of Europe's most sought-after cities? Doing so from the comfort of a luxurious penthouse suite, of course.
When a regular room simply won't cut it, spring for one of these super-suites, each perched high above the hustle and bustle of city life below. 
They're opulent, they're over-the-top and they're guaranteed to leave you ogling.
Rome, Italy
Baglioni Hotels is known for being Italy's only family-owned, independent luxury hotel group, famous for their old world Italian charm, lavish accommodations and modern touches. And the Roman Penthouse at Baglioni Hotel Regina is no exception. 
Experience the dolce vita in this massive, 6,028-square-foot space (including 3,122 square feet of private outdoor terrace), offering unparalleled 360-degree views of the Eternal City. Sprawling across the hotel's entire eighth floor, the penthouse comes with an impressive master bedroom, two deluxe rooms, multiple living areas, a dining room and four bathrooms. 
Some other perks? Expect 24/7 butler service, a private chef and an on-demand barman to pour as much limoncello as your heart desires. 
While in Rome, be sure to check out Baglioni's recently launched Assoluto Programme, giving guests exclusive access to one-of-a-kind experiences, such as private in-suite performances by iconic Italian musical groups, meeting with legendary watchmaker Massimiliano Ceccacci and access to a fleet of Italian supercars like Ferrari, Maserati and Lamborghini.
Dublin, Ireland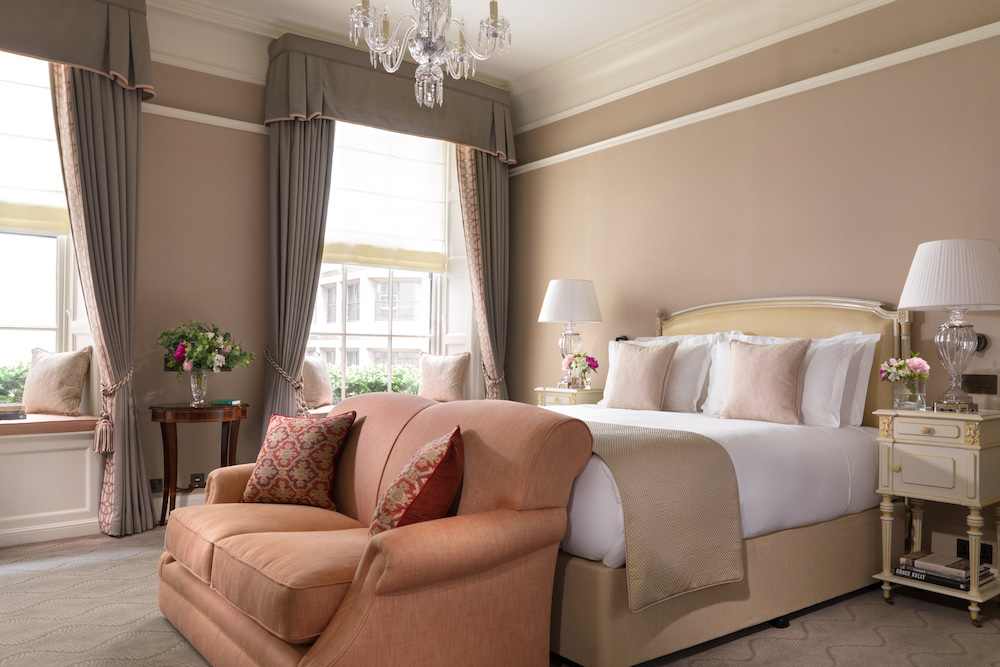 The Shelbourne, constructed in 1824, is a time-honored Dublin landmark revered for its understated luxury of Irish art-de-vivre. The distinguished property recently completed the initial phases of a multi-million dollar refurbishment, and the results are nothing short of impressive. 
The Princess Grace Suite is the most luxurious accommodation, named after Princess Grace of Monaco who requested this retreat whenever she frequented the hotel – so you know it's fit for royalty. The 1,530-square foot suite features two spacious bedrooms, vaulted ceilings and remarkable design details like Waterford Crystal chandeliers and antique pieces displayed throughout. 
But the real crowd-pleaser is the sweeping landscape view of St. Stephen's Green and the city of Dublin below. Needless to say, you'll be feeling the luck of the Irish after just one unforgettable night in this stunning penthouse suite.
Paris, France
The City of Light is undoubtedly one of the world's most romantic destinations, and when it comes to the top suites in Paris, none compare to this beauty. 
Le Meurice, part of Dorchester Collection, is a historic palace located at one of the most distinguished addresses on rue de Rivioli. The property combines 18 century grandeur with contemporary French design, helmed by famed designer Philippe Starck. The Belle Etoile Suite is perched on the hotel's top floor and spares no expense, outfitted with deluxe fabrics, finely crafted marquetry and a collection of art and rare antiques.
Guests can anticipate an airy master bedroom with a walk-in closet, a lavish marble bathroom, an extravagant sitting room and a dining area perfect for entertaining and hosting private dinner parties. 
And if even more space is required, the penthouse suite can be connected to up to four additional bedrooms. But the crown jewel is the 2,691-square-foot terrace, which provides panoramic vistas of the top attractions in Paris, including the Eiffel Tower, the Louvre, the Arc de Triomphe, the Sacré Coeur, Musée d'Orsay and Notre Dame.
Monte-Carlo, Monaco
Monaco has long been a favorite Mediterranean escape for Europe's jet-set, and it isn't hard to understand why. Teeming with luxe hotels and resorts, one of the most prestigious is Hotel Metropole Monte-Carlo. Set in the heart of Monaco, the Belle Époque Style property effortlessly embodies the destination's legendary sophistication. 
For the ultimate treat, check into the 1,600-square-foot Suite Carré d'Or penthouse. Located on the top floor of the hotel, the penthouse boasts a breathtaking master suite, walk-in wardrobe, spacious living room and a sumptuous bathroom decked out in marble and gold. 
Following the trend of jaw-dropping outdoor escapes, the Suite Carré d'Or also features a voluminous terrace, spanning 1,180 square feet with unobstructed vistas of the Casino de Monte-Carlo, its lush gardens and the sparking Mediterranean Sea. 
To sweeten the deal, guests can also enjoy perks like in-room check-in, complimentary champagne and Hermes toiletries, as well as priority access to the hotel's new Spa Metropole by Givenchy, the Odyssey pool (designed by Karl Lagerfeld) and the property's portfolio of award-winning restaurants.
London, England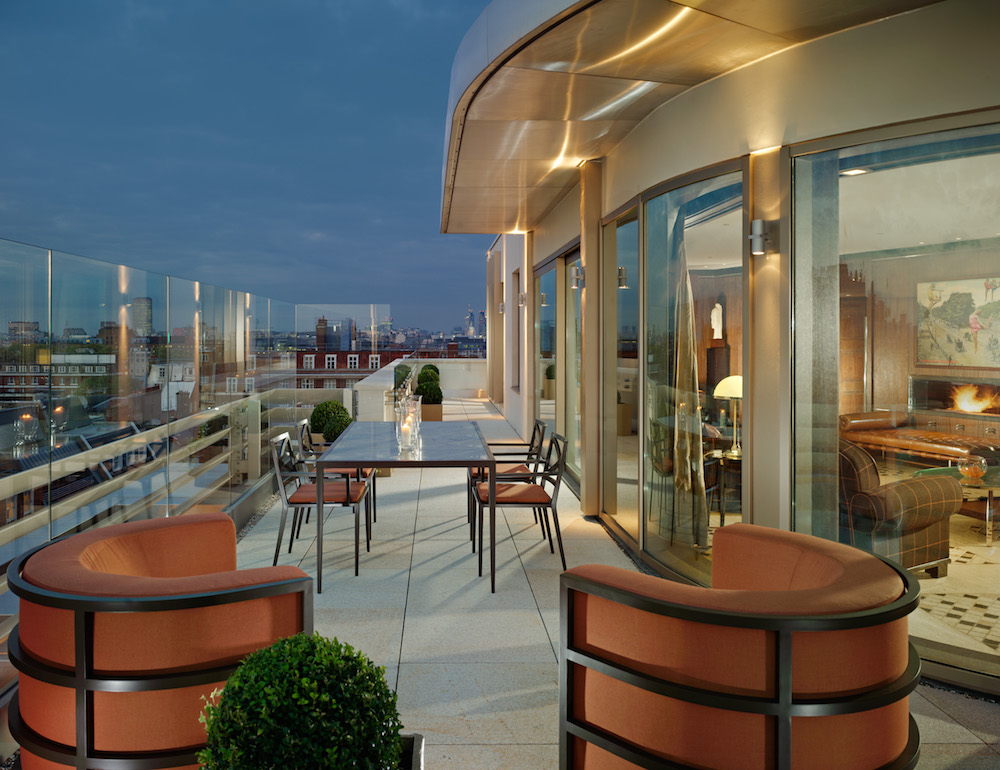 Take a trip down memory lane with a stay at 45 Park Lane, one of London's most storied properties. The fashionable outpost was a favorite hangout in the 1960s amongst London's upper echelon, and even served a glamorous stint as The Playboy Club. Today, the hotel's modernized aesthetic has been modeled after an upscale private residence, so guests will feel as if they're staying in a home away from home. 
Overlooking London's historic Hyde Park, the posh property is known for their remarkable 1,829-square-foot Penthouse Suite. Covering the entire top floor, the handsome getaway combines Art Deco design with a contemporary attitude. Floor-to-ceiling windows offer full views of Hyde Park, but the best outlooks can be found on the wrap-around balcony that hugs the perimeter of the suite. 
You'll be sure to feel like a dapper gent after paying a visit to the Penthouse Suite.
Stockholm, Sweden
Stockholm serves at Sweden's capital city as well as a vibrant cultural hub bursting with leading design, award-winning museums, countless outdoor adventures and an inventive culinary scene. 
One of the destination's newest properties is Bank Hotel, slated to officially open its doors later this month. The elegant boutique hotel began as the head office of the Södra Sverige Banking Company, designed as a modern interpretation of a renaissance palace by architect Thor Thorén in 1910. Today, that charm lives on through historical elements, like massive bronze double doors and the glass ceiling of what will soon house the Bank Hall restaurant. 
With 115 rooms and suites, the most striking is actually created by combining the Terrace View and Terrace Bank suites for one massive penthouse, totaling 1,991 square feet of indoor and outdoor space. The penthouse will provide guests with some of the best sights in all of Stockholm, overlooking Nybroviken Bay and the island of Djurgården. 
Just steps from the waterfront and the area's best shopping and nightlife, Bank Hotel is soon to become one of the city's most in-demand hot spots.