20 Luxury Sneakers That Will Elevate Your Footwear Game
Because sometimes you gotta treat your feet.
(Photo: Greats)
Sneakers are inherently casual, but craft them in fine leather and slap a designer label on them and suddenly they're pricier than a pair of oxfords.
Still, you shouldn't overlook luxury sneakers. Their superior construction and emphasis on quality materials ensure they'll last far longer than those rubber-made ones you invariably have to replace every year.
Plus, names like Ferragamo, Balenciaga, Gucci and Yeezy are pushing the sneaker silhouette to bold new places, introducing daring designs you couldn't find in the clearance aisle.
Here, 20 luxury sneakers that will step your your footwear game:
Combining a sleek, clean aesthetic with fine Italian quality and construction, these cult favorite low-tops helped kick off the high-end sneaker trend. 
$410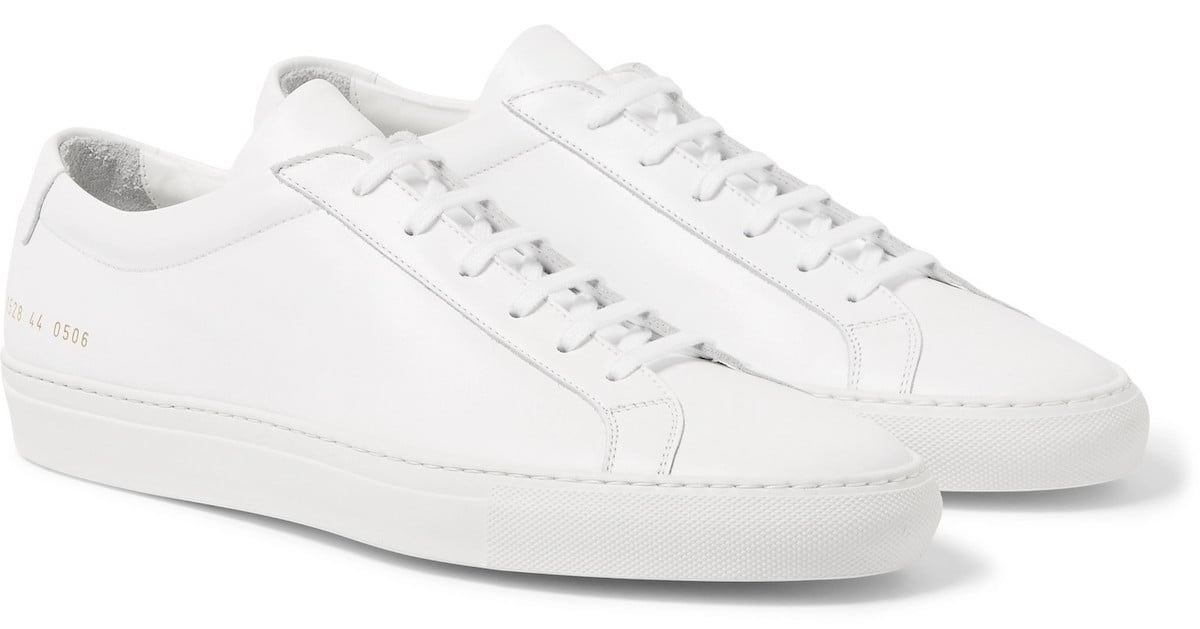 Moral Code has a similar offering, available in a variety of colors. Oak-colored leather leaves an impression of heritage and sophistication.
$148
These high tops from KOIO look rock and roll but are really all creamy Italian luxury. Made by hand in the Marche region of Italy, they are crafted in vegetable-tanned Vachetta leather and lined with ultra-soft calf leather.
$368
You'll have to buy 10 articles of clothing total to get your hands on this new collaboration sneaker from Adidas and buzzy minimalist brand Wardrobe.NYC. It's worth it for the rare shoe with a maximalist silhouette and minimalist colorway. 
$1,500 (Part of a 10-piece wardrobe)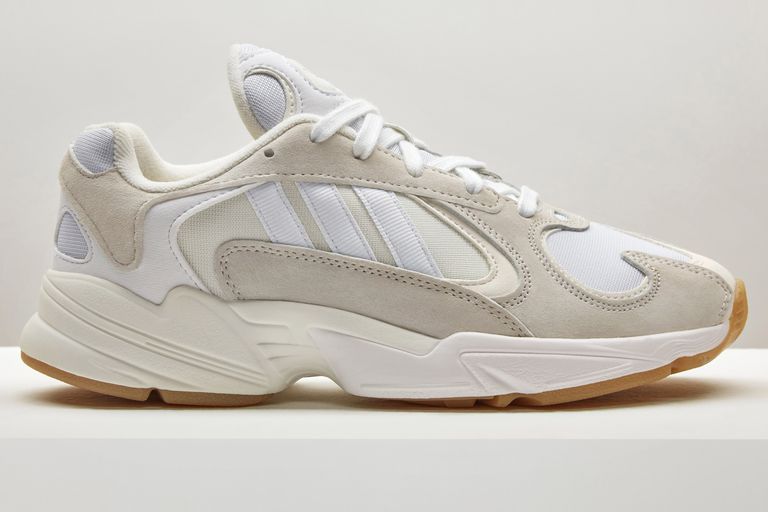 Italians will forever reign supreme in the footwear game, and Scarpe di Bianco puts US brands to shame with this "dress sneaker" made in gunmetal-colored calfskin.
$695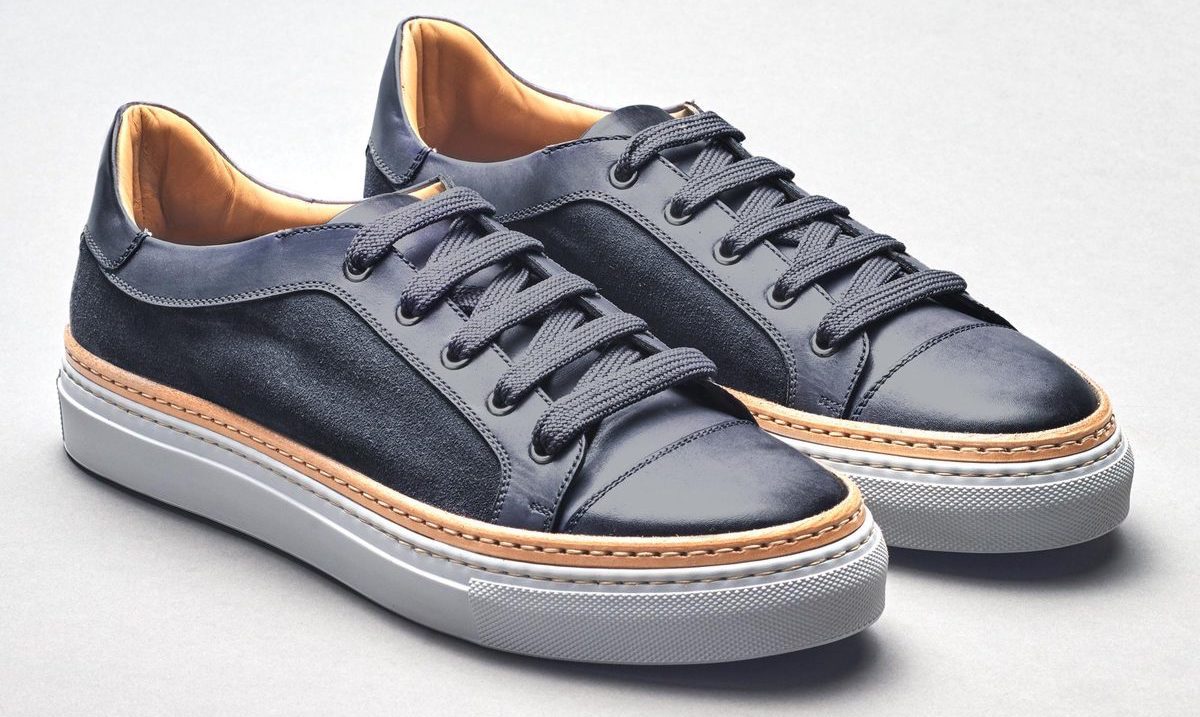 Ferragamo went all out with these flashy white lace-ups, which Maxim is debuting here exclusively. They feature a red horseshoe insignia as well as a rainbow sole.
$695
Prada aimed for functionality with a blend of mesh fabric and rubberized calf leather. Our favorite aspect is the sole, which has a colorful band and grooved rubber detailing.
$595
Balenciaga spawned the buzziest–and most bizarre–sneaker trend in recent years with its Triple S "ugly sneakers." This blend of red and blue mesh, red and black nubuck and leather sort of looks like dad shoes, but that's the point. It's called fashion, look it up.
$895
Give your toes some breathing room this summer with Greats sneakers in perforated leather. These ash grey options are pretty sweet, don't you think?
$179
Where to begin… the distressed and perforated detailing, the topstitching, the white logo patches, the padded collar, the tonal leather lining or the stained gumsole? These Margiela sneakers bring the crazy.
$493
Marrying our obsessions with military style, '90s grunge and hip hop culture are these nubuck high tops from Fear of God, a brand that's become a religion for some streetwear obsessives.
$875
We're here for the sock sneaker trend, which ditches the laces and padded collars for cozy, ankle-hugging knitwear. Givenchy has a pretty sweet pair in dark khaki mesh.
$595
Despite their name, the "dirt shoes" from Rick Owens look rather sharp with geometric leather details and and rubber shark-tooth soles.
$596
Some people just want to wear designer labels for the thrill of it. Comme Des Garcons gave a classic Converse low-top silhouette its world-recognizable heart logo.
$135
Sneakers can be as ungodly expensive as other shoes too, if they're hand-sewn and made entirely of one piece of alligator leather, that is.
$7,750
Even with his recent controversial comments, Kanye West's Yeezy line with Adidas is not losing any steam. One of our favorite models are a pair of slip-ons made in "zebra"-pattern white and black Primeknit.
$400
Gucci lends an otherwise low-key black leather low top a touch of Italian flamboyance with red and green webbing stripes at the sides and a snake-embossed leather detail and logo on the heel.
$580
Acne Studios ditches the laces for velcro strap closures. Cow leather uppers and gumsoles keep the rest traditional. 
$380
These classic John Varavotos low tops are effortlessly cool with soft coated-linen and a laceless style.
$148
Italian brand Brunello Cucinelli has a sportier but not less luxe take with a mix of suede, leather and rubber.
$995