The Maxim Guide to the French Riviera
How to live the high life in Europe's hottest travel paradise.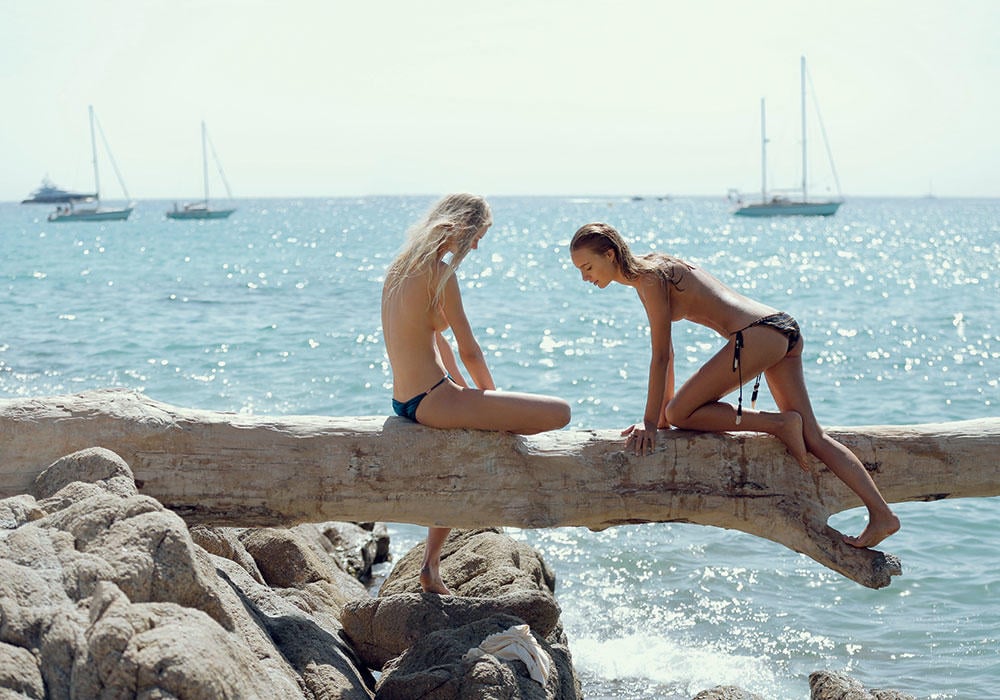 A dreamlike seaside route connects Monaco and Saint-Tropez, studded with palaces and bastions featuring imposing architecture, gigantic rooms, luxurious gardens, and enchanting terraces. Together, they reflect a past defined by the pursuit of elegance and the art of good living. Back then, artists, millionaires, and royalty discovered and fell in love with the French Riviera, which at the time was known mostly for its sea bathing and thermal spas. Soon, the area became a regal getaway famous for sun-drenched Mediterranean beaches, gourmet cuisine, and world-class hotels.
Today, the road that connects the towns of the Côte d'Azur is dotted with references to its past. It's a region of romance and charm, luxury and authenticity, one that has captivated artists such as Picasso, Matisse, and Chagall, and writers including Aldous Huxley, F. Scott Fitzgerald, Edith Wharton, and W. Somerset Maugham.
After World War II, the French Riviera became the playground of the wealthy. Palaces overflowed with visitors. Belle epoque villas and seaside properties were scooped up as even more extravagant residences were built. It became the rendezvous of the jet set and Hollywood stars. The Cannes film festival, first held in 1946, acquired an international reputation as one of the most important celebrations of cinema in the world.
The Côte d'Azur remains the domain of the global elite. Plan to stay a minimum of a week. Avail yourself of a roadster, a Riva yacht, and a helicopter—and also some good walking shoes in which to wander through the high-lying villages of the backcountry.
-Sylvie Bourgeois Harel
Saint-Tropez: Jewel of the Riviera
WHERE TO STAY
Luxurious yet accessible, and just steps from the Place des Lices market, Hôtel Byblos represents the mythical Saint-Tropez vibe of the 1970s. Inhouse options include exquisite dining at the Alain Ducasse restaurant Rivea at Byblos, or an evening of revelry at nightclub Les Caves du Roy. With a mere 91 rooms, and only open from April through October, vacancies are rare and highly sought after, so plan your stay well in advance.
Staying at the centrally located Pan Deï Palais, an oasis of Zen-like calm in buzzing Saint-Tropez, has been described as something akin to relaxing at a friend's elegant mansion. This friend, however, charges rates starting at $310 a night. Most guests say it's worth every cent.
https://www.instagram.com/p/BggAldpgMK0
Saint-Tropez's only hotel with a rooftop pool, the Paris is a mere three-minute walk from both the Vieux Port and the Place des Lices. If you need a brief respite from your vacation, the on-site Clarins spa has you covered (with luxurious plant extracts and aromatic oils, primarily).
https://www.instagram.com/p/BeQBzgqAdtK
The Sezz is located a few minutes from town, providing an escape of sorts from often-crowded downtown Saint-Tropez. Set in a bucolic landscape among mature olive trees and palms, guests can de-stress in the Payot spa—or at the Dom Pérignon bar, which also works well. There's a free shuttle to town and to the beach clubs at Pampelonne, though you likely won't want to be anywhere else.
For when you absolutely, positively must stay in a 19th-century castle. There's an ornithological reserve on the grounds, and Tropézina beach is a short distance away (or simply stare out at the Bay of Saint-Tropez from the property's semicircular swimming pool). Alain Lamaison, the new chef de cuisine, arrived at the Château this year; try his signature sea spider in three services. 
https://www.instagram.com/p/BXFR2M2Fn8_
—Justin Rohrlich
WHERE TO EAT, DRINK & PLAY
In 1955, cinematic glamour came to the French Riviera. Brigitte Bardot, then perhaps the hottest actress in the world at the time, arrived just outside of town on Pampelonne Beach to film her next feature. A young boy, Patrice de Colmont, and his ethnologist-filmmaker parents, lived in a house near the beach and took in the cast and crew for lunch and dinner. And by sheer coincidence, the world's most celebrated beach club was formed, named for its founding year. Today, Patrice de Colmont owns and operates Le Club 55, still the premier oceanfront destination for the world's elite, and those wishing to rub elbows with celebrities, business titans, and royalty. He has worked hard to maintain Le Club 55's reputation for excellence, but instills his own laidback personality into the property. More than 1,000 people a day can flock to the hot spot during the peak summer months, so early reservations are a must.
Luxury, elegance, and charm can be found at this glamorous spot at the center of the port. Ideal for drinking Dom Pérignon Rosé or a great vintage with a cheese plate, or enjoying an artisan burger, the café serves food that is only rivaled by its style: a classic, clean design, tables made from Riva wood, and a sharply dressed staff, outfitted in Bijan couture.
https://www.instagram.com/p/Bhgs3cMged-
At Résidence de la Pinède's gastronomic restaurant, Arnaud Donckele, the youngest French chef currently in business with three Michelin stars, has managed to make his cuisine the Riviera's most popular by celebrating the seasonal flavors of Mediterranean cuisine.
In nearby Ramatuelle, with a winning combination of luxury, simplicity, and surrounding nature, La Réserve is a main hotel and 14 villas in a quiet setting. At its restaurant La Voile, Michelin-starred chef Eric Canino offers light dishes that are a celebration of Mediterranean flavors. 
—SBH
Antibes: The Mediterranean's Paradise on the Beach
WHERE TO STAY
This legendary palace, the most elegant address on the Riviera, is a delicate combination of sophistication and cool. Order lunch at Eden-Roc Grill, followed by a swim in the Mediterranean, before choosing either one of the two in-house restaurants for dinner.
—SBH
WHERE TO EAT, DRINK & PLAY
Eat elegantly at the Eden-Roc Restaurant, where tables on the seafront veranda offer sweeping views of the lush Lérins Islands in the distance. (A 15-minute ferry ride will get you there if you feel like exploring; boats leave from the dock in Cannes and Juan-les-Pins.) The timeless menu includes Steak Diane, flambéed tableside (58 euros), roasted blue lobster (86 euros), and 50 grams of fresh Beluga caviar, served with buckwheat blini (540 euros). Or let executive chef Arnaud Poëtte decide (tasting menu, 190 euros). The dress code is listed as "formal," which, in practice, means long sleeves, long pants, and no sandals.
After dinner, head to this 1930s-style bar at the Hôtel Belles Rives for a nightcap. The Black Nail—Glenmorangie, Drambuie, Macallan, and honey—is the head barman's specialty (20 euros), and the eclectic playlist could include everything from Dizzy Gillespie's "A Night in Tunisia" to "Chan Chan" by Compay Segundo and a cover of the Police's "Walking on the Moon" by Roseaux featuring Laguna Hills, California's own Aloe Blacc. 
—JR
If the name Jazz à Juan, or as it's known to most of the world, the International Jazz Festival at Antibes Juan-les-Pins, sounds familiar, check your music collection. Among the legendary albums recorded here are Mingus at Antibes, Miles Davis' Miles à Antibes, and John Coltrane's Live in Antibes, 1965. 
The festival, which began in 1960, now includes popular music as well, with acts ranging from Carlos Santana to Norah Jones and this year's headliner, Lenny Kravitz. Hard-core jazz fans can still get their fix from the world-renowned acts that perform each year.
The festival's real magic is found in the spontaneous moments that occur throughout the city during the concurrent fringe festival. Musicians organize impromptu jam sessions; talented amateurs might play with their idols; and the streets of Antibes are captured by the festival's unique energy. 
—Keith Gordon
Monte Carlo: Luxury by the Sea
WHERE TO STAY
Steps away from the Casino de Monte-Carlo, this gem will be totally renovated starting in early 2019. (The hotel will remain open during the renovation.) The hotel is a Monaco institution, with its historic facade, wine cellar, and the restaurant Le Louis XV—Alain Ducasse à l'Hôtel de Paris, where chef de cuisine Dominique Lory and chef Alain Ducasse take inspiration from the flavors of the Riviera.
Hôtel Hermitage has all the old-fashioned charm for which the principality is famous. The dome and the winter garden veranda were designed by Gustave Eiffel. Côte d'Azur specialties, such as barbajuan and socca, are served at cocktail hour.
A fixture of Monaco high society since the 1930s, the Monte-Carlo Beach is located in spectacular Roquebrune-Cap-Martin. Dine fabulously at the Michelin-starred Elsa, which is now 100 percent organic, and work it off tomorrow in the Olympic-size pool.
Mere steps from the casino and the Boulingrins Gardens, this sumptuous belle epoque property in Monte Carlo has the obligatory ultra-luxury spa and two Michelin-starred restaurants. But the Metropole's "GoldenEye Experience" may be the pièce de résistance: a chopper flight over the principality; a ride along the Riviera in an Aston Martin; a couples massage in your room; a private dinner by world-renowned chef Joël Robuchon; and a private butler who will provide you with everything you need for your excursion to the casino, including a cigar and gaming chips at the end of dinner. A tuxedo will be provided for the gentleman; an evening gown for his date.
Right on Port Hercule, the Port Palace boasts spectacular views and some of the biggest yachts you've ever seen. The glass-and-steel design is a more contemporary take on luxury than Monaco's grandes dames, but equally refined, with rooms by Leïla Menchari, the window design director of Hermès. The bar looks out over, among other things, the port-side stretch of the Formula 1 circuit. 
—JR
WHERE TO EAT, DRINK & PLAY
Yacht Club de Monaco's newest building, designed by renowned architect Lord Norman Foster, opened its doors in 2014 and has become a must-visit for lunches and dinners. For prime access, consider becoming a member (which requires two existing members to sponsor your application). Don't forget to follow the extremely specific dress code.
—SBH
Don't miss…
The Royal Red Berries Mojito is a house specialty at Hôtel Metropole's elegant lobby bar; try one of head bartender Khalid El Hajraoui's Malaysian Juleps at the timeless Le Bar Américain, at the Hôtel de Paris. Brasserie de Monaco is known for its Bière de Monaco; don't miss the pissaladière, a sort of Provençal pizza topped with caramelized onions, anchovies, and black olives. Boldface names including Lionel Richie and Pink have been spotted at über-trendy Jimmy'z Monte-Carlo; the jet set can also be found in their natural habitat at Flavio Briatore's Twiga Monte Carlo, which offers Italo-Japanese fare and transforms into a proper nightclub after 1 a.m. For a "normal" hangout spot, head to the Monte Carlo Bar—its moderately priced brasserie fare, with a handful of beers on tap, is a good option for mingling with locals, who know this place as MCB. 
—JR
This race is unlike any other on the Formula 1 calendar. Public roads are shut down, and a racetrack is carved into the narrowest of streets. The claustrophobic-tight turns are better suited to a small hatchback than a racecar. Overtaking is nearly impossible on the circuit, and drivers could theoretically reach out and touch the guard rails.
The Grand Prix is a gathering place for the global elite, who arrive on their enormous yachts for days of exclusive partying. It's the pinnacle of luxury in a city known as…the pinnacle of luxury. As for the racing itself, the added emphasis on a good qualifying result means that the excitement is spread over Saturday and Sunday. For drivers, the race is equal parts trying to win and trying to get your car across the line in one piece. For a chance to behold the rare skill of a Lewis Hamilton or Daniel Ricciardo, there's no better place.
The world's premier showcase of luxury superyachting, the annual Monaco Yacht Show last year drew some 34,000 participants to marvel at 125 of the vessels on display, including a 360-foot marvel. In total, the merchandise was worth more than $4 billion. Since its inception in 1991, the event has grown from a showcase of around 30 yachts into a celebration that includes VIP parties, yachting industry gatherings, and an automotive showcase featuring brands like Bentley and Lamborghini. Helicopters and tender boats are also available for sale. 
—KG
Cannes: Gathering Place of the Stars
WHERE TO STAY
InterContinental Carlton Cannes
With a century-plus history, the 343-room Carlton is where American actress Grace Kelly was staying when she first met her future husband, Prince Rainier III. Oscar-winning actors celebrate their Palme d'Or victories on the seventh floor, where the elite suites are found. Some of the most famous jewel heists in recent history have taken place at this storied property—close to a combined $200 million of jewels stolen in two separate heists. World-class dining is available at two in-house restaurants, and the Carlton Bar is the best place to people-watch in the city. 
—KG
WHERE TO EAT, DRINK & PLAY
Shop
Ultra-luxe high-end shopping—Chanel, Gucci, Prada, and the like—can be found along La Croisette. For a more local experience, check out Rue Meynadier. Or do as the locals do and stock up on pâté, fresh seafood, and artisanal charcuterie at the airy Marché Forville.
Eat
Table 22 features Provençal favorites, perfectly prepared by Alain Ducasse-trained chef Noël Mantel. Aux Bons Enfants has been turning out homey yet sophisticated fare since 1967. And for the best small plates you've ever had in a former garage, check out Au Pot de Vin. The famed Michelin guide calls the dining room "lovely retro," and points out its "fair prices." Which, in Cannes, usually means something a little bit different than it might elsewhere (meals run $45 to $65).
https://www.instagram.com/p/BhmTsfdlfrX
Drink
During the Cannes film festival, the stars hang out at the Carlton Bar. But you can get a Red Carpet Martini any time of the year. You'll find Côte d'Azur institution La Chunga right across the street from the famed Hôtel Martinez, which is home to its own legendary watering hole, the Gatsby-esque (and aptly named) Martinez Bar. Grab one last cocktail at Le 72 Croisette, which always seems to stay open later than everyone else. 
—JR
Pick up Maxim's May/June print magazine, and be sure to subscribe so you never miss an issue.