That Romper for Dudes Everyone Is Going Nuts Over Isn't Anything New
Just ask James Bond.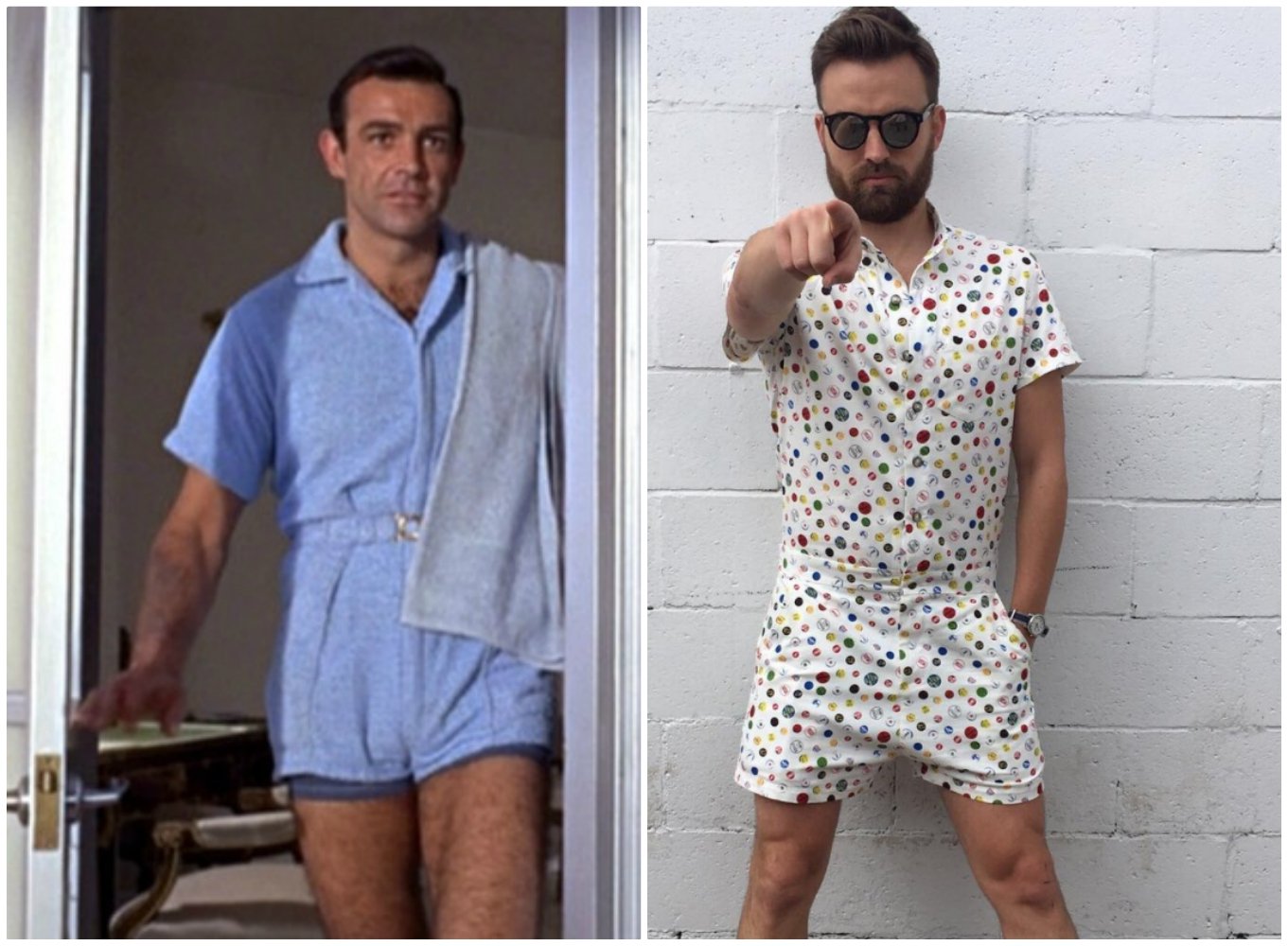 In case you haven't noticed, there's a new style trend going around: rompers for men. You know, a one-piece shirt-and-short combo that is popular among women. But for dudes.
" tml-render-layout="inline
Rompers for men recently became insanely popular thanks to the Kickstarter campaign for RompHim — a high-end romper for guys — and it kinda sorta reminds me of Chubbies, which are basically short-shorts for frat bros. 
" tml-render-layout="inline
See what I mean?
Anyway, just like any other trend, people are divided about man-rompers. Some people love seeing a grown ass man wearing a onesie, whereas others think it's weird and a total abomination, like caffeine-free Mountain Dew. To each their own, I guess.
https://twitter.com/cindasmommy/status/864532230076542976
But whether you love them or you hate them, there's something most people don't know about man-rompers: They've been around for decades. Seriously. They're not new. Dudes have been wearing rompers for years. Just ask old school James Bond.
if you're chatting rompers for men and not paying homage to maybe the most iconic male romper-on-film you're not even serious, bruv pic.twitter.com/6UNqKGK1Vc

— Bim S. Pumpkins (@bimadew) May 15, 2017
And in case you were also under the impression that dudes who wear rompers are losers, you're wrong. Does Panthers quarterback Cam Newton look like a loser to you? He wore a floral onesie at Coachella and looked fly AF.
" tml-render-layout="inline
He's even holding a cigar. So snazzy.
And guess who else wore rompers? Men in the olden days, that's who. What do you think dudes in the 1800s wore when they went swimming? A Speedo? Hell nah. Rompers were hot back then.
" tml-render-layout="inline
So, yeah. Rompers for men aren't new. They've been around for a long, long time. But I guess it's nice to see them making a comeback. 
H/T: Barstool Sports