Menswear Titan Michael Bastian Reaches For The Stars With New Collection
The top designer was inspired by astronomer Carl Sagan's geeky style.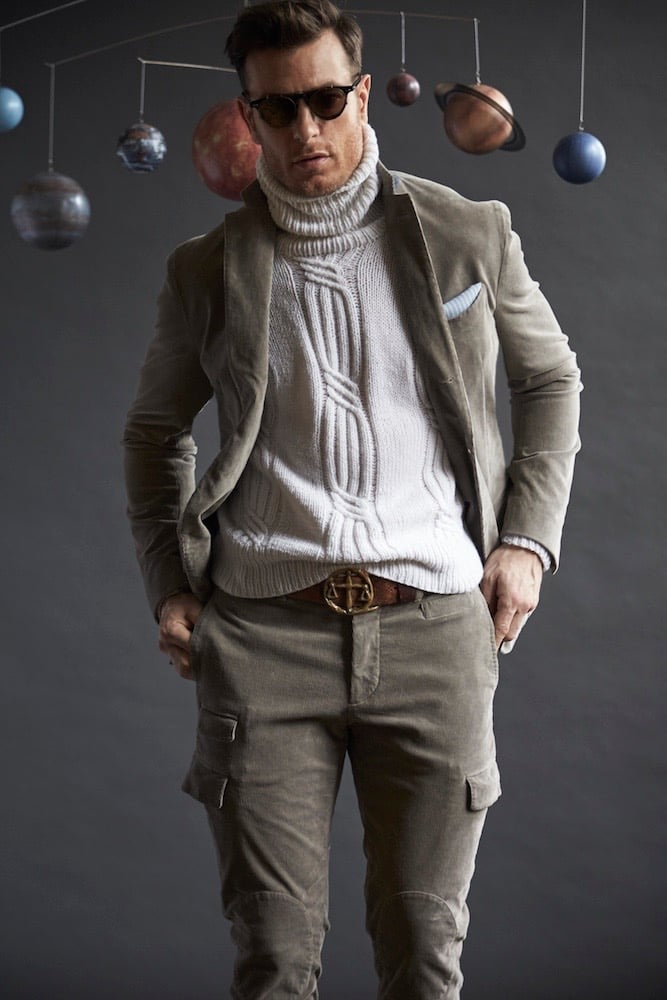 Carl Sagan, the brilliant mind behind TV's Cosmos, was perhaps one of the most important and beloved scientists of our time. But with a penchant for Irish turtlenecks and suede blazers, the famed astronomer was also an undeniable early champion of "geek chic".
At least, that's how designer Michael Bastian sees it.
At his New York showroom, the acclaimed CFDA winner told us he took cues from astronomy nerds for his Fall 2016 menswear collection. "It all started with that drive-by by Pluto, when NASA realized there was a massive area in the shape of a heart," Bastian said. "It seems like there are a lot of discoveries in outer space right now. It just feels like something in the air at the moment."
With that heart-shaped impression in mind, Bastian channeled Sagan's romantic, awestruck view of the cosmos.
The resulting collection is a cozy yet impeccably tailored nod to stargazers. There is a hearty dose of cashmere hand knits by Anya Cole as well as soft-shouldered coats, which give this collection its leisurely, college-quad vibe. Several pieces, including a pair of pants and a button-up shirt, feature a star-map pattern that evokes the ceiling at Grand Central Station. A motif mimicking Pluto's heart also made its way into a few looks.
All of the impressively handsome and tailored outfits from Bastian's Fall 2016 lineup can be seen here:
Perhaps all that stargazing left Bastian feeling adventurous. His new collection is moodier and rawer than previous ones; its minimalism and muted color palate of gray, olive, navy blue, and black signal a bold departure from Bastian's signature preppy sensibility. Though prep will always be in his DNA, Bastian told us it was time to evolve.
"It's easy to categorize us as a preppy brand. If you're an American designer, you're either a street designer, or you're preppy," Bastian said. "There's nothing in the middle, and I think there's something beautiful about having a little bit of both."
This new direction culminated in some pretty stellar outwear, such as a black duffle coat made with Casentino, a wool hunting fabric the Italians have used for eons. 
Likewise, the designer is breaking new ground in his team-up with LAB Series, the men's skincare behemoth. "I have used LAB Series since I was in college, so I've always known about them," Bastian said. "They were interested in working with menswear designers, and we realized our guy is very much aligned with their guy."
Together, they concocted a cleanser and anti-aging moisturizers and serums, which lift and firm the jawline. It's a remarkable continuation of LAB's pedigree of no-frills yet innovative men's skincare.
We have a sneaking suspicion we'll be seeing more of this union, as 2016 will catapult Bastian even further into fashion's stratosphere. Bluestar Alliance LLC recently acquired a "significant interest" in Michael Bastian Inc., meaning the designer will beef up his eponymous luxury brand as well as unveil a more affordable, second-tier line. We'll potentially see more wallet-friendly wares similar to his past collaborations with Uniqlo and Gant.
In any case, get used to his name. You'll be seeing a lot more of all-star designer Michael Bastian.