This Online Service Makes Bespoke Tailoring So Easy, Even Millennials Are Suiting Up
Sweet suit, sweeter prices.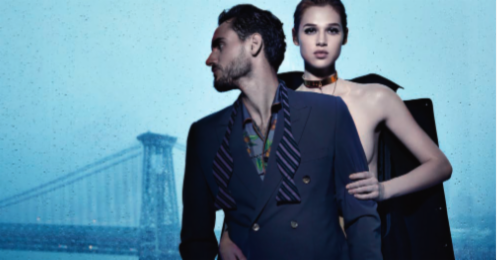 (Photo: Tiziano Magni)
As the resident millennial of my workplace, I have never fully grasped the importance of wearing a suit and tie. Sure, I notice the air of authority a well-tailored suit lends my superiors, but I'm at the bottom of the totem pole and won't look any more important in jacket from Savile Row than one from Champion.
Instead, I typically schlep out of bed 30 minutes before I have to catch my train, throw on some "edgy" hoodie from Topman, jeans and Stan Smiths and then pretend I'm a relatively respectable member of society. Ever since Mark Zuckerberg and his hoodie-wearing Silicon Valley ilk made athleisure the dress code of the new millennium, I've placed a premium on comfort above all else.
That all changed when I found on the backlogs of my work email an enticing offer from BookATailor, a so-called "innovative pioneer in custom bespoke men's and women's wear."
The young company's promise to me was simple: If I was willing to hang up my monochromatic jacket collection, they'd supply me with any bespoke suit of my desires. One of its resident "Smart Tailors" would simply swing by my office and walk me through its painless four-step tailoring process.
The process is described on its website as so:
1. Schedule an appointment online to visit a local showroom or request a Smart Tailor to come to you.

2. Get measured and build your very own BookATailor bespoke profile. Your measurements will be saved on file for future orders.

3. Choose your fabrics and styling options (design your bespoke clothes).

4. Your custom clothing will be ready in 4 weeks.
I was fortunate to snare an appointment with founder and CEO Jacomo Hakim, a former DJ (what else?) who decided to shake up the suit game. Sure, putting on laser shows and spinning records at 1 Oak is far from a Savile Row education, but Jacomo understands millennial men. They want a sharp-looking suit without all the fuss.
The whole process is vertically integrated: The product is made by BookATailor at its own production facility and sold directly to the consumer. Your standard bespoke suit can take months to piece together and can cost upwards of $5,000.
BookATailor's clientele speaks volumes about its success. When President Trump whipped his beleaguered White House Press Secretary Sean Spicer into shape, he rang up Jacomo to tailor him a fresh suit, and fast. BookATailor is also a favorite of the FOX newsroom, whose anchors favor more traditional cuts and have a thin patience for bullshit.
He even gave one of the kids from Stranger Things, Caleb McLaughlin, a more grown-up look for the SAG Awards. 
Still, I wanted to try something bold. Summer was fast approaching, and the allure of sipping rosé in the Hamptons in a form-fitting summer suit was all too real. When Jacomo swung by the Maxim headquarters, we hatched a plan: he would measure me up, run through fabric and cut options on the BookATailor website and then take care of the rest. He promised me a four-week turnaround time and said I could simply book a time to pick it up at one of his New York showrooms.
All this, complete with a custom and monogrammed shirt, came at the price of just $449, an investment for a penniless writer no doubt, but a steal considering the competition. Given that my wardrobe was a pitiable mix of threadbare college T-shirts and $20 discount jeans, Jacomo took mercy on my sartorial destitution and provided the suit free of charge. "Welcome to #BespokeLife," he told me I.R.L. at the end of my session.
The results speak for themselves, and the Hamptons champagne party invites have followed suit. One of these days, I may muster the courage to actually wear the darn thing to work, and show my well-attired, high-powered Gen-X bosses I, too, can play their game.
Here is me before—as a disreputable youth—and after—as a dashing young man ready for horse races and caviar.
My story is one of many. The success of BookATailor heralds a greater shift in the bespoke tailoring market, where start-ups are cropping up to expedite the process. We millennial men are far too occupied with our round-the-clock work culture and Internet memes to sit through the usual process. Knot Standard, a higher-priced option, has become one of America's fastest growing companies, and labels like Suitsupply, Hugh & Crye and The Black Tux are joining its ranks. 
Soon, making the pilgrimage to Savile Row and shelling out one's life savings for a respectable suit will be a forgotten tradition of a bygone era.
Maxim readers can get on the action with a free custom shirt. Just visit the website here, have your measurements ready and BookATailor will handle the rest.