There's No Better Time to Hit Monaco, Europe's Perennial Party Mecca
Where to stay, eat and play.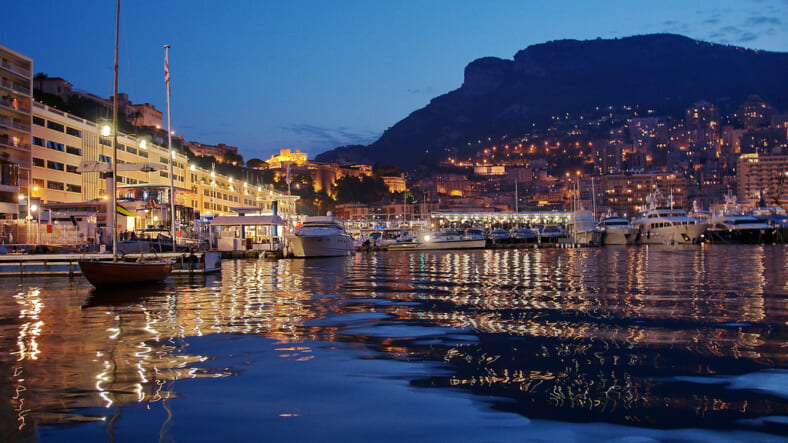 It's Europe's all season, real life VIP zone. Along its cobbled streets, cavalcades of Ferraris and McLarens concertina their daily commute from penthouse to plage. On the skyline, catwalk heiresses straddle the balconies of the world's most expensive real estate. While out in the Med, the distant base of dance beats ripples from the latest yacht party. It could be nowhere else, but Monaco. Long the mainstay of Hollywood's glam set, the super-riche principality has been shedding its aging image of late — today revelers are promised a party buzz to rival Ibiza. Here's the inside track to the highlights of the Riviera's perennial paradise.
STAY
Okay, not in France. Travel guides traditionally tip visitors to jump the border for a more affordable Riviera base — but with the Euro on the ropes, Monacan luxury has never been more affordable. Don't expect hotel ratings to drop below four-stars here, but do expect a diverse range of dream pads. Looking for a $15,000-a-night presidential suite at the Hotel Hermitage? Or a $50 cabin on an Airbnb yacht? Well, welcome aboard.
Being home to the world's most famous street race (the Monaco Grand Prix), Formula One heritage is on display in hotel lobby in the principality. The trendy 4-star Columbus (which offers the lowest room rates in town) is the brainchild of ex-racer David Coulthard, while Hotel Fairmont is a further step up in bragging rights: It sits on the most famous chicane on the F1 tour. Inside, guests can check-into suites themed in honour of the sport's legends (like Ferrari's Jean Alesi) or enjoy a top spa man-treatment above the track. A tip? The "Pole Position" pedicure offers the ideal therapy following any manual transmission road-trips.
Just a few gear-shifts down the coast sits Monte Carlo Beach Hotel; a retro Riviera paradise which occupies Europe's most sublime locations. The property dates from 1929 and mashes a Hollywood heyday vibe with an art deco chic straight from a Lana Del Rey video shoot. Come sunset, head to the hotel's palm-lined Olympic pool for a cocktail on ice. The views? Hold out for local resident Caroline Wozniacki on an evening jog.
EAT
If it's not Michelin tires, it's Michelin stars in Monaco. But beyond the acclaimed celebrity magnets like Nobu or the gilded dining rooms of Hotel de Paris, the principality's lesser known culinary offerings are just as likely to impress.
For the best breakfast (or hangover brunch) in town, try a hit of eggs ben and café noisette from Bistro Bouchon , while off-the-beaten Constantine along Fontveille harbour is the local go-to for its prix fixe trawl of awesome seafood lunches.
Further beyond the bling and Bollinger lies Place des Armes—a quintessential Mediterranean market which provides a welcome old-school alternative to Monte Carlo's five-star staples. Here, you'll still find gatherings of old moustachioed gentlemen, puffing on Gauloises and downing glasses of the local tipple: rosé wine (consider them the original brosé squad). For snacks 'Monaco style', hit market food stalls like La Truffe to pick up a barbajuan: a traditional savoury pastry loaded with spinach and ricotta.
Sports fans with an appetite, meanwhile, can beeline for Stars & Bars. The memorabilia-choked sports pub on Quai Antoine is where locals park up their Ducatis to hang for beer, burgers, and of course, le foot. ]
For the inevitable Monte Carlo splash-out, make reservations for the current gastro it-spot, Maya Bay. The twin Japanese / Thai inspired dining boudoirs fuse a pan-continental dining zen which takes diners from Tokyo's sushi bars to the calm of Ko Phi Phi island. Think Asian tapas, think sexy lantern lighting, think it the perfect dining offensive for any Tinder date.
PLAY
In Monaco, everything seems grounds for a raucous fête: a grand prix, a yacht race, getting the keys to your first Lamborghini.
The top action centres round super chic Porte Hercule, where a strip of stylish venues roll out red carpets to lure in the Monte Carlo "jetty set". Head to Black Legend for its live drum & base DJ sets or La Rascasse for its hedonistic beach crowd. Monaco doesn't really do hipsters—but it does to craft beers. Brasserie de Monaco brews their own blonde and dark brews on site, while their dance-beat infused lounge bar makes a luring spot to savor them.
Monaco loves to party late and when it comes to the most epic Eurobash, all roads in lead to one of the world's most notorious nightclubs, Jimmy'z, said to boast the best sound system in the world. Little wonder then, that this is where you can see David Guetta or Rihanna dancing to their own beats.
Entrance to Jimmy'z is actually free, though you'll probably need to have lucked out with some casino fortune in order to fork out for bottle service. After that—it's the unknown, in Monaco who knows where the après-party will be?