Fly Higher With The World's Most Luxurious Airport Lounges
Take your flight to the next level with these impressively luxe airport lounges.
(Photo: Cathay Pacific)
There's nothing like a crowded airport terminal with dried Sprite and sandwich crumbs on the seats to stress you out before a long flight.
Luckily, over-the-top airport lounges with world-class amenities, restaurants, and bars exist – though they're usually reserved for travelers with deep pockets and first class tickets.
So forget waiting for your flight at the gate and check out these lavish airport lounges where luxury and glamour are the name of the game.
Cathay Pacific The Pier First Class Lounge 
Hong Kong International Airport, Hong Kong
This Asian-inspired Cathay Pacific The Pier First Class lounge is 22,100 square feet of elegance with limestone floors, bronze and walnut decor, a 100-seat restaurant, library, and an entire section dedicated to foot massages.
Passengers can catch up on their work in the business center that has six Mac computers…or they can just relax at the bar and enjoy a top shelf cocktail.
"The Retreat" section of the lounge has private eight suites, each of which has a daybed and a heavy curtain for privacy for those really needing to rest up.
Who gets access: First class passengers, Oneworld carrier first class passengers, and Cathay's Marco Polo Club loyalty program's Diamond level members. 
Lufthansa First Class Lounge
Frankfurt International Airport, Germany
Wooden walls, glass surfaces, and muted earth tones create an air of sleek sophistication in Frankfurt's Lufthansa First Class Lounge. The midcentury modern-inspired furniture throughout the space was custom-made in Italy for the airline, and the bar has an impressive selection of 150 varieties of whisky and seven high-end brands of champagne.
Located in a separate building from the main airport, the lounge even has its own cigar lounge, private offices for those who need to tend to some business, large private bathrooms with bathtubs, and a restaurant where the menu changes seasonally.
Who gets access: First class passengers and Hon Circle members who have flown 600,000 miles on Lufthansa within two years. 
Emirates First Class Lounge
Dubai International Airport, UAE
In true flashy Dubai style, the Emirates First Class Lounge at Dubai International Airport is flush with mini fountains, an opulent gold and red color palette, a wine cellar, coffee bar, cocktail bar, cigar bar, and a Moet & Chandon Champagne lounge.
Those who'd like to freshen up can shower in one of the shower suites that come complete with towels, luxury toiletries, and hairdryers.
When hunger strikes, travelers can dine on internationally inspired cuisine at the sit-down restaurant, order the same menu items from anywhere in the lounge for a more casual experience, or chow down at one of the buffet stations.
Who gets access: First class passengers. 
Etihad First Class Lounge
Abu Dhabi International Airport, UAE
Etihad is one of the most over-the-top airlines in the world, so it's no surprise that their First Class lounge in Abu Dhabi is equally lavish.
Each guest gets a free massage at the Six Senses Spa when they check in, and can get pampered even more with a wide array body, facial, or nail treatments. If you're eager to squeeze in some exercise before your flight, Etihad has you covered with a fitness room, and afterwards, hop into one of the marble showers that are stocked with high-end toiletries.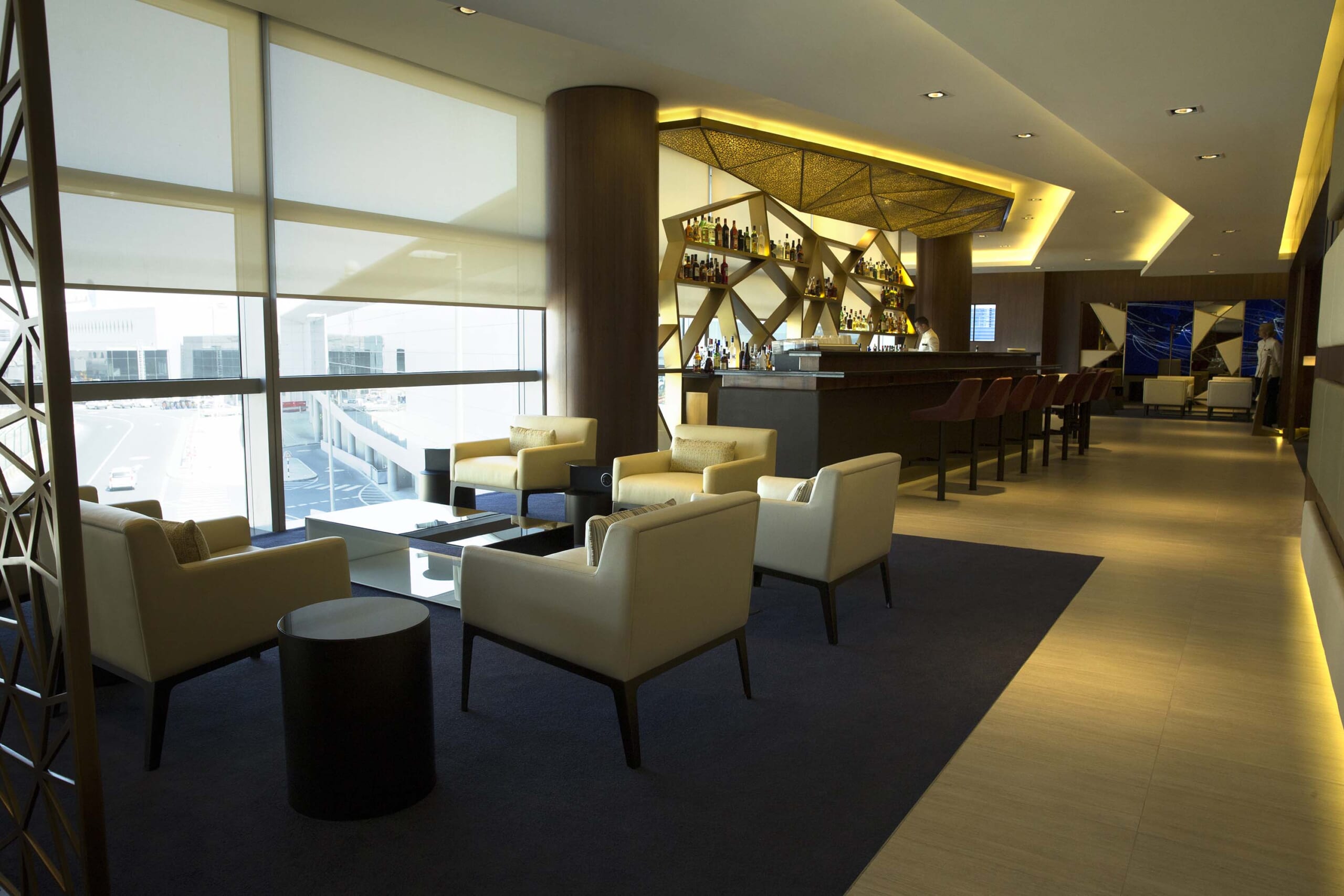 The a la carte restaurant is a true fine dining experience with dishes like seared scallops and Sous Vide Beef Loin, and the bar offers free flowing top-shelf spirits.
Passengers can even smoke a Bolivar Emirati – a cigar made specially for the UAE – in the cigar room or chill out on reclining chairs and enjoy panoramic visuals in the relax room.   
Who gets access: The Residence and First class passengers, as well as those who have Etihad Guest Platinum status. Everyone else can pay to use the lounge.
Qatar Airways Al Safwa First Lounge
Hamad International Airport, Doha, Qatar
https://www.instagram.com/p/B4H1Of9gYkc
Self-described as "an oasis of luxury" by Qatar Airways, the Al Safwa First Lounge at Hamad International Airport is hands down one of the most palatial spaces in any airport worldwide.
The Vitality Spa rivals that of a five-star resort with nine private treatment rooms, a jacuzzi, and a relaxation room. And speaking of hotel-like amenities, guests can have some downtime in one of the private rooms that have beds and televisions.
Common areas include a movie theater, game room, and a 250-seat restaurant that serves up an impressive menu of Middle Eastern and international dishes as well as premium French wines. 
Explore the lounge in the Google Map below:
" tml-embed-width="600″ tml-embed-height="450″ tml-render-layout="inline
Who gets access: First class passengers and Privilege Club Platinum members traveling Business Class with Qatar Airways. 
Virgin Atlantic Clubhouse
JFK, New York, NY
https://www.instagram.com/p/BnYxycNguhS
Inspired by the theme "Understatedly Uptown, Unmistakably New York," JFK's Virgin Atlantic Clubhouse is a 10,000 square foot space that's equal parts hip and glamorous.
The lounge has shimmering golden ceilings, a swanky cocktail bar with great mixologists, an entertainment zone with a large maple wood and burgundy billiards table, and an oversized red ball sofa.
https://www.instagram.com/p/B4XvVtjIq6M
Food can be ordered from anywhere in the Clubhouse, but there's also la carte dining at the Brasserie which features five-star dining, tapas-style dishes, and Virgin's signature Clubhouse burger.
For something a little more relaxing, book a treatment at the Wellness Spa, then squeeze in a nap at one of the relaxation pods. 
Who gets access:
Passengers traveling in Upper Class
Passengers traveling in Delta One
Flying Club Gold members 
Delta SkyMiles Diamond Medallion card holders
Delta SkyMiles Platinum Medallion card holders
Singapore Airlines KrisFlyer Elite Gold members and PPS card holders
Virgin Australia Velocity Club Gold card holders
Virgin Australia Velocity Club Platinum card holders
Virgin Australia Velocity The Club card holders
Turkish Airlines Lounge Business
Istanbul Airport, Turkey
https://www.instagram.com/p/BfSnbNJBQbt
The brand new Istanbul Airport is not only the largest airport in the world, it's also home to the ultra-luxe Turkish Airlines Lounge Business. The massive lounge is a whopping 60,278 square feet with enough space to fit 765 people, and has never-ending food, bars, comfortable couches, an actual business center with new Macs, private suites, showers, and a game room.
And in case you're in the mood for something educational while you're waiting for your flight, Turkish Airlines teamed up with Istanbul Modern to create a 1,400 square foot museum in the lounge.
Who gets access: Turkish Airlines or any Star Alliance airlines Business Class passengers flying on an International flight.
Qantas First Lounge
Sydney International Airport, Australia
At around 23,000 square feet, the flagship first class lounge of Qantas was designed completely around the principles of Feng Shui, eliminating all sharp corners in the entire space. Everything is made up of smooth lines to promote a feeling of well-being, and the 8,500 plants in the vertical garden only add to that vibe.
" tml-render-layout="inline
Fun fact: The white Carrera marble walls and floors in the lounge are from the same quarry in Italy that Michaelangelo used for his sculptures way back when.
https://www.instagram.com/p/BEc9Z3Yjk8h
Weary travelers can get a spa treatment at no additional cost, hang out in the library and sip some bottomless Perrier-Jouët champagne, or dine on some of famed Australian chef Niel Perry's creations in the restaurant.
Who gets access: First class passengers and Platinum-level frequent fliers.