Set Sail In The World's Most Extravagant Cruise Ship Suites
Sail the seven seas in the lap of luxury with these opulent cabins.
(Photo: Oceania Cruises)
Not all cruise ship cabins are created equal. Some are small rectangles of space that hardly fit a bed — while others are plush, grand floating palaces with world class amenities, terraces, and thousands of square feet of magnificence. So, for those who have deep pockets and want nothing but the best, check out these seven most over-the-top cruise ship suites that have ever graced the oceans of the world. 
Owner's Suite, Oceania Riviera
Oceania Cruises
The Owner's Suite on the Oceania Riviera is a 2,000 square foot floating haven with everything you need for a truly 5-star experience.
The suite spans the entire beam of the ship and is furnished with rich pieces from the Ralph Lauren Home Collection in a gorgeous neutral and nautical color palette.
Inside, there's a large living room, king-size bed, two walk-in closets, indoor and outdoor whirlpool spas, and a music room. 
Guests staying in one of the three Owner's Suites get amenities including free laundry service, exclusive card-only access to the private Executive Lounge, 24-hour butler service, and an ocean-view in-suite bar stocked with premium spirits and wines.
Regent Suite, Seven Seas Splendor
Regent Seven Seas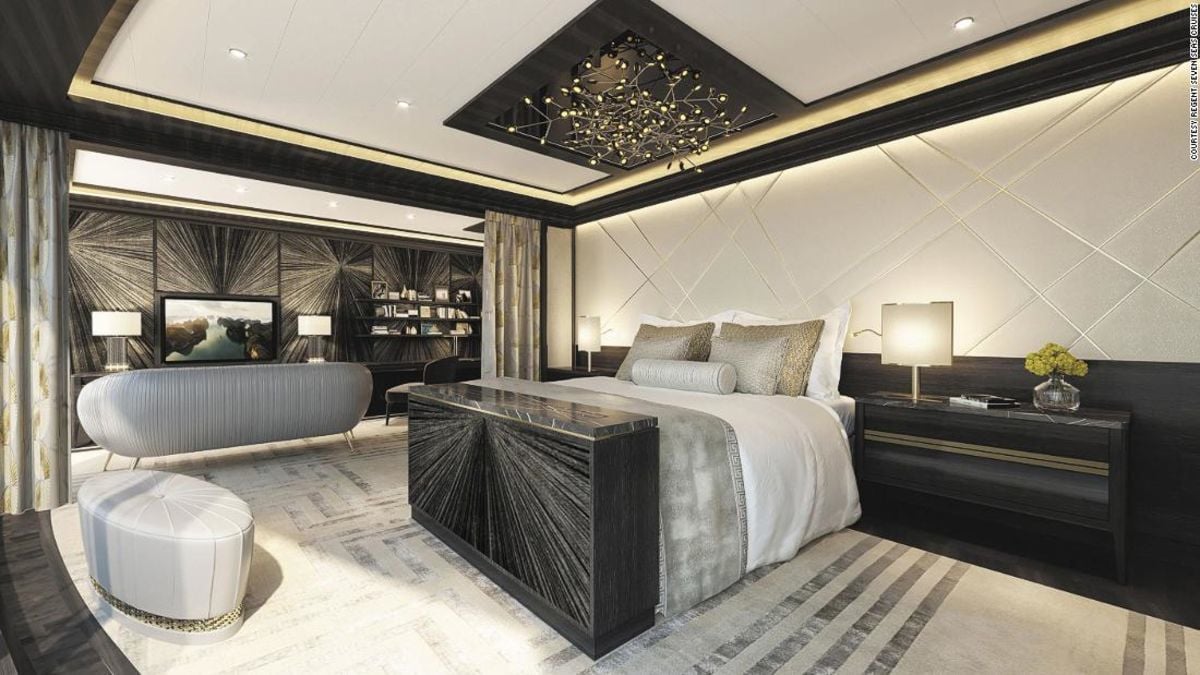 The lavish Regent Suite on the brand new Seven Seas Splendor that's launching this year is apparently the largest cruise ship suite in the world at a mammoth 4,443 square feet.
The swanky suite has a master bedroom, guest bedroom, living room, dining room, spa treatment area complete with sauna and steam room, and a private veranda. 
Floor-to-ceiling windows allow endless natural light and views of the ocean, which you can watch from the mind-numbingly expensive $200,000 bed.
The bed is custom designed by Swedish brand Hästens, and Regent Seven Seas is calling it "the most luxurious bed at sea" for good reason.
Garden Villa, Norwegian Star 
Norwegian Cruise Line
The 3-bedroom Garden Villa suite on the Norwegian Star accommodates up to seven guests across 2,239 square feet and has a massive 4,455 square feet balcony, which is almost unheard of for a cruise ship.
The bedrooms each have a king or queen sized bed and luxury ocean-view bath, and the suite also includes a living room and dining room plus butler and concierge service. 
As the name implies, the suite has a private garden on the huge balcony with a hot tub, outdoor dining area, and terrace. 
The Owner's Suite, Hapag-Lloyd Europa 2
Hapag-Lloyd Cruises
Take in the endless open waters from this 1,227 square foot Owner's Suite on the Hapag-Lloyd Europa 2 that's decked out in soothing neutral colors, clean lines, minimalistic decor, and a striking Damien Hirst butterfly painting.
The suite has a master bedroom, living room, dining area, guest bathroom, shower with steam sauna, and walk-in closet. For a relaxing bathroom ritual, head to the master bathroom and enjoy the brilliant panoramic views, whirlpool, and daybed. 
The Duplex Suite, MSC Meraviglia
MSC Cruises
Spread out on two decks, the stunning Duplex Suite on the MSC Meraviglia has a living area, master bedroom, two bathrooms with tub and shower, and two walk-in wardrobes.
On the second level is a balcony with a whirlpool, lounge chairs to soak up the sun, and uninterrupted views of the ocean. 
Reflection Suite, Celebrity Reflection
Celebrity Cruises
Live the suite life in the sleek Reflection Suite that's tucked away into a secluded corner of the Celebrity Reflection for panoramic views.
The suite is in an impressive 1,636 square feet with two bedrooms, two bathrooms, a private garden with real grass on the deck, hot tub, steam room, sun deck, and an all-glass shower that extends beyond the ship. 
Throughout the sitting area are floor-to-ceiling windows, extra high ceilings, and full-height glass doors that offer remarkable views and natural light. And to top it all off, guests will have laundry service, twice-daily housekeeping service, and a private butler.
The Owner's Suite, Ritz-Carlton Yacht Collection
Later this year, Ritz-Carlton will be rolling out a fleet of three ultra-luxe megayachts called the Ritz-Carlton Yacht Collection. The sleek yachts promise the same level of service as the legendary hotels, and as expected will have a variety of breathtaking suites. 
One of these is the Owner's Suite that can only be described as 1,098 square feet of pure luxury. 
Some of the opulent accommodations include a modern living and dining area, custom king bed sleep system, walk-in wardrobe, double vanity and soaking tub in the master bathroom, guest bathroom, and a private terrace that has a whirlpool overlooking the ocean.
Guests can enjoy 24-hour in-suite dining, an espresso machine, and a personal concierge to ensure the entire voyage is as smooth as possible.