This 'Mushroom Dome Cabin' is the Most Popular Airbnb in the World
Renters are going crazy for this quirky California cabin.
(Photo: Airbnb)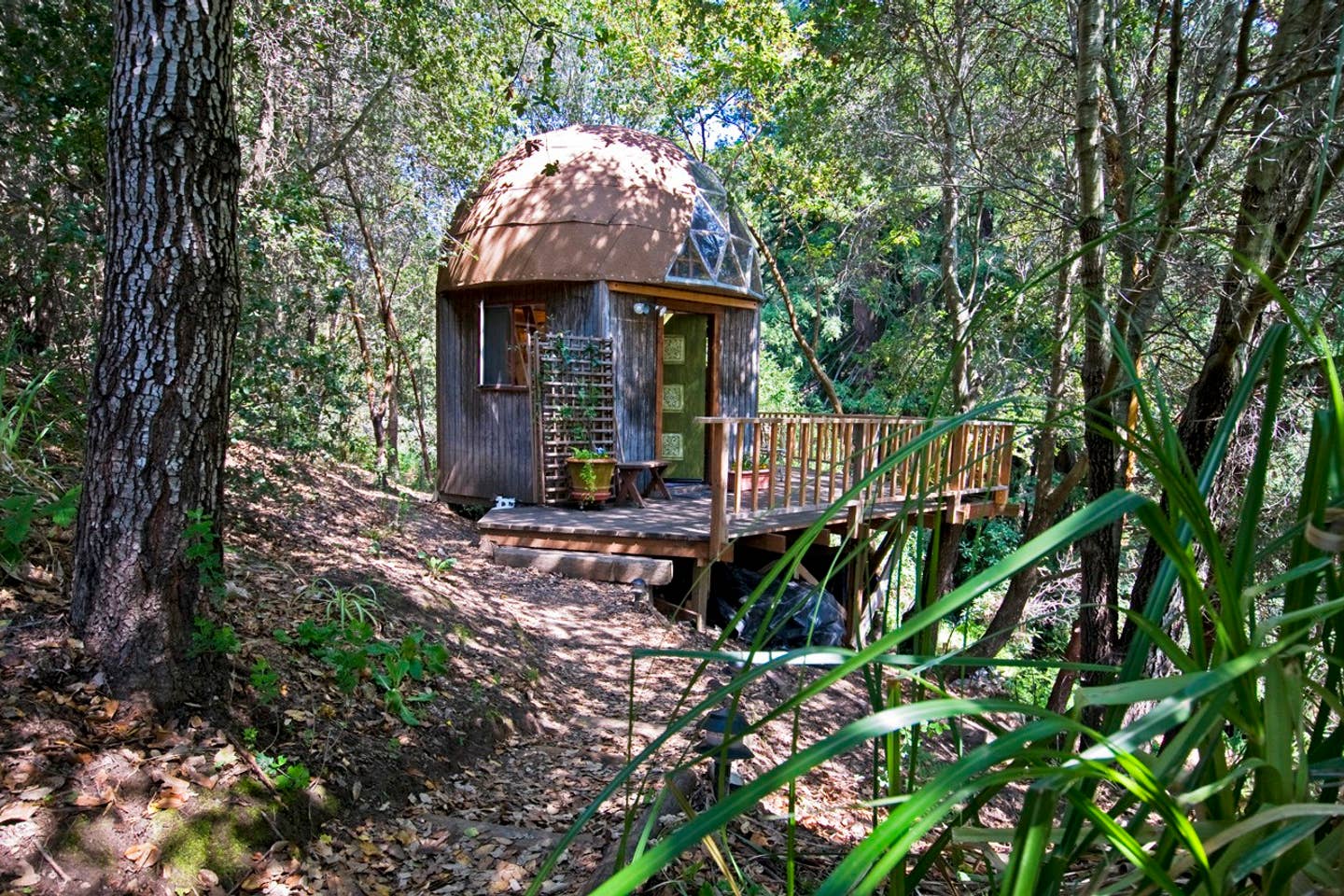 Some Airbnbs listings are beyond luxurious and cost thousands of dollars a night. Others are just plain attention-catching, like that a giant hot dog on wheels or a massive pirate ship. 
But there's one rental that's more popular than any other Airbnb: the Mushroom Dome Cabin.
https://www.instagram.com/p/BilVd75nmfW
The tiny mushroom-shaped cabin is the most popular listing on Airbnb with an average of three million views a year, and is entirely booked until January 2020. 
What's more is that reservations must be made 9 to 11 months in advance to rent the cabin on a weekend since Saturdays are the most in-demand day and are fully booked even further out.
https://www.instagram.com/p/Bfr9hnRHifQ
The cabin is located in Aptos, California and has a tiny bedroom, a queen bed, a couch that can be made up as a bed if needed, a kitchen, and a nice wooden patio to stargaze from.
Other amenities include a table, small fridge, small appliances like a blender, popcorn maker, a kettle, a toaster oven, a hot plate, and snacks like oatmeal and butter for the popcorn. There's also a barbecue grill on the deck.
Plus, it's an absolute haven for hummingbirds. The listing explains:
If you love hummingbirds, bring your camera. Our garden is the year-round home to many Anna Hummingbirds. (We usually have about 300 – 700 year-round) During the summer, we are also called home by many Rufus and Allen Hummers as well. So you have got to see our "Hummingbird Airport" where we feed them about 130 oz. of syrup on a summer day!
https://www.instagram.com/p/-sIWFfnUj0
The owner Kitty Mrache has been listing the cabin since 2009 and lists it at only $130 per night, making it a humble and affordable getaway.
According to Vox, the Mushroom Dome Cabin is just on the other side of a mountain range from Silicon Valley, and most of its early renters were people from there who needed a few peaceful days away from the Silicon Valley rat race.
Now, there's a constant influx of visitors from all around the world who want to stay in a quirky mushroom-shaped cabin. Mrache says the popularity likely comes from its affordability, uniqueness, and location.
"We were the first place in nature around the Bay Area [on the site.] So people in the city who want to get out of the city to find some quietness," she told Vox. 
"Santa Cruz is a very major tourism destination. Monterey and Santa Cruz. We're only 45 minutes from Silicon Valley but it's a completely different environment. When we joined, all of Airbnb listings were in either San Francisco or Brooklyn. We get over three million views a year now."
https://www.instagram.com/p/Brgod1gHFPh
Book your stay at the Mushroom Dome Cabin right here.