Naturalist Painter John Newsom Blends Stunning Wildlife With Abstract Settings In 'Nature's Course'
"Love, struggle, war, peace, time, the seasons of one's life—these are just several of the 'big themes' I try to address in my work."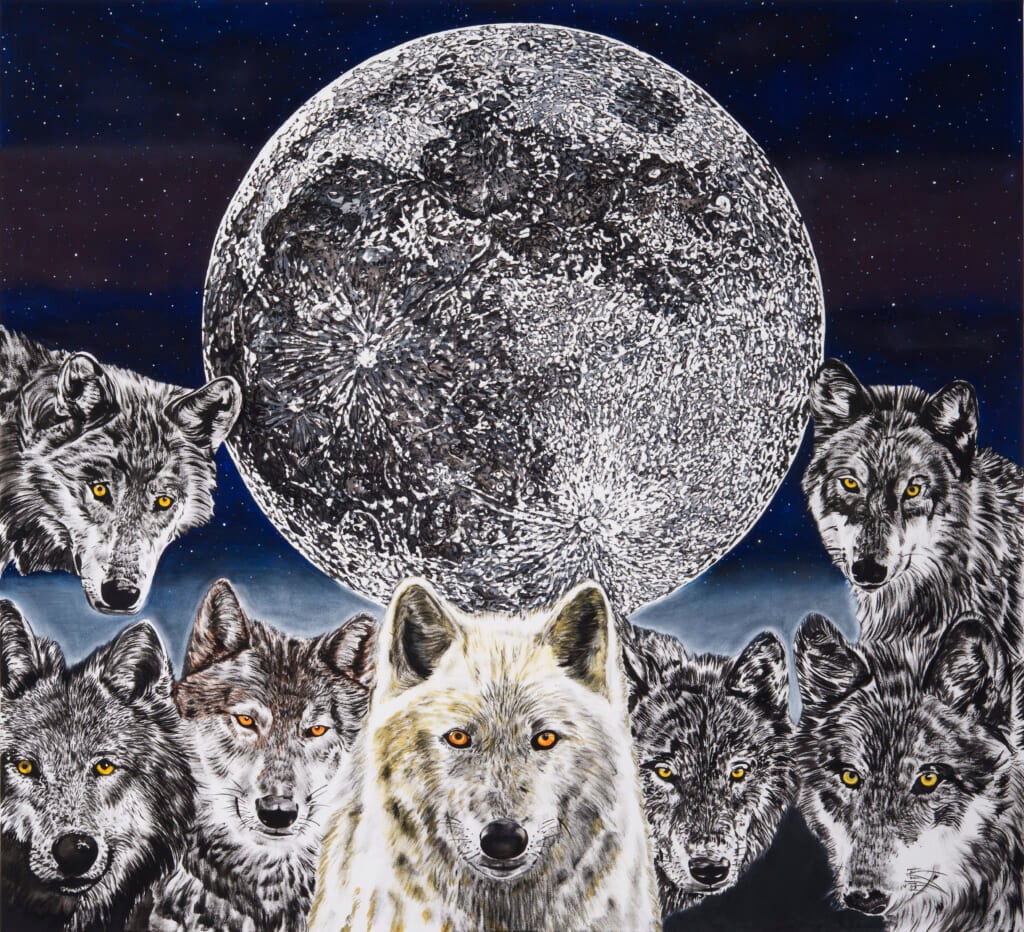 A homegrown Oklahoma artist has returned to the heartland to celebrate his colorful, mid-career retrospective. Nature's Course, by Brooklyn-based and Enid, Oklahoma-raised painter John Newsom, recently opened at Oklahoma Contemporary, the $30 million museum's second solo show after Ed Ruscha: OKLA.
Nature's Course features 31 large-scale paintings created by Newsom over the past 20 years. These artworks are on loan from collections across the U.S., from San Francisco to Palm Beach, Houston, Aspen and New York.
Newsom's eye-popping paintings blend the animal kingdom's most beloved subjects with abstract backgrounds of shapes and textures. Although his inspirations are classic, Newsom's methods break the mold—industrial mops loaded with oil paint, brick-laying spatulas, and even one-haired brushes made of mouse whiskers.
"It's incredibly humbling to experience this exhibition in my lifetime," says Newsom. "Painting itself is a very ancient thing, a very old process of recording thoughts and feelings. Paintings obviously outlive the painter, and in many examples the works aren't recognized in the painter's lifetime."
"I create my work with a conscious effort to keep the motifs and methods timeless. You don't see any 'man-made' things in my paintings. Everything is composed of natural elements and gestures. This process allows the works to maintain a certain vastness. The iconography isn't tied to a single time period, but hopefully transcends it. This way the paintings become very approachable to all peoples, from across the world."
"Love, struggle, war, peace, time, the seasons of one's life, these are just several of the 'big themes' I try to address in my work in order to inspire a sense of wonderment within the viewer. It really is all about wonderment."
While Newsom's work is highly conceptual, its technical sensuality and recognizable subject matter means everyone can participate in his contemplations.
Newsom adds, "A thought and a feeling cannot occupy the same space at the same time. And the key to the work I believe exists in the space in between thought and feeling. In order for a painting to be truly successful it must be balanced."
Newsom has spent his entire career in New York City, with a studio at Mana Contemporary in Jersey City. He stays in touch with nature at Brooklyn's Prospect Park, a 526-acre expanse across the street from his home. His Oklahoma upbringing also prevails. "I have always carried that original pastoral landscape of the prairie within me," Newsom says.
"Although I have lived my entire adult life in New York City, my early experiences of growing up on the Great Plains of middle America are something I can go to for reference. This is really where the naturalist affinity in my work comes from."
Whether you're catching this work in person or virtually, Newsom emphasizes that "The paintings don't exist without the viewer, which is literally the human component in the work."
A tip from the artist: Concentrated suspension of disbelief makes Nature's Course more effective. "I am hoping to slow people down so that they can gain a deeper experience and understanding of themselves and their individual lives so that when they leave the museum they will have a heightened sense of perception of how they experience the world," Newsom says.
"To notice subtle things that they might otherwise have overlooked. This could be a relationship with their job, a loved one or a sunset. It's the magic of the process of painting."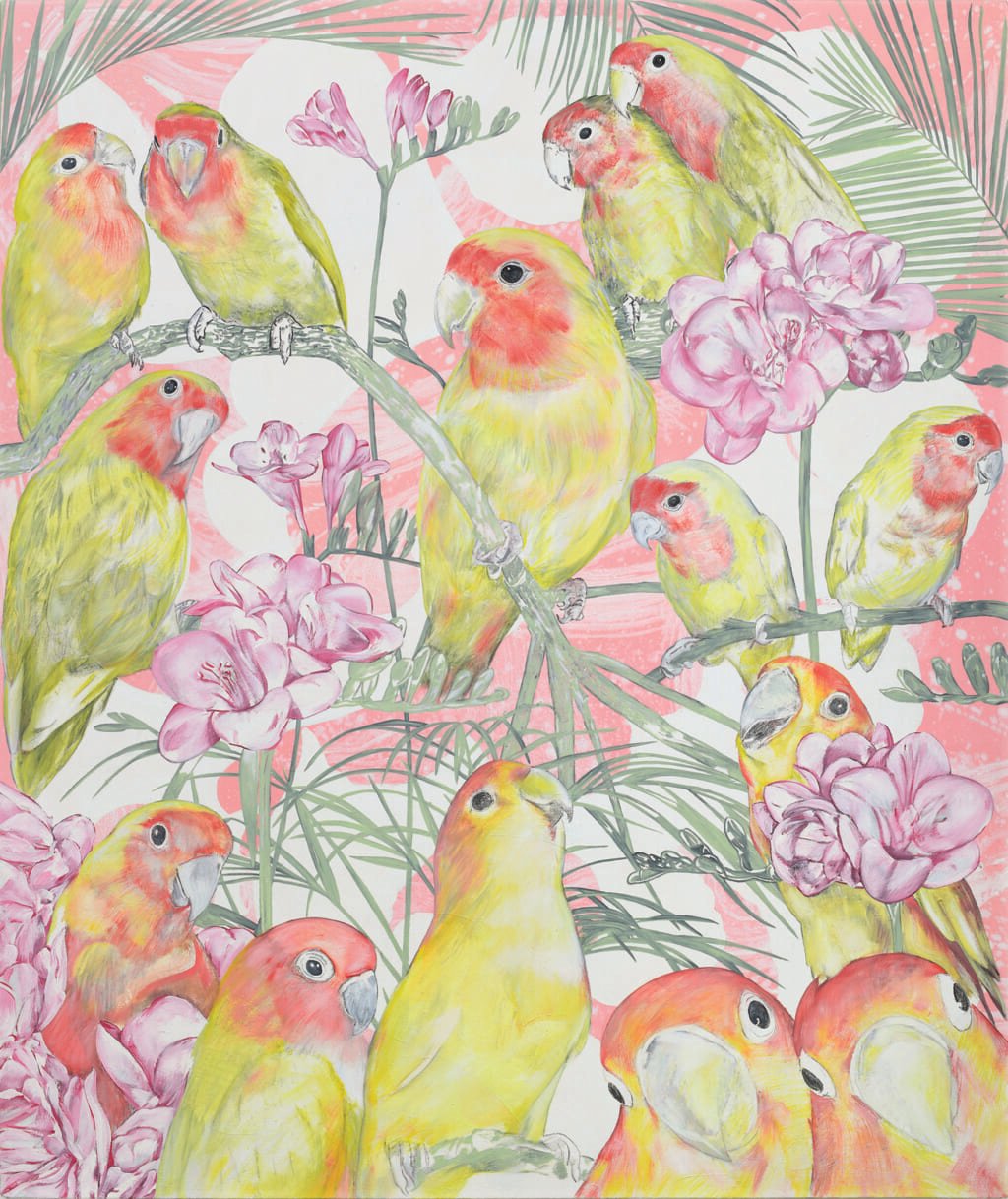 He's done the work on his end to imbue the work throughout Nature's Course with care and humanity. After reaching a certain level of success, many artists rely on a team of assistants to execute their paintings. Newsom still does everything himself.
"There are plenty of successful painters who paint with teams of assistants," Newsom clarifies. "For myself, it's important to keep the original voice, the original mark. Mike Tyson had his arsenal of punches. They couldn't be duplicated. Al Pacino can only act his own roles. These are artists too. It has to be natural and of the natural world, of nature's course."
Speaking of celebrity, Newsom has some interesting personal connections for a naturalist painter. The actor/director Matt Dillon interviewed Newsom for a Q&A about Nature's Course, and Newsom created cover art for Wu-Tang Clan rapper Raekwon's sixth solo album. He also launched a two-person show with cult-favorite artist Raymond Pettibon at COUNTY in Palm Beach.
Nature's Course remains on view through August 15. Check out the show to complete Newsom's work, and be sure to keep your eyes on what Oklahoma Contemporary has in store.