Nordstrom Wants to Sell You Jeans Covered in Fake Mud For $425
Any takers?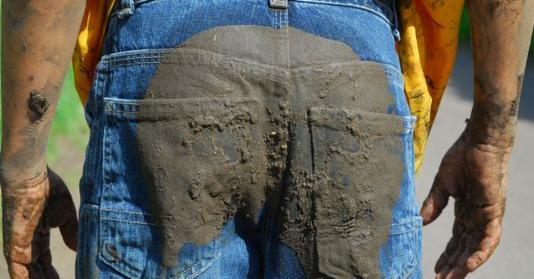 Photo: Getty Images
You probably didn't realize it, but those mud-caked jeans you see on construction workers and outdoor-festival goers are actually worth a small fortune—at least if you ask Nordstrom.
In fact, dirt-covered denim is so valuable that the Seattle-based department store is selling pairs coated in fake mud for $425. Who knew?! 
The Barracuda Straight Leg Jeans product description says they "embody rugged" by showing "you're not afraid to get down and dirty." 
Mike Rowe, the host of Dirty Jobs, disagrees. 
"The Barracuda Straight Leg Jeans aren't pants," Rowe said on Facebook. "They're not even fashion. They're a costume for wealthy people who see work as ironic — not iconic."  
It also shows that you're dumb enough to spend $425 on clothes that look dirty. 
If you want some awesome jeans with a cool distressed look, try these Levis instead. 
h/t: USA Today