Channel Classic James Bond Style With N.Peal's 007-Inspired Collection
These rakishly handsome pieces pay homage to 13 iconic James Bond moments.
(Photo: EON Productions/N.Peal)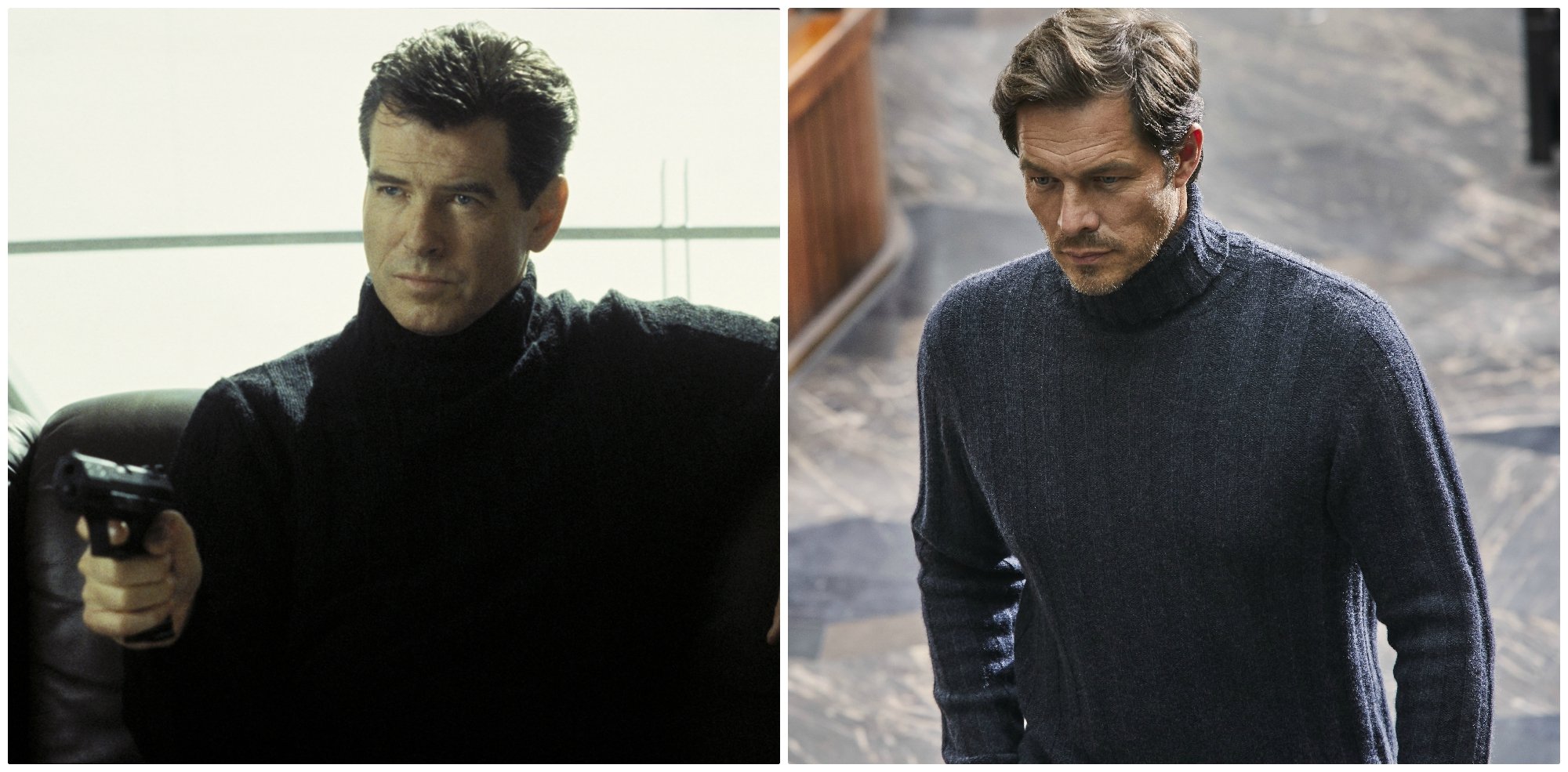 British cashmere brand N.Peal, worn by Daniel Craig in Spectre and Skyfall, has launched a new 007-inspired collection that can help you pull off James Bond's signature style.
The brand's "007 Cashmere Collection" is comprised of 13 pieces that celebrate iconic moments from the legendary film series, more than would probably fit in the trunk of an Aston-Martin.
N. Peal recreated items like the shooting vest and crewneck sweater Roger Moore wore in For Your Eyes Only as he cornered Kristatos, and the turtleneck and bomber jacket that George Lazenby wore in On Her Majesty's Secret Service as he rescued Countess Tracy di Vicenzo.
N.Peal also worked with EON Productions — which is the production company behind all of the 007 films — to put together a two-minute clip showcasing their new espionage-themed items.
Below, check out N.Peal 007's collection alongside the movies that inspired them.
Inspired by Goldfinger
007 meets with M to discuss his next assignment and the suffocation of Jill Masterson found dead after being painted gold. Epitomise the look with our knitted Milano Jacket, waistcoat and tie. All in 100% cashmere.
Strapped down under a deadly industrial laser while Goldfinger taunts him, James Bond only has moments to convince Goldfinger that he knows the details of his evil 'Operation Grand Slam'. Inspired by Bond's black V-neck sweater layered over a short sleeved polo shirt. We have recreated both pieces in fine gauge 70% cashmere, 30% silk.
Inspired by Spectre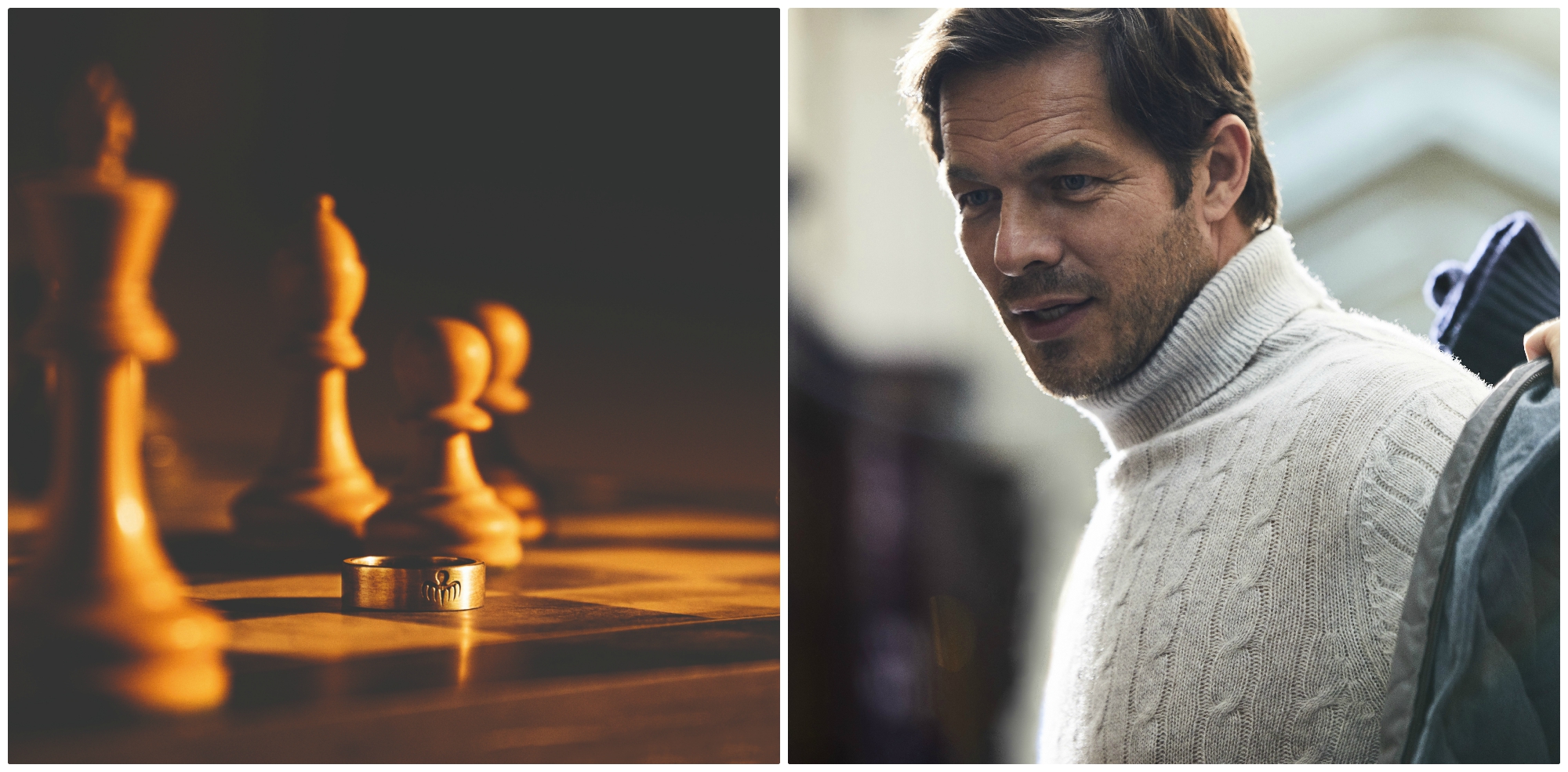 Bond visits the remote Austrian cabin where he believes his old nemesis Mr. White to reside, hoping to unravel the clue which untangles the web of Spectre. In the scene Bond wears an N.Peal fumo grey roll neck sweater in 100% cashmere.
In Austria Bond encounters Dr. Madeleine Swan, Mr. White's daughter and the key to locating SPECTRE's power centre. When Blofeld's henchman Hinx kidnaps her, Bond follows in fast pursuit. N.Peal's iconic mock neck sweater also featured in the Spectre teaser poster.
Inspired by Skyfall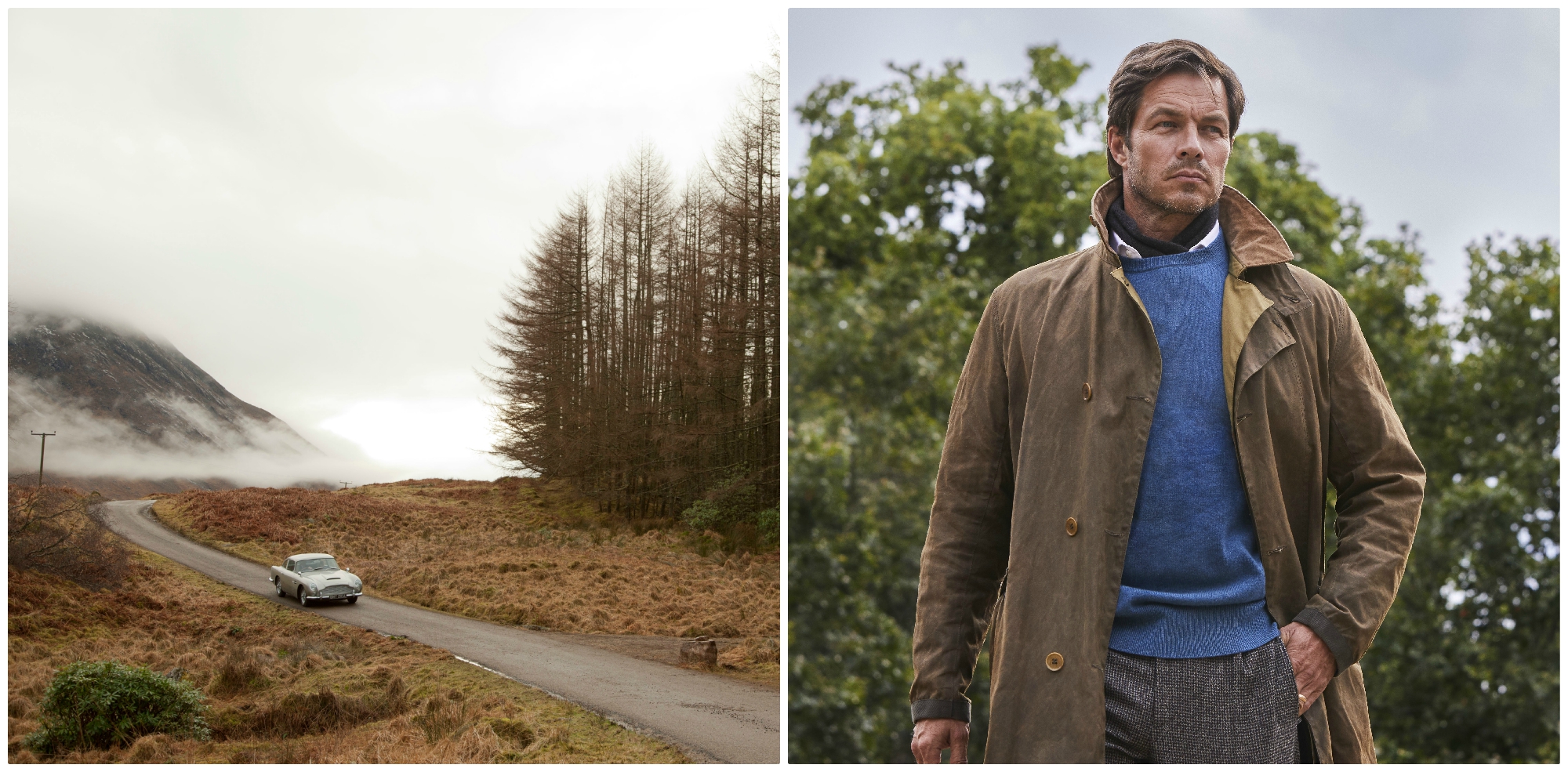 In his Aston Martin DB5, Bond drives M through Glencoe to his ancestral home, Skyfall Lodge to prepare for an explosive showdown with cyber-criminal Silva. During the defence of Skyfall Lodge, Bond can be seen wearing an N.Peal blue wave crew neck in 100% cashmere.
Inspired by Die Another Day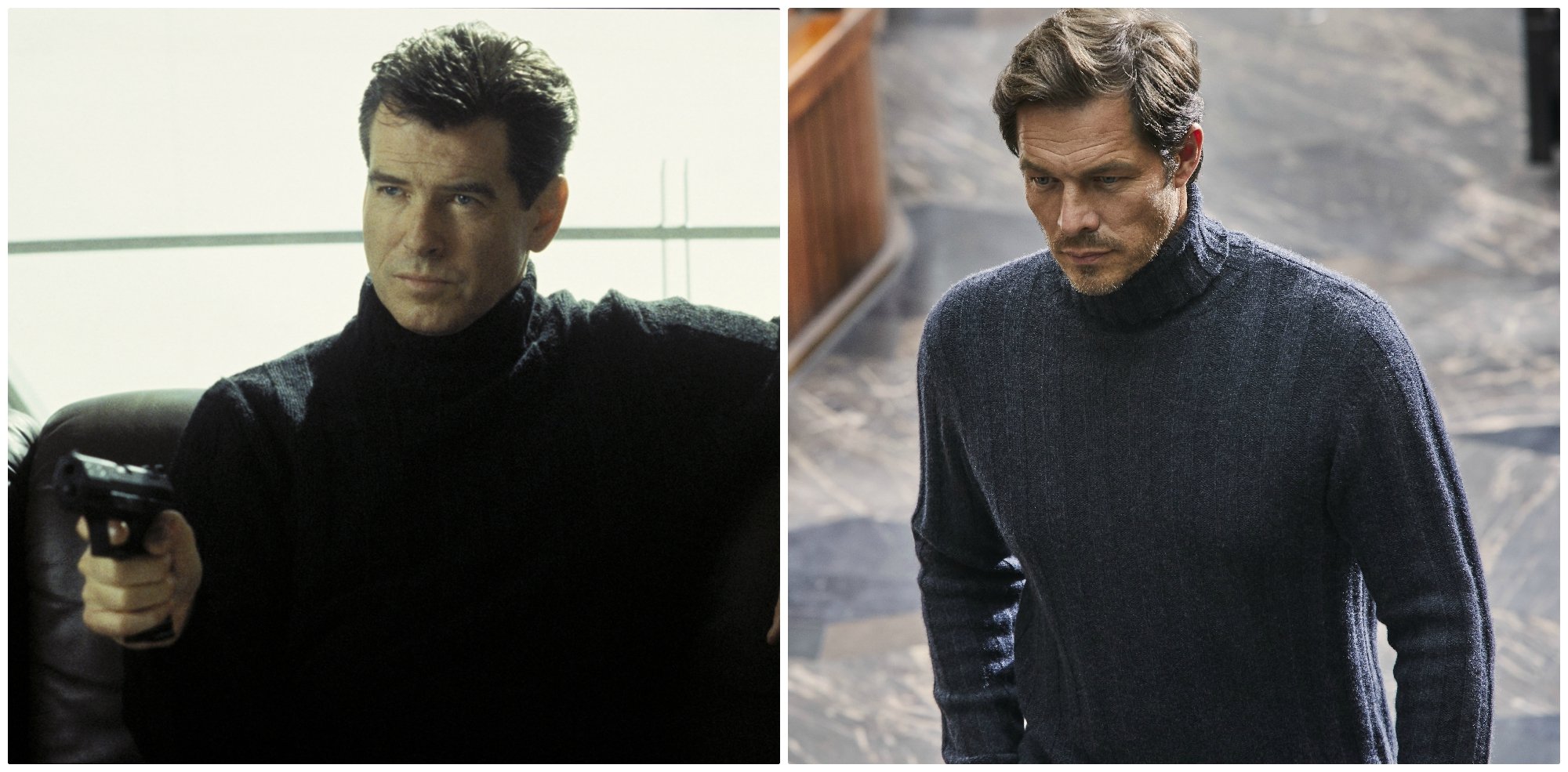 In Iceland, Bond confronts Gustav Graves with the knowledge of his previous identity, but is soon held at gun point himself by the double-crossing agent Miranda Frost. Our chunky ribbed polo neck sweater is made in 50% cashmere, 50% superfine merino.
Inspired by Goldeneye
While Bond's driving skills are evaluated, he embarks on a high-speed race in his Aston Martin DB5 against Xenia Onotopp's Ferrari in the mountains near Monte Carlo. Our cable crew neck sweater in navy is 100% cashmere.
Inspired by The Living Daylights
An explosive car chase results in Bond and Kara sledding briskly down the mountain in her cello case doubled up as a toboggan, escaping Russian soldiers' fire by crossing the Bratislava border into Austria. We have recreated this classic fisherman's rib round neck sweater in 50% cashmere, 50% superfine merino, styling it with a fine gauge neck scarf and chunky ribbed hat in 100% cashmere.
On assignment in Morocco Bond takes aim at KGB chief, General Pushkin in a fake assassination plot with the hope of exposing General Koskov's scheme to use KGB arms funds to finance his illegal activities. We have recreated the look with our 5 button long sleeved polo shirt in 100% cashmere.
Inspired by For Your Eyes Only
At Kristatos' Greek mountaintop compound, Bond and Melina corner the double agent when he is within reach of the coveted ATAC (Automated Targeting Attack Communicator) he plans to sell to the KGB. The iconic waistcoat is recreated with diamond quilting pattern in 100% cashmere and layered over the chunky marl sweater in 50% cashmere, 50% superfine merino.
Inspired by Live and Let Die
Bond's mission takes him to the island of San Monique to foil the plans of dictator Dr. Kananga. Bond successfully destroys Kananga's poppy fields and rescues Solitaire. Our classic black polo neck sweater in 100% cashmere was the ideal candidate for this inspired piece.
Inspired by On Her Majesty's Secret Service
After James Bond rescues the beautiful Countess Tracy di Vicenzo, her father Draco makes Bond an offer to give him the resources necessary to locate Blofeld if he will marry her. Bond declines but eventually a genuine romance blossoms. The turtleneck we have recreated in 85% cotton, 15% cashmere for a lighter layer under a brown 100% cashmere zip through bomber jacket.
Bond escapes Blofeld's lair and embarks on a mountain-top ski chase; evading his assassins by barrelling down the impressive alpine slopes. We have recreated the look with an ivory tubular roll neck sweater worn under a light blue zip through bomber, both in 100% cashmere.
You can shop the entire N.Peal X 007 collection right here.