Odell Beckham Jr. Wore 'World's Most Expensive Cleats' For Rams Super Bowl Victory
Beckham sported $200K diamond and gold-encrusted pre-game cleats by The Shoe Surgeon, while three Rams teammates also rocked pricey custom cleats.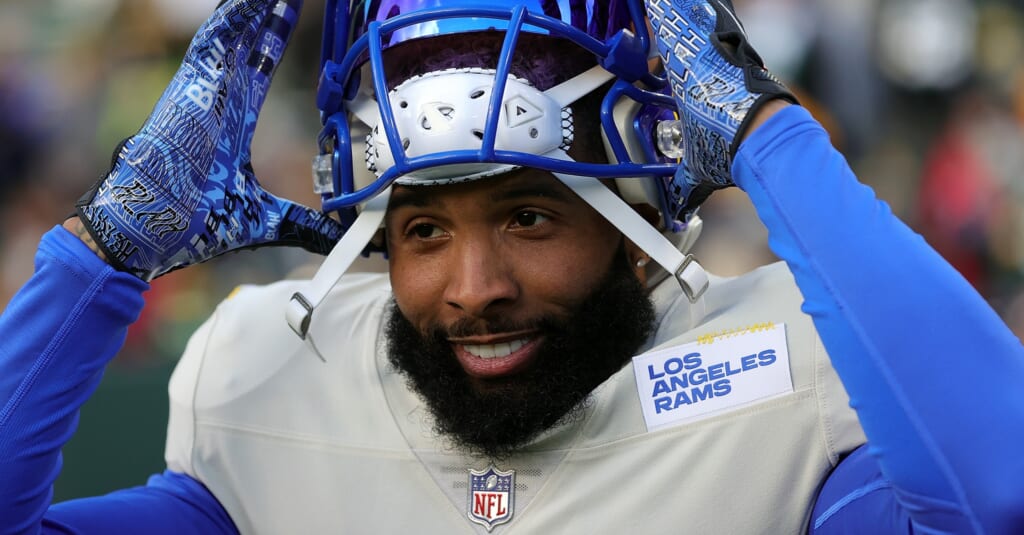 Rising to the occasion took on a whole new meaning during Super Bowl LVI, as Odell Beckham Jr. (and his Los Angeles Rams teammates) sported one-of-a-kind cleats custom-made for the game by shoe wizard The Shoe Surgeon.
The lauded wideout caught the first touchdown on the biggest stage in sports before leaving with a knee injury, but he made his mark in the 23-20 Rams Super Bowl win over the Bengals at SoFi Stadium.
Super Bowl MVP Cooper Kupp went down in NFL history after catching the game-winning touchdown from star QB Matt Stafford — while wearing his own custom cleats.

Odell's cleats (laced up during pre-game warm-ups) had an extra special touch: Dubbed the most expensive cleats on the planet, the $200,000 shoes featured 1,494 white diamonds, a total carat weight of 25 carats and 150 grams of 14-karat yellow gold, all in a nod to the colors of the Rams.
The cleats didn't come cheap, with a total value of $200,000.
The former LSU and New York Giants star wasn't the only Ram to rock some bling on his feet: Cornerback Jalen Ramsey and linebacker Von Miller were also outfitted for the biggest night in football with custom cleats from the Shoe Surgeon himself, Dominic Ciambrone.
It wasn't the first time Beckham Jr. sported a custom design from The Shoe Surgeon, having previously worn Kobe 6 custom cleats with an equally flashy design just weeks ago.
The wide receiver's pre-game cleats of choice featured white diamonds and yellow gold from renowned bespoke jeweler Jason of Beverly Hills — suffice to say, they're not your average pair of cleats from the sporting goods store.

"Big cultural moments like the Super Bowl fuel my creativity and inspire me to push my creative boundaries. Through the years, I've built a close relationship with athletes around our shared interests in expressing individuality through fashion," said Dominic Ciambrone. "It's an honor to bring their ideas together to help them celebrate these key moments in their careers."
Ramsey's cleat options also included a seriously sleek chrome option (adorned with The Shoe Surgeon's skull logo) befitting the lightning-fast player. The Shoe Surgeon also designed his first custom cleats for the award-winning Kupp, who laced up a pair in warm-ups inspired by artist Brian Donnelly, otherwise known as KAWS.
Kupp's warm-up cleats were wrapped in a repurposed version of an authentic CDG x KAWS dress shirt — again, these aren't your average pair of cleats from a sporting goods store.
During the game, Kupp and Beckham Jr. laced up matching custom Off-White inspired double laced dunk cleats, notably featuring a fastening system in the Rams colorway — and all adorned in Premium butter soft white and blue leather.

For the Beckham Jr.'s pre-game cleats, more than 100 man hours went into the fittingly dubbed and insanely beautiful pair known as the most expensive cleats in the game.
""I've had the pleasure of being a part of players' lives on and off the field, which is why they request Jason of Beverly Hills to commemorate their big wins," said the renowned bespoke jeweler of the record-breaking cleats.
"The walk to the locker room has become the runway and it was only a matter of time before that bled onto the field. I had a great time collaborating on this piece with Odell and Dominic."
The details make the difference, in fashion, in football and especially in the Super Bowl. For now, we can't wait to see what The Shoe Surgeon, and perhaps OBJ, come up with next season. A Super Bowl win should certainly serve as a fitting placeholder for now.