Olympic Gold Medalist Caeleb Dressel Shows Off Patriotic Omega Seamaster
The seven-time gold medalist swimmer sports a Seamaster Diver 300M Chronograph in steel and yellow gold, with a NATO strap in USA colors.
It's not like Olympic swimmer Caeleb Dressel came out of nowhere when he won five of his seven gold medals in Tokyo last July.
He had already picked up two (the 4×100 free and 4×100 medley) at the 2016 Rio games, and had been blazing a path to Japan by earning seven at the 2017 World Aquatics Championships in Budapest—and a record eight medals, including six gold, two years later at the same competition in Gwangju, South Korea.
And then came the pandemic, the Olympic postponement, and the questions about how it might impact training. For Dressel, the answer was, not so much. His five golds in Tokyo put him in an elite class of American athletes. Over the past 50 years only five others have done likewise in a single competition.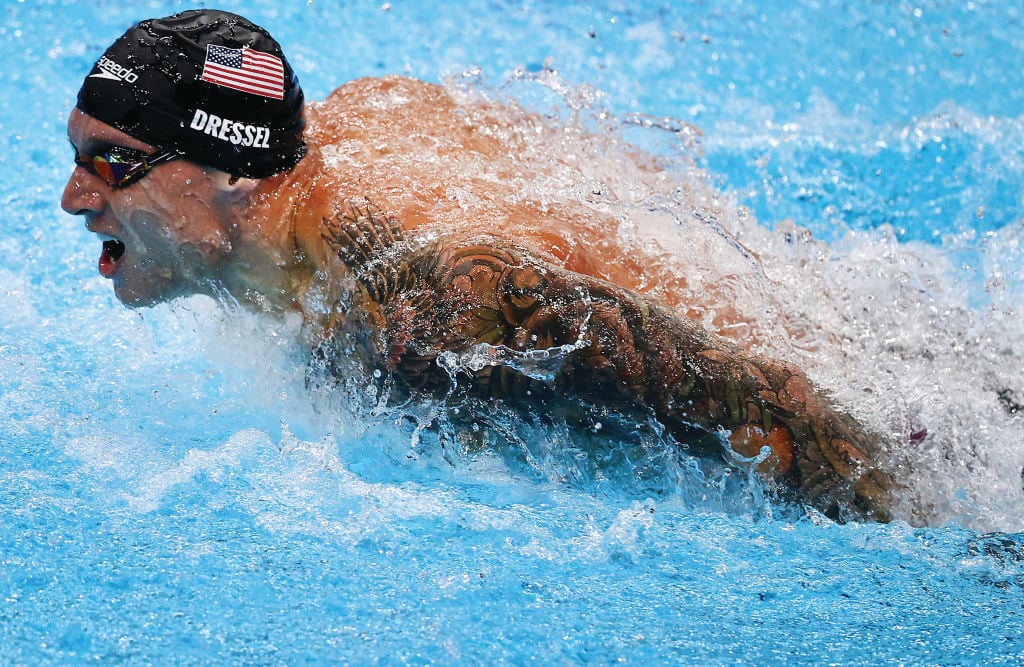 The other four are swimmers Mark Spitz, Michael Phelps, and Matt Biondi, and skater Eric Heiden. Among swimmers, Dressel is the first to win gold in the 50-meter freestyle, the 100 free and the 100-meter butterfly at the same Olympics.
"Winning that first gold medal was a hugely satisfying moment. When I knew we'd won, there was a definite release and rush of everything that'd been built up inside. It's like an emotional overload," he recalled of the victory in a recent exchange with Maxim. "It was short-lived though, because I still had so much ahead of me at the Olympic Games. I still had a lot of success I wanted to achieve."
Obviously he's had numerous opportunities to celebrate, or has he? "There's not too much time to really enjoy yourself, celebrate and relax. You're in a constant state of competition. But, of course, there is always that small window at the finish of a race where the feelings just come pouring out."
To minimize the impact of the pandemic on his training he simply focused on the things that he could do when he couldn't follow his usual regimen—dieting, putting down his phone and redirecting his concentration in order to retain it and, oh yeah, hiking 60 miles of the Appalachian Trail.
And when he hit the ground in Tokyo, he had another ace in the hole, fellow record gold medalist Michael Phelps. "If you're a swimmer, you look up to Michael. That's just the way it is," he says of his friend and mentor. "At these Olympic Games I probably texted Michael more than my wife! I leaned on him a lot, and he was clear that he was always there for me when I needed. It felt good to know I'd made him so proud."
Phelps and Dressel are also teammates of another kind; like his mentor Dressel has now been tapped as a brand ambassador for Swiss luxury watchmaker Omega, James Bond's timepiece of choice, also well known for its Olympic timekeeping prowess, along with other swimming greats South African Chad le Clos, and Swiss Jérémy Desplanches.
"I see all those guys being at the top of their field, so I'm quite humbled to have been selected by Omega as well," Dressel says. As he has said, "Swimming is about getting from point A to point B as fast as possible, so precision timekeeping is everything in my sport."
His Omega of choice is a Seamaster Diver 300M Chronograph in steel and 18K yellow gold, personalized with a NATO strap in USA colors. (Check out the American flag-inspired timepiece above.)
Dressel grew up in a family of six in Green Cove Springs, Florida, where he swam competitively along with his brother and two sisters. Throughout high school he trained with Coach Sergio Lopez's Bolles School Sharks, even though he didn't attend the school, and excelled in NCAA, World and U.S. Junior competitions. Meghan Amelia Haila, with whom he trained in high school, became his wife last February.
"I just want to make sure I enjoy my time with my family. They're my biggest support in everything I do, and creating time with them is just as important as anything else," he says as he looks toward the Paris 2024 Olympics. "I'm still taking in everything that happened in Tokyo, so it's impossible to get my head around Paris. In fact, it's better if I don't think about it, and take a little time to enjoy what I won this summer."
If there's a winning formula, you have to assume he has it. But it's not so simple. Being a perfectionist helps in a sport decided by hundredths of a second, where getting the advantage means attention to details. For Dressel, it's about mental sharpness, diet, training, commitment and confidence without complacency.
"It's all such a balancing act, and then bringing it all together when you get in the pool," he sums up. "Taking everything one race at a time was my process in Tokyo. If you look at the bigger picture, it can overwhelm you."
Two great passions drive Caeleb Dressel—swimming and his family. He loves to compete, but he loves it more when the meet is over so he can take a break. "Since Tokyo, I've just been enjoying the time with my wife. We never got our honeymoon, and so we promised ourselves we'd do that once I got back. That seems like a pretty good celebration to me."