Oris Reveals First-Ever 3D-Printed Watch
The carbon fiber case utilizes technology never before seen in watchmaking.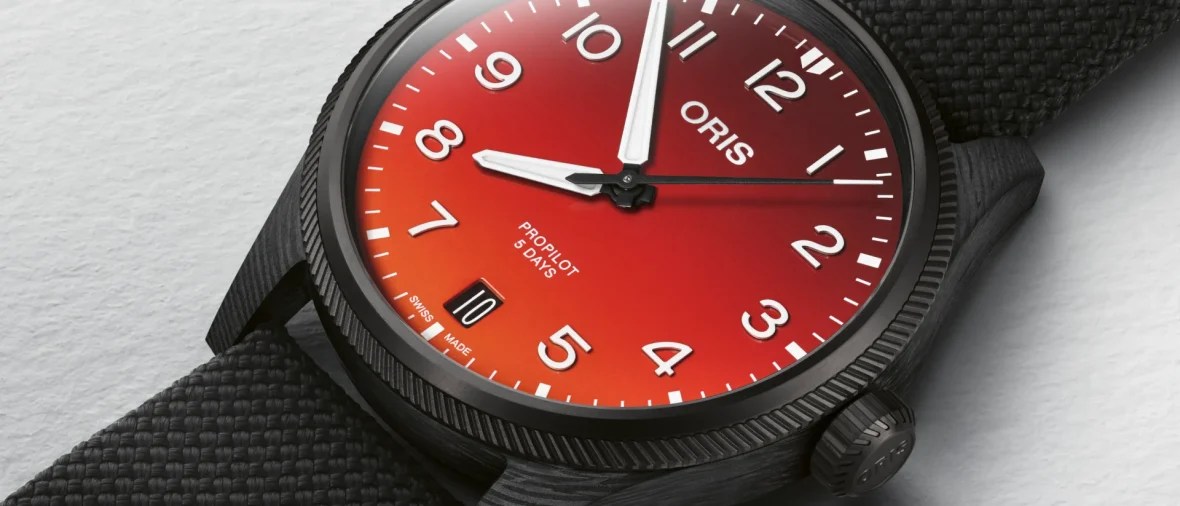 Crafting a watch that's precise yet durable, rugged yet stylish, is tough enough on its own, but what about throwing first-of-its-kind production into the mix? Impossible, right?
Not so fast. Oris just doubled down on innovative watchmaking with the release of the Oris Coulson Limited Edition, the first-ever watch crafted using 3-D printing.
The watch is notable even beyond that, designed in partnership with leading aerial firefighting organization Coulson Aviation, hence the blazing orange dial.
It's the technology used to craft the subtle yet hard-wearing timepiece that's perhaps the most impressive thing about it, style points aside.
The design of the Oris Coulson Limited Edition takes cues from the Oris ProPilot, an impressive series of flight-ready watches with a distinctive crown.
Yet, Oris arrived at the final product using 3-D printing — this isn't your average watch, and just 1,000 are set to hit the market.
Of note is the fact that the Oris Coulson boasts a PVD-plated titanium fixed bezel for an added touch of texture on the dial.
The black carbon fiber case should prove impossibly sturdy yet lightweight, while that 41mm case houses Oris' own Calibre 400 series automatic winding date movement and an astonishing five-day power reserve.
In a notable departure from other ProPilot watches, the date window rests at 6-o'clock, while the numerals and dial markings remain as crisp and clean as ever.
Each watch features a textile and leather-backed strap, and the caseback is complete with a limited-edition engraving and an individual numeral marker.
While the watch might look simple on the surface, every watch collection can use a subtle, durable timepiece — especially one made using what could become the way of the future in watchmaking, 3-D printing.