Outfitted: Gus Kenworthy
The award-winning Olympic skier talks coming out, life post-skiing, and wearing 'all black everything.'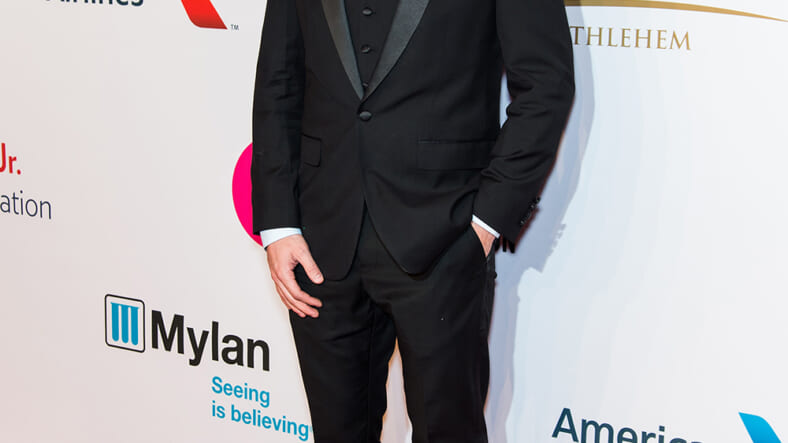 Growing up in Telluride, Colorado, it was natural for Gus Kenworthy to fall into the alluring world of winter sports. For the 24-year-old skiing all-star, it was a chance to show of his competitive side. "I've always wanted to be better than my friends and my brothers and grew up that way," he told Maxim. "Sports was just an obvious place for me to do that." 
Kenworthy has proved he's a serious force to be reckoned with; he's dominated in multiple Dew Tours, won consecutive AFP World Championship titles, and earned himself a second place medal in the Sochi Olympics. With the XGames approaching at the end of January (and the Olympics creeping up in August), he plans on competing just as hard as ever despite his growing success. 
"XGames is the biggest event for me and is the one that I grew up watching and wanting to be at," he says. "The Olympics is the biggest event for any sport, plus it also happens once every four years, and gives us the opportunity to compete for our country rather than just for ourselves. They're both pretty important."
Despite spending all his time training for the next big win, Kenworthy still yearns to experience a life outside of skiing. While the average career span of a skier isn't that long (most retire after reaching their 30's), his aspirations of pursuing a career in acting could become a reality sooner than he thought. "You can be 27 or 28 and still be on top killing it, but beyond that, there's not much longevity," he says. "I have so much respect for the guys who've decided to become coaches or managers and stay in the industry, but I don't want that for me. I want to ski, compete, go to the next Olympics, and then transition into something else. That's what I want to do."
And the next chapter of his life is just beginning. In October, Kenworthy came out to the world on the cover of ESPN Magazine as the first gay action-sports star with every intention of finally mixing his personal life with his career. "I always kind of separated the two worlds and it was hard," he told Maxim. "I was in a long term relationship that we didn't tell anyone about and it was hard not telling people and never being able to give him credit or recognition for things that he was doing for me."
" tml-render-layout="inline
It was a tough decision, but with the media attention that followed the cover and his part in the 3rd Olympic sweep in American history in February 2015, it became difficult for Kenworthy to dodge questions about girls or celebrity crushes. Although he initially though about not coming out until his skiing career ended, Kenworthy took the new attention as an opportunity to be open and honest with not only the world, but with himself. That is, not until he made sure that he was number one. "I wanted to avoid any talk regarding stereotypes that gay men aren't good at sports," he told Maxim. "I didn't want to come out as a random skier that was ranked 6th that no one cared about and have people think, 'That's great, but you're not very good.' Instead, I wanted people to know that I am gay and I am the best."
Today, Kenworthy is fully committed to continue on as he has been: a freeskiing phenomenon who can kick your ass on the slopes just about any day of the week. We have a feeling we'll be seeing a lot more of this Olympic medalist and all-around champ real, real soon.
Kenworthy opened up to Maxim about the importance of a good watch, what he does when he's not hitting the slopes, and that one item every guy must own.
If I'm not skiing, I feel like my days are set up around eating [laughs]. I'll get breakfast and be planning lunch, and get a coffee in between and find time to kill until dinner. It's all about food. I don't like cooking at home or going over for food at friends, I just like going out. If I'm in New York, I'm really into museums and kind of doing touristy stuff. Walking around, shopping, all the normal things.
Every guy should own a nice watch. That's so lame, but it's just a statement piece. I wouldn't even look at my watch to tell the time, I'd probably check my phone, but it's just nice to have a good looking watch. I have this beautiful piece that Bulgari generously gifted me with that I absolutely love.
I'm really into the trend of jeans with cuffs on the bottom and drawstrings and really fitted sweatpants, sort of jogger jean-type things. They're super comfortable and casual with a style element. I'm also into t-shirts and sleeveless tees that are raw cut fabric with no hem on the bottom and arms. Instead of a tank top, it goes to the shoulder with no sleeves, and it's cut loose and pretty comfortable.
" tml-render-layout="inline
My fashion sense is very grey scale. I like a lot of blacks, greys and very neutral tones. I like layering those colors too so I'll wear a grey t-shirt with a black hoodie and a black windbreaker over it. I actually really like throwing in colored shirt or something and matching with a vest to change it up.
I have a lot of travel things on my bucket list, but I really, really want to get into acting. I want to start taking singing lessons too since my voice isn't very good [laughs]. Doing an open mic night would be great too, just to try it. It'd be intense and embarrassing, but fun to at least try. 

I would probably wear Nike the majority of the time even they didn't sponsor me. They have so many sick shoes so I love wearing them and their tees fit really, really well. The minimally branded stuff isn't in your face – it's just comfortable and casual. Monster covers my headspace too so if I'm doing anything in the public eye, I'll have a Monster hat. I wear it around a lot. 
Need some style inspiration? Check out all our other 'Outfitted' columns here.