Outfitted: Patrick J. Adams
The 'Suits' star talks his first big role, how to approach women, and being confident in a room.
Patrick J. Adams found himself immersed in the magic of movies from his early childhood days in Canada. As a kid, the Toronto native's growing passion for film led to him spending more time at the local video store than your average teenager — but it was all for a purpose. 
"When I had a favorite film, I would buy the VHS and watch it so many times that the magnetic tape would start to get thin and the quality would deteriorate," he told Maxim. "When I found a film I really loved, I would watch it like a detective — trying to figure out how it worked, why the pieces fit together so well, how the performances helped tell the story. Sometimes, I would write the script of a film out by hand in the hopes that writing other peoples great words I might somehow find a few of my own."
And his dedication to the craft paid off exponentially. After shipping off to California following an acceptance to USC's undergrad acting program, Patrick was swept up in the fast paced world of casting calls and grueling auditions. It was during his freshman year that a random on-campus recruitment for extras in a film (plus, a comical Scottish accent) evolved into him playing 'Dust in the Wind' during Blue's funeral in legendary fraternity film, Old School — his first acting job on camera. 
"For about a month of shooting I was basically an extra, a nameless pledge brother who was just there to pretend to drink heavily, cheer on a naked Will Ferrell and tie a cinder block to my genitals — and I was more than happy to do all of it because I had front row seats to how a film actually got made," he said of his time on the set of Old School. "It was one day they came up to us and asked who can play guitar, I slowly raised my hand, and the guy said, 'Anyone else? Anyone at all?' — just a bunch of shaking heads, so he chose me."
The 34-year old has come quite a long way since his days of smaller, bit roles. The rising star has racked up an impressive resume, with notable appearances on Friday Night Lights, Pretty Little Liars, and Orphan Black. It's his latest (and greatest) role as Mike Ross on USA's Suits that has people looking — and it's hard to turn away. The series, just wrapping up its fifth season, has earned extremely favorable reviews, with Patrick receiving praise for his ability to bring his character from page to screen. With the show picked up for a sixth season, there's still plenty of drama to unfold from this notorious fictional NYC law firm.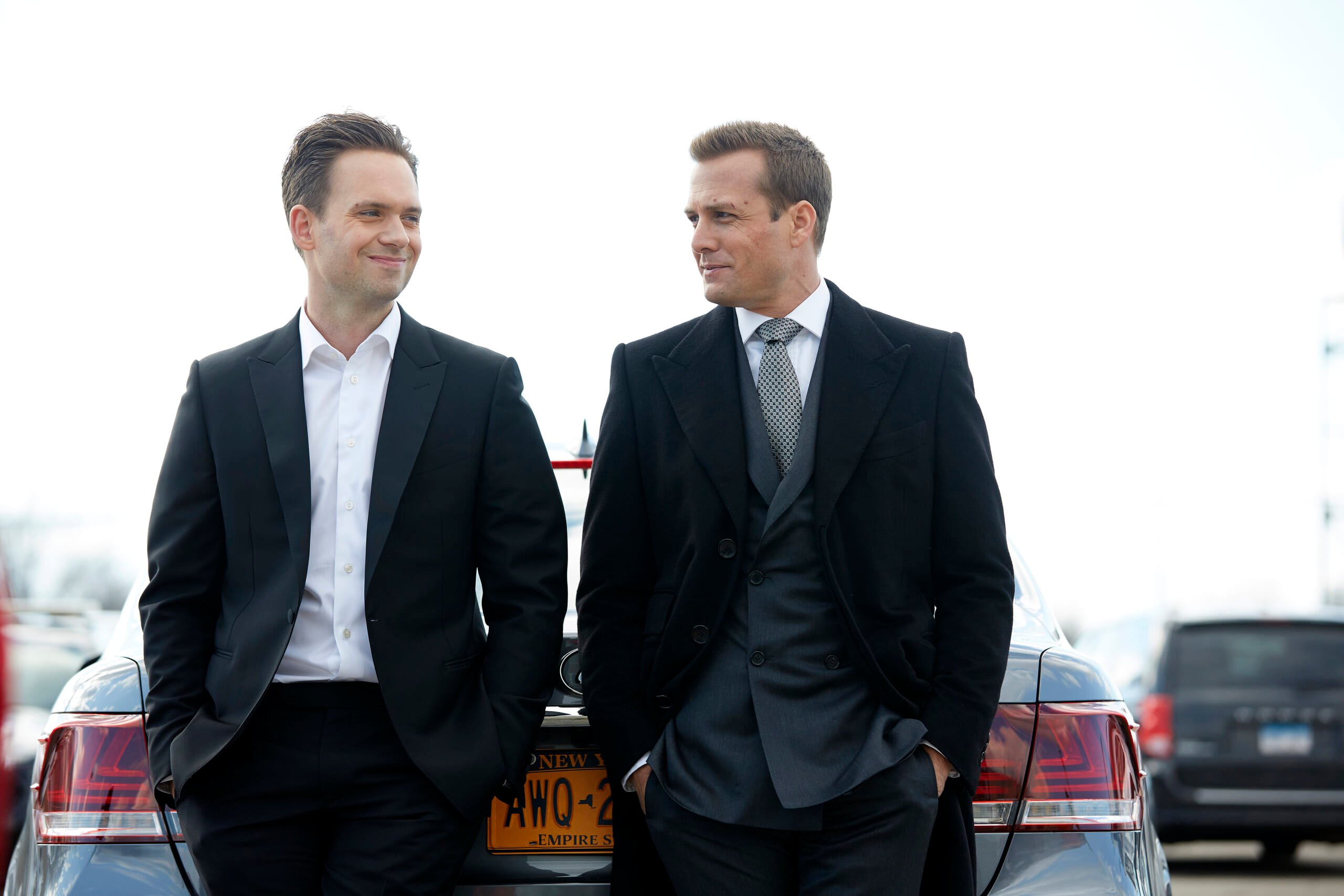 "I've learned more about work ethic, responsibility, leadership, humor, consistency, patience and kindness in the last 6 years than in the decades that came before it," Patrick said of his time on Suits. "We don't know how much longer the show is going to go on for but it does feel like there is still a lot of story left to tell and Mike especially has a few major challenges he is going to have to come face to face with. We have spent 5 seasons tying these peoples lives and careers together and now we are really going to get the chance to see if those bonds can really hold or not."
Patrick spoke with Maxim about owning a good suit, asking a girl out, and what's next for him. 
What's your favorite curse word to use?
I like to use cock as a verb. "Man, you really cocked that up."
Do you have an item of clothing that's truly significant to you?
I have a pair of Red Wing boots that I've been breaking in for about 5 years, and they are perfect. I've climbed mountains with them, ride my motorcycle, crossed rivers, and gone out to fancy restaurants with them. A good pair of boots is like a journal. They tell the story of where you've been.
Who are some stars that you dream of working alongside?
I'd love to work with Cate Blanchett, Meryl Streep, Daniel Day Lewis, Tom Hardy, Michael Fassbender, Tom Hanks, Kevin Spacey — I could do this all day. Maybe the top of that list though is Mark Rylance. I'm not sure there is a better actor on the planet than Mark Rylance. I've seen him on stage three times and every single time has been like going to church. I want to work with someone like him so I can understand how he does what he does. 
What is one item every guy must own in their wardrobe?
A good suit is essential for every guy. It doesn't need to be expensive — in fact most really expensive suits are more trouble than they're worth. But a great suit that fits you perfectly and makes you walk into a room with confidence. Before the show I avoided suits at all costs but I've learned just how valuable it is now.
What approach should a guy take when asking a girl out?
When approaching a girl at a bar, every guy should be the honest one. Be yourself. But do people even ask people out at bars anymore? Doesn't everybody just swipe right or left now? Man, so happy I'm not single…
Is there a fashion trend that you wish came back in style?
Pocket watches — why'd we let those go so quickly? I get that the wrist is maybe a little more convenient but there is nothing quite as cool as slipping a timepiece out of your waistcoat pocket. That and hyper color shirts. Remember those shirts that would change color in different temperatures? I want those back. But not at the same time. Hyper color and pocket watches should not mix.
What's next for you?
I feel so lucky to have had this enormous education on the set of Suits. I've gone from knowing almost nothing about how film and television is made to being a producer of the last three seasons and directed two of my own episodes. I want to continue learning and growing and working with passionate, creative people who wake up every day determined to try and make something unique and honest. Every great film and television is a sum of its parts and I hope my work affords me the opportunity to play my small part in work that is valuable and important and lasting. 
You can catch the season 5 finale of Suits tonight at 10pm/9c on USA Network.
Need some style inspiration? Check out all our other 'Outfitted' columns here.