How Panerai Conquered the Luxury Watch World
The former watchmaker for the Royal Italian Navy is now a favorite of A-listers and deep-pocked watch snobs alike.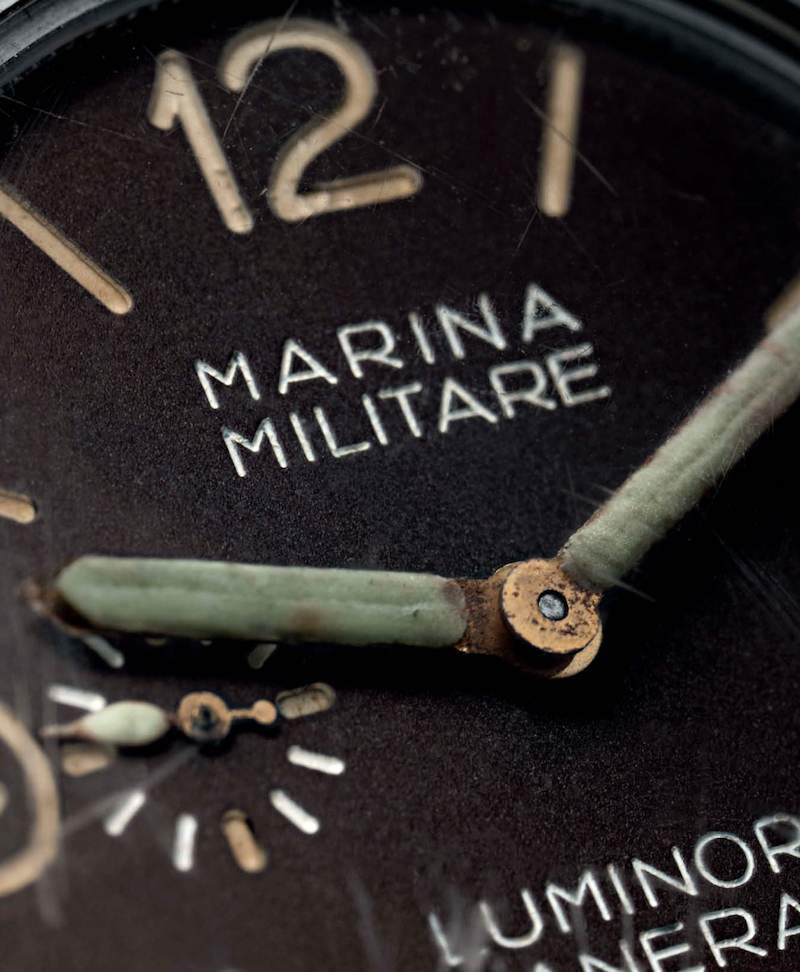 In the 19 short years since Officine Panerai first became available to the public, the brand has grown into an astonishing success, renowned for a combination of
distinctive Italian design and exacting Swiss craftsmanship. 
But the Panerai story goes back much further, stretching from the secret ministries of the Royal Italian Navy in the 19th century to the chicest boutique in the Miami Design District today. During that time Panerai watches have evolved from indispensable tools for underwater commandos to highly coveted luxury accessories.
What elevates Panerai timepieces and keeps them from becoming mere pieces of jewelry is the brand's commitment to its maritime heritage and its rigid adherence to the manufacturing standards that made it essential equipment for Italy's elite frogmen. 
A Panerai watch is "not simply an instrument for measuring time, but the witness of history, the hero of a story which over time has become a legend," says Franco Cologni, Ph.D., chairman of the cultural council of the Fondation de la Haute Horlogerie, a Geneva-based organization that promotes fine watch-making internationally.
Giovanni Panerai founded his Florence workshop in 1860 to manufacture instruments for the newly minted Royal Italian Navy, forging a partnership that continued through both world wars, ending in 1945. He supplied items ranging from sextants and ship's chronometers to a revolutionary luminous mechanical calculator used for launching torpedoes during World War I. 
In the 1930s the company began producing compasses and depth gauges designed for the Royal Italian Navy's devastatingly effective underwater commandos, the Decima Flottiglia MAS, to wear during its dangerous missions.
In 1936, Panerai also provided the frogman commandos of the First Submarine Group Command of the Italian Navy with a prototype of an oversize, luminous underwater diving watch—the first of its kind. This evolved into the Radiomir, the company's first wristwatch, whose design has scarcely changed since. 
That was followed in 1950 by the Luminor, which introduced Panerai's famed crown-protecting bridge. The basic architecture of what has become one of the world's most iconic timepieces hardly changed until earlier this year, when a lighter, slimmer version, known as the Luminor Due, was introduced.
Panerai might have continued as an obscure military footnote had Sylvester Stallone not happened across one of its watches in 1995 while filming the action movie Daylight in Rome. He commissioned a limited edition version and gifted one to Arnold Schwarzenegger; the timepiece soon caught the attention of watch enthusiasts worldwide. 
In 1997 the luxury conglomerate Richemont, then called the Vendôme Luxury Group, acquired the newly popular brand. Richemont relaunched the Luminor for the civilian market but without changing its then unheard-of 47mm size or rugged construction.
Over the past 19 years, the brand has grown into what billionaire Richemont founder Johann Rupert has called the company's "single most profitable venture." Panerai now boasts 69 boutiques worldwide, including a stunning North American flagship designed by architect Patricia Urquiola that opened last year in the Miami Design District. 
In 2016 Panerai unveiled a 107,600-square-foot manufacturing facility in Neuchâtel, Switzerland; the company can now develop and produce its movements in-house, appeasing watch snobs who scoff at the outsourced variety.
At the center of Panerai's success is its dapper CEO, Angelo Bonati, a keen sportsman who has helmed the company since 2000. In 2005, the passionate yachtsman launched the brand's sponsorship of classic yacht regattas worldwide, known as the Panerai Classic Yachts Challenge. The following year Bonati acquired Eilean, a classic 1936 sailing yacht with Burma teak planking that was in need of total restoration. Beautifully renewed and equipped with bespoke Panerai instrumentation, the yacht now serves as the regatta series' flagship.
These days Panerai is devoting its resources to design, and beyond the Radiomir and Luminor—which are available in myriad variations, including ceramic and chronograph models—the brand has introduced
some breathtaking examples of haute horlogerie, including a Tourbillon GMT Ceramica pocket watch. "We have respected the beautiful, distinctive design of our watches not only in terms of aesthetics but also, more importantly, identity," Bonati says. "This combination of design and identity will continue to be Panerai's focus." As part of this initiative, in 2015 Panerai began sponsoring the Panerai Design Miami/Visionary Award—an elite honor that has gone to world-class architects and de
signers including Peter Marino and Yves Béhar.
Panerai enthusiasts—known as Paneristi—are fiercely loyal to the
brand and have developed into a tight-knit online community that meticulously tracks every Panerai watch ever made and debates the merits of various dials, movements, and complexities. Superstar chef Daniel Boulud, Brad Pitt, Pierce Brosnan, Jason Statham, Orlando Bloom, Usher, and Jon Hamm have all been spotted with Panerais on their wrists. And the brand is likely to gain even more followers, famous or not, thanks to Bonati's commitment to provide them with "the finest in terms of technical contents, quality, and performance."
"Our Laboratorio di Idee—the name of our research and development department—is an incredibly creative workshop focused on innovation and the continuous evolution of our product offering," Bonati says. "Panerai has historically concentrated on the refinement of our cases and dials, but the future provides us with the opportunity to work with new and innovative materials exemplified by our Luminor 1950 timepieces in Carbotech, a composite material never before used in the world of watchmaking."
Sometimes it takes a 150-year-old brand to forge the way into the future.
Read more in the Maxim December/January issue, and subscribe so you never miss an issue.