Pharrell Williams and Richard Mille Collaborate On $969,000 RM 52-05 Watch
This otherworldly timepiece celebrates Williams's love of the cosmos.
Richard Mille
Pharrell Williams is best known as a pop hitmaker, but his new collab with Richard Mille reveals sharp taste in horology as well as a strong interest in astrophysics.
That's what the RM 52-05 Tourbillon is all about: Williams's fascination with space.
In a press release announcing the outrageous new collab, Williams said that "working with Richard Mille provided an opportunity to go where no one else has ever gone before." 
While the design was partly inspired by Pharrell Williams's general love of space, it has been specifically tied to his childhood memories of the Mariner 9 Mars Orbiter. 
The RM 52-05 is a classic Richard Mille creation, incorporating a striking color scheme as well as engraving and painting. On the dial, the face of a helmeted astronaut looking out across the Martian landscape has been created from titanium, white diamonds, black sapphires, and gold. It's painstaking work, done by hand.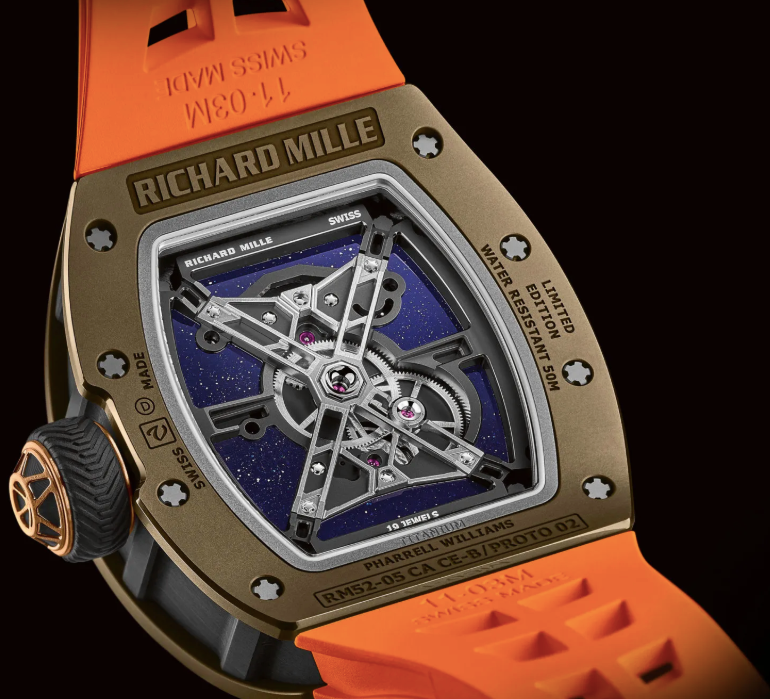 If you look at the caseback, the fine attention to design and detail is revealed in a baseplate and bridge constructed out of titanium alloy similar to the metals employed in spacecraft construction. 
Within you can see brilliant blue aventurine glass, which with added copper crystals gives the appearance of a captured field of stars.
The RM52-05 has been crafted with a tourbillon, is water-resistant to 50 meters and has 42 hours of power reserve. It's a minimalist timepiece, designed to showcase the art. 
Here's the catch: Only 30 pieces will be available. The MSRP is $969,000 USD, and you can learn more at richardmille.com.