How Designer Philipp Plein Became the Global Jet Set's New Sultan of Style
It all started with a $5000 doggie bed.
"I'm not really a party animal, and I don't like to show off," Philipp Plein told me during a cozy feet-in-the-sand dinner for 18 at Cannes' La Guérite, a seaside boîte in the shadow of Fort Royal, where the Man in the Iron Mask was imprisoned. "I'm usually the one who's going home first."
And yet here we are now, at 2:30 a.m. on the following evening, standing in the circular VIP section of Jimmy'z, the old guard mega club of Monte Carlo. As migraine-inducing Euro rave beats dissolve into the theme from Rocky, I'm asked to make room for a pair of hulking barbacks who are precariously shouldering a trough filled with two dozen bottles of sparkler-festooned Cristal. With a theatrical flourish, they deposit them them before Plein, the 37-year-old German-born, Swiss-based fashion mogul and the evening's guest of honor.
Maybe you haven't heard of Plein. He's not a household name in America — yet. But Saudi royals and international pop stars and Premier League futbol stars know him well, and wear his clothes regularly. Naomi Campbell, Azealia Banks, Iggy Azalea, and Snoop Dogg have performed during his fashion shows. Lindsay Lohan modeled for his advertisements. And right now, bodybuilding Russian rapper GeeGun is dancing atop the club's prime banquette, flipping off the Instagramming onlookers alongside Jazmin Grace Grimaldi, the heavily body-guarded illegitimate daughter of Monaco's Prince Albert II.
Plein, in other words, is the designer of choice for people who suddenly find themselves with a lot of cash on hand. He's also the most curious phenomenon in fashion. He has 60-plus stores in the world's most high-end shopping strips, from Rodeo Drive to Milan's Via Montenapoleone, and sells nothing but loud, unapologetic, often bedazzled clothing and accessories. The fashion industry largely dismisses him as garish, but Plein thrives on his outsider status. He cultivates it. He is the party world's least-enthusiastic partier, and the fashion world's least-fashion-obsessed designer. In fact, as those around him wear his latest, most outrageous bling, he's dressed in a simple white blazer and a plain black V-neck with a plunging neckline. (Well, OK, he also has on black leather jeans embossed with crocodile print, and white leather hi-tops covered in metal studs. But in this scene, that still counts as demure.) He doesn't wear the "crazy stuff," he says, because "I just think it looks funny if I wear a t-shirt with my name on it, you know? I'm not so much into fashion. I'm a man. When you're a cook, and you always make the most beautiful meals, you want to eat bread and butter."
Later, a couple Plein insiders put it to me even more bluntly: "He doesn't even give a shit about fashion," one person says. Another remarks, "He's a marketing genius. He could sell anything." And that's exactly why we're at this party in his honor. He knows the secret to impressing the well-heeled: You have to live as large as your biggest customers, while making your smallest feel like they're also welcome at the party.
I was first scheduled to meet Plein at La Jungle du Rois (or "King of the Jungle"). That's the discreet name he's given his opulent two-villa spread in Cannes, which overlooks the French Riviera. He also just calls it the "fun house." It's just one of four estates he owns, along with a 12,000-square-foot lakeside spread in Lugano, Switzerland, with a swimming pool on the roof; a seven-story Manhattan townhouse; and a 30,000-square-foot mansion in Bel Air set on land once owned by Howard Hughes. And today, as usual, La Jungle is swarming with Plein's posse — people who manage his business and oversee his home-renovation projects, the four-person culinary crew that follows him around the globe, and his Ukrainian-born girlfriend Roxanna. A Bentley, a matte black Range Rover, a Ferrari, and a Lamborghini are parked outside. Three-course lunches (always with champagne) are served at a massive marble table — with a metallic La Jungle du Rois inlaid atop it, lest we forget where we were eating — and his butler brings out silver trays of decadent ice cream sundaes in the late afternoon, even if nobody wants one. For some, this is the idea of the good life.
After a quick peek at his luxury fleet, I'm led past a taxidermied circus lion, Simba, which is standing on its haunches inside a ceiling-high glass display case. There are mirrors everywhere, especially in the poolside villa's spa, where a masseuse is called in daily to professionally relax La Jungle's guests. The place is also littered with steel towers of $600-plus Baobob candles (Platinum- and Mykerinos-scented), along with fur blankets and pillows, and lots of taxidermy. And then, perhaps most critically, there are the LED-lit signs:
Rich girls will take your heart, bitch girls will take your money, reads one.
Kiss me like you love me! Fuck me like you hate me! reads another.
These are some of the brand's most beloved witticisms, which are printed on its clothing and accessories. If Plein himself has a motto, a secret to his astonishing success, it's Go with the flow.
"When I started my business, I started with the flow," he says when we first meet. He reclines in a white Barcelona chair, wearing a deep V-neck t-shirt and red shorts with skull and crossbones stitched all over them. He's 90 minutes late for our interview, and freshly showered. "I always went with the flow. I always went with the opportunities."
He started hunting for those opportunities early. When he was 16, Plein "mopped the fucking floors" at Mach One, Nuremberg's top nightclub — and then managed to date the hottest bartender. His domineering mother didn't like where that was going, so she sent him to boarding school at the august Schule Schloss Salem, where Prince Philip matriculated. For a time, he dove into academics and planned to be a doctor (in the footsteps of both his birth father and his step father). During college, he began making furniture in his parents' basement in his spare time. "I probably wanted to become an artist, but I was afraid to because, financially speaking, it was really difficult," says Plein. "To pay your living off making art, you need a lot of people spending a lot of money."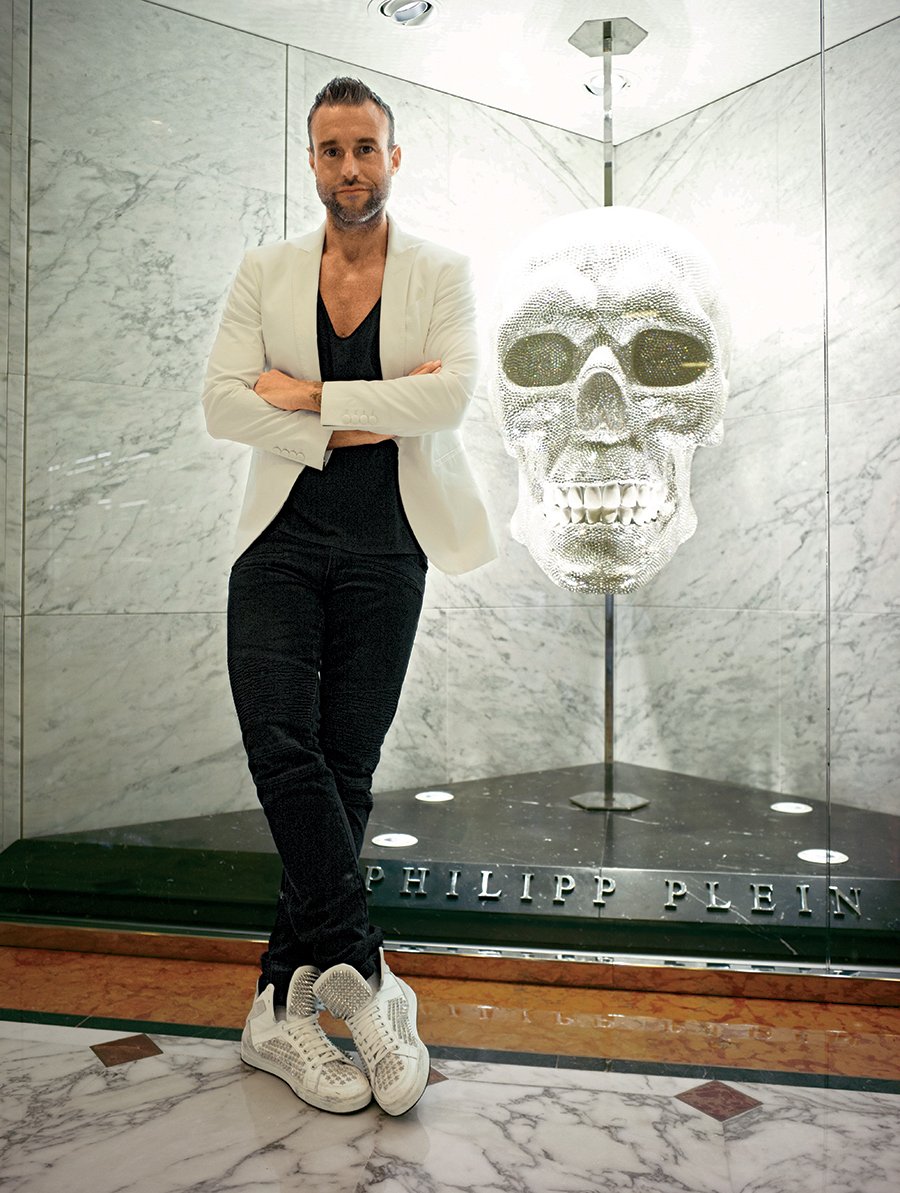 So he hustled. He found a steel facility in East Germany — which he is now a partner in — that could customize any of the minimalist tables, chairs, and sofas that he was designing. He attended all of the top trade shows, funding his travel on a shoestring; he slept in a sex motel during his first trip to the vaunted Salone del Mobile fair. And in time, he had his first success: a patented $5,000 steel frame dog bed — stamped with his name — that came with an indestructible set of cushions. His inspiration? Witnessing his mother's lap dogs destroy an expensive Burberry pillow. "This didn't exist in the market at the time," he says. "There was nothing like it—a contemporary modern dog bed."
By the time he was 25, he'd sold $1 million worth of these beds. "I moved out immediately and bought a Porsche, which I destroyed after 6 months," he says.
Plein's dog bed taught him the value of scandalously decadent designs. He followed it with purses in multiple colors of croc prints — made from excess leather offcuts — and bedazzled leather accent pillows with crystals that spelled the words GLAMOUR and SEXY. He put a skull on a series of vintage German army jackets, which sold like crazy. He was pandering directly to the nouveau riche one-percenters, those who favored a style that 90 percent of the world considers vulgar — call it "Ed Hardy for Multimillionaires" — but Plein wasn't trying to impress the blue bloods anyway.
Today he's selling exotic leathers and furs — on both jackets and chairs — decorated with slogans like Go To Hell or Warrior, and $500 t-shirts and polos festooned with Swarovski crystal images of dogs, angry Hello Kitty–like felines, and camouflage skulls. There are zipper-trimmed tuxes and ties, alongside shredded jeans with enough metal, leather, and embroidery to keep a factory busy embellishing for weeks. He makes high heels and high tops studded with bedazzled skull hardware, heavy metal buckles, and transparent multicolored LED soles. Philipp Plein shoes alone account for $65 million in annual sales. (Asked about his total revenues, he prefers not to get specific, saying merely that sales are in the hundreds of millions.) "That's quite a good number," Plein adds. "Not so many brands are successful in shoes."
So what's next? He's already acquired all the big-boy toys before reaching the age of 40, and Plein's friends say it's no longer about the money for him. He says he never entertains the thought of selling out to a conglomerate — not only because he's "having too much fun," but because there is no number that would satisfy him.
Given the free-spending reputation on lavish display throughout his home, Plein takes a surprisingly measured approach to running his business. His stepfather always told him, "If you can't afford something, then don't spend money," and he's taken that advice to heart. "Everything is in cash," Plein says. He claims that he doesn't have a single bank loan; everything he has is owned outright. "I bought a lot of houses in the last couple of years because I have to put the money somewhere safe, so I can open more shops."
And those shops are expensive, loud, lavish places. In his new Monte Carlo location — which he was in town to open, hence the party — the octagonal glass, marble, and chrome shop is bright, flashy, and most certainly geared toward those luxury shoppers who want their clothes to look and feel like money. A rhinestone-covered skull welcomes visitors, as it does at every Plein location, and it can be yours for a cool $27,000. Other locations have even more scene-setters for sale. Murano chandeliers, which hang throughout his Cannes spread, run $11,000 each.
And yet the more time I spend with Plein, the more distant he seems from the ostentatious glitz that defines his brand, not just the late-night bashes but the bling, the flash, the stuff he surrounds himself with but somehow keeps at arm's length. Watch him pad around his opulent home — barefoot, in gym clothes — and the designer, whose name has come to embody extravagance and swank, seems surprisingly, confoundingly normal.
"People get it wrong sometimes," he says. "It's not about me. It's about my brand. It's about the product I'm selling. The brand is about the dream. At the end of the day, we're only selling emotions. We live in a world where people are not dreaming so much anymore. We were reading books when we were young. Now people just watch the movie. You just go on your phone and Google it. There's no fantasy."
So what fantasy does Philipp Plein have to offer, exactly? Over two days, I repeatedly try to get him to define the dream, or describe his creative process, and he always evades the question. Eventually, I come to see this as a strategic move: When you're spinning a fantasy, any effort to define it is counterproductive. "The dream is the lifestyle," offers Plein's head of marketing and PR, Jennyfer Ideh. "He is the best testimonial of this lifestyle: Young, beautiful, wealthy, a hard worker and a hard player. That's the dream he is selling, with clothes to match that lifestyle."
In other areas, Plein is all too happy to indulge in specifics: He whips out his iPhone to show me a daily sales report from one of his stores, broken down by how many people came in (235), the nationalities of the top clients (Russian, Chinese, Saudi), how much they bought, and precisely what pieces. "We look at colors, sizes, which price points are selling, and then we adjust it," Plein says. "You can plan everything."
Back at the party, it's long past 3 a.m. and Plein is still working the room. The whole thing is starting to feel like a loud meet-and-greet. The designer is surrounded by his fans (they call themselves Plein Warriors), devotees who not only wear his clothes but religiously follow his Instagram-friendly adventures, just as teenagers might follow those of their professional athletes or musical icons. Ever the marketer, Plein is happy to oblige their fascination, posing for selfies, signing autographs, and generally playing the "everyman" celebrity in a way that would surely seem déclassé to elite fashion designers like Karl Lagerfeld or Valentino Garavani. To Plein, it's just sound business practice.
I make my way to the dance floor and meet a 20-year-old man named Thomas, a horology student from Nice. He and his friends have come — decked out in their favorite Swarovski-studded tees and shredded jeans — specifically to party with Plein. Although they're each draped in thousands of dollars of streetwear, a fact that would certainly turn off anyone from a lower socioeconomic rung, they seem like nice, determined kids with good heads on their shoulders, amiably fist-pumping with the crowd as they pay homage to their style general.
"We like the perception he creates," Thomas tells me as another round of Champagne blazes toward Plein's table. "We like the crystals and the skulls, but also he acts like us. He's older, but in his head he's like us, he's going out, having fun, living the life."
That, simply put, is the dream — sold.