Porsche Design's New Racing-Inspired Titanium Sunglasses Have Interchangeable Lenses
The classic car shades just got a racy reboot.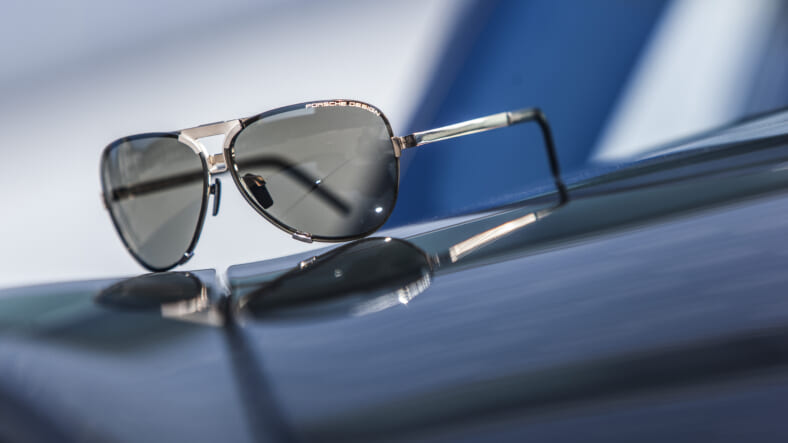 Porsche Design has come out with a reinterpretation of the iconic sunglasses it created 40 years ago in titanium with interchangeable lenses. The Porsche Design P'8478 was first launched in 1978 and became famous after being worn by the likes of Paul Newman and Tom Selleck as Magnum, P.I. The sleek shades were, and continue to be, inspired by Porsche's motorsports heritage.
To that end, a campaign for the new P8678's as they've been dubbed was shot starring Australian racing driver Mark Webber, the reigning 2015 FIA World Endurance Championship winner, and the unbeatable Porsche 919 hybrid. The sunglasses also pay homage to another racing-inspired Porsche Design classic, the titanium chronograph wristwatch.
"As a material, titanium is a key to our uncompromising quality standard and provides outstanding durability and lightness at the same time," says Dr. Christian Kurtzke, CEO of the Porsche Design Group. "Distinctive performance benefits for both our correction eyewear as well as our sunglasses." The P'8678's feature a frame made out of pure titanium. The revolutionary interchangeable lens technology was further developed by the Design Studio in Zell am See, Austria.
During the design process, expertise from Porsche Design Timepieces AG, based in Solothurn, Switzerland, was applied to the replaceable lens locking mechanism, which allows a comfortable, quick, and safe replacement of the lenses and hence an easy adaptation to different light conditions. Enough to help you win Le Mans? We'll see….