You Can Now Buy the Brain-and-Blood-Splattered House From 'Pulp Fiction'
"If I'm curt with you, it's because time is a factor."
The blood-spattered house where Harvey Keitel's Winston Wolf "solved problems" in Pulp Fiction is now for sale in real life.
That's right, the California home owned by the coffee-loving, bathrobe-wearing minor character of Jimmie in the 1994 neo-noir epic, played by Quentin Tarantino himself, is on the market for a cool $1.4 million.
Inside Hook reports:
The bloody abode where Mr. Wolf "solved problems" is actually a 4,200-square-foot residence in Studio City now described as an "amazing development opportunity."

Top features: Big yard, three bedrooms, two bathrooms, garage, fireplace and central heating. Minuses: No pool, no "gourmet shit." All for a cool $1.4 million. The property is hosting open houses all weekend. Leave about 40 minutes for clean-up.
https://www.youtube.com/watch?v=dTkg6wq6ma4
Here are even more details courtesy of the realtor, if you're interested:
Amazing development opportunity with plans and permits fully approved and paid for. Shovel ready to begin construction on an approximately 4,200-square-foot residence (including garage and patio).

Located in the desirable Los Angeles location known as Colfax Meadows, this unique property served as the house for the character "Jimmy" in the classic film "Pulp Fiction". The property is hosting open houses all weekend. 

Ideally situated on the preferred side of the street, on one of the best blocks in the award-winning Carpenter Charter School District, and just moments from major studios and the famed Tujunga Village shops and restaurants.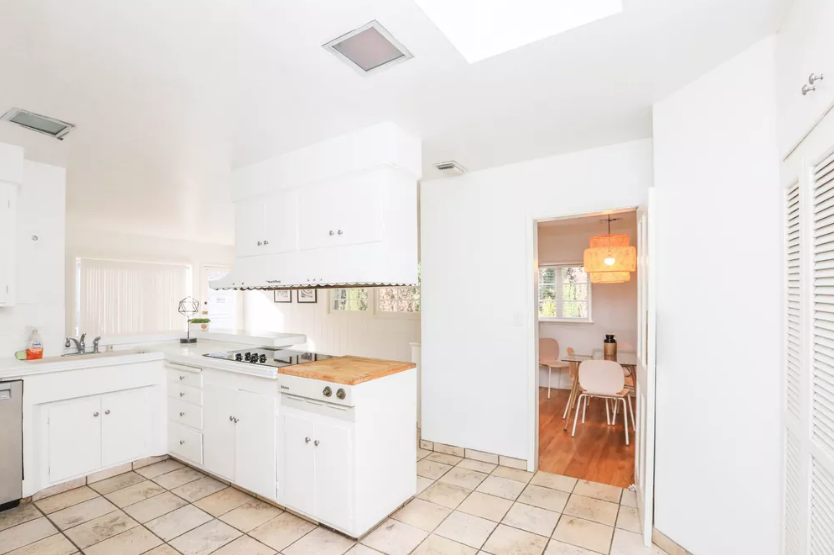 While you're mulling how sweet it would be to actually own this cinematic treasure, let us leave you with the greatest line uttered in the entire scene. courtesy of Mr. Wolf:
"If I'm curt with you, it's because time is a factor. I think fast, I talk fast, and I need you two guys to act fast if you want to get out of this. So pretty please, with sugar on top, clean the fucking car!"
No word on whether the house comes complete with Uncle Conrad and Aunt Ginny's gifted sheets.