Richard Mille Reveals Ultra-Luxe $145,000 Watch With Striking Rounded Design
The stunning new timepiece is a big departure from the elongated design familiar to RM collectors.
Richard Mille
If you are familiar with Richard Mille's watch designs you know the cases are often tonneau-shaped, or constructed a bit like a barrel, rectangular and elongated with rounded sides. The face is also often a work of art or the watch's internal machinery is visible.
Other designers such as Franck Muller and Cartier have used the same shape but it's often distinctly associated with Mille. So the new RM 33-02 stands apart from other offerings, as it comes in a rounded case and overall has, for Richard Mille, a rather muted and subtle design.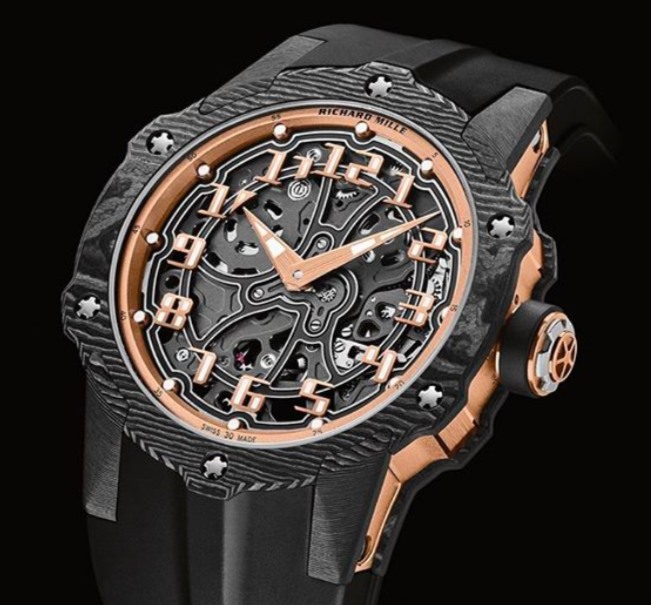 But this isn't a style reboot, just a variation. The RM 33-02 has Mille's thin round case is made with red gold as well as Carbon Thin Ply Technology (TPT).
Mille has dialed back from the chunky aesthetic favored by some of the brand's more famous customers and the RM 33-02 is a slim 42mm. 
Mille's knack for ultra space-age material is still intact, shape change be damned. The RM 33-02's unique RMXP1 caliber movement is constructed from durable grade 5 titanium, an alloy that is also used in aircraft engines and aerospace fasteners as well as high-performance automatic parts.
There are just 140 RM 33-02 pieces to go around and they can be purchased at Richard Mille retailers and a small number of dealers for $145,000.