Shinola Honors Iconic Athlete Jim Thorpe With 'Great Americans' Watch Series
The handsome timepiece celebrates the only athlete to win Olympic Gold Medals in the decathlon and penathlon AND play pro football.
The push and pull between honoring the past and nodding towards the future is never far from the minds of companies that seem to exist in both realms, like the classic-meets-modern aesthetic of Shinola.
It's only fitting, then, that the latest release in the Shinola Great American Series celebrates iconic athlete Jim Thorpe — the Olympic champion and groundbreaking pro baseball and football star — with an exceptional new timepiece.
Thorpe was the first (and still the only) athlete to win Olympic Gold in the decathlon and penathlon, and later played with the New York Giants and won a pro football title with the Canton Bulldogs — to name but a few of his storied accomplishments.
Thorpe was also a Native American rights activist and humanitarian, with a legacy far beyond just football.
Past Great American Series releases have celebrated legends like singer Smokey Robinson and Muhammad Ali, and the latest offering to join the collection (which includes an heirloom-quality leather football) is just as illustrious.
The watch itself is a handsome, striking update of a modern icon, the 45mm Shinola Runwell.
Bold but tasteful, the watch harnesses an Art Deco aesthetic with a crisp, clean dial and a very Canton Bulldogs-esque blue and red dial design.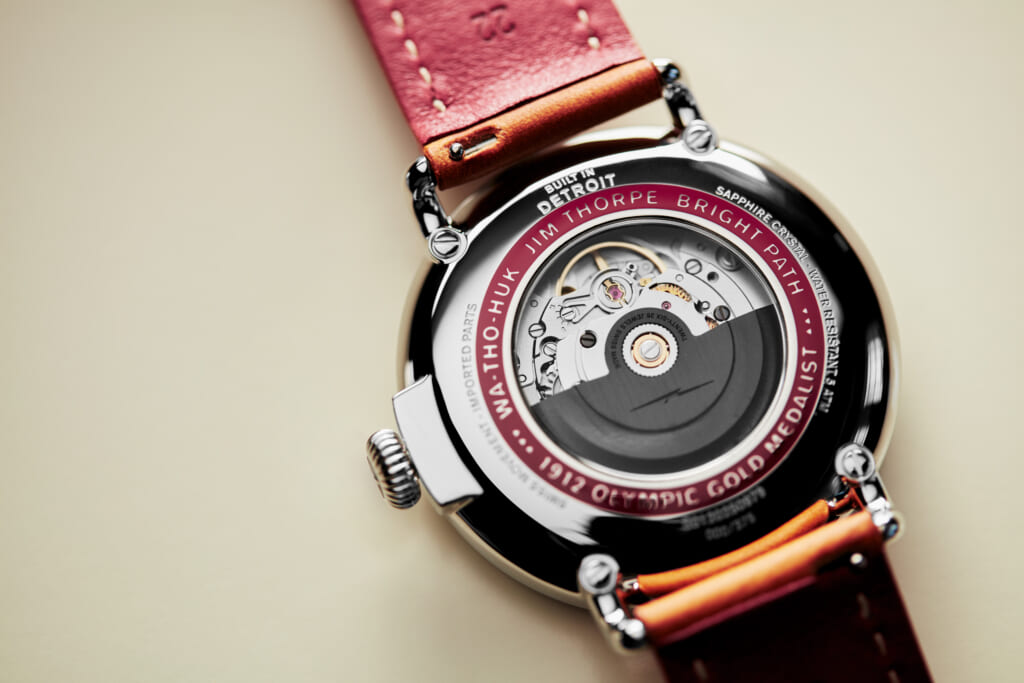 The caseback of the watch is adorned with Thorpe's given name, which also means "Bright Path" — Thorpe's trailblazing accomplishments fittingly stand alone and helped pave the way through sporting history.
The caseback also showcases Shinola's precise Argonite movement, but perhaps more importantly nods to Thorpe's 1912 Olympics accomplishments.
Eye-catching contrast stitching adorns the rich tan leather strap, while red dial markings almost seem to nod to Thorpe's legendary speed.
The watch itself clocks in at $1,750, a price that's more than agreeable given the legacy it celebrates.
Of course, the offering is rounded out with another heritage-quality item, a stunning and display-worthy Jim Thorpe limited-edition football.
The football is adorned with Jim Thorpe's Bright Path logo and comes complete with a wooden display stand to honor the unbeatable athlete.
Both the watch and the football itself are fitting tributes to a groundbreaking athlete with accomplishments unmatched to this day — wearing this watch on your wrist is a small daily nod to the life and legacy of Thorpe himself.