Shinola Unveils Mackinac Sailing Watch
Shinola's stylish automatic chronograph was designed for competitive sailing, with the specs to match.
It seems that Shinola watches, with their rugged-meets-refined appeal, are designed to go just about anywhere — and the definition of "anywhere" gets a whole new meaning with the launch of the Shinola Mackinac Yacht Automatic Watch.
Shinola watches blend old-world style with modern precision, not unlike the famed race that inspired the latest stunner from the Detroit-based lifestyle brand. It marks new territory for the brand, which also recently introduced a rugged GMT watch for summer travel.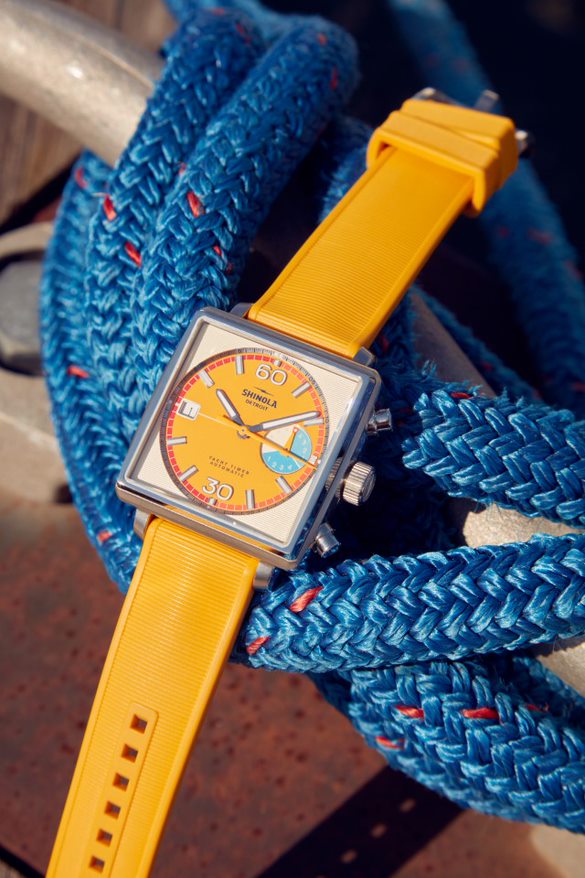 The impressive, functionally minded timepiece nods to the 98th annual Bayview Mackinaw freshwater sailing race, and is inspired by "colorful veteran sailors who rely on instinct" to navigate sometimes-treacherous waters from Port Huron up to famed Michigan destination Mackinac Island.
The automatic chronograph design is perfectly suited for the open water, designed as a "regatta timer" to be used in competitive recreational sailing.
The timepiece features a date window and bold numerals at the 30-second and 60-second (or 6-o'clock and 12-o'clock) positions, but it's the yacht timer sub-dial that pushes this watch into speedy sailing territory.
The yacht timer allows crews to time up their turns and cuts to perfectly position their boat at the start of the race, a precise work of craftsmanship not unlike producing a Shinola timepiece.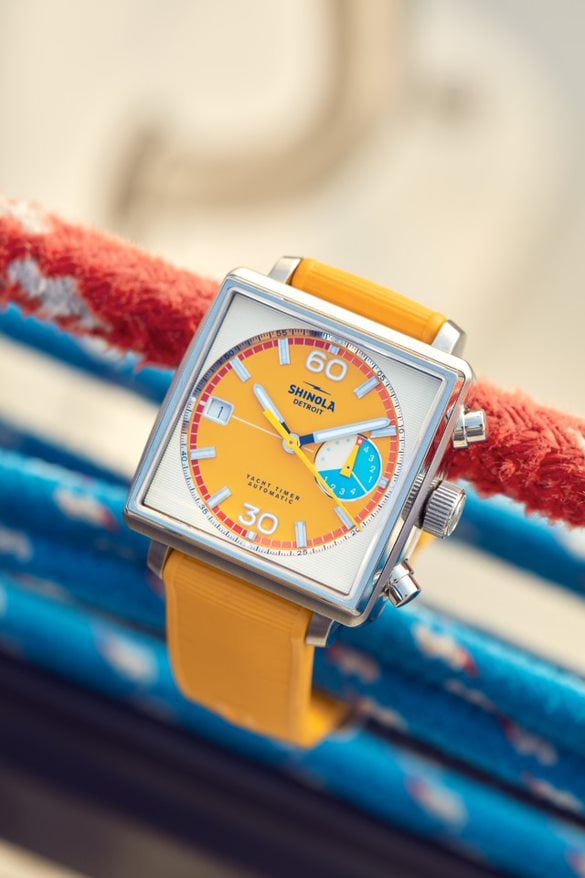 For good measure, the watch is vivid, vibrant and easy to view through chaotic conditions on the water, blending a canary yellow dial with a rugged, ridged rubber strap — also in eye-catching canary yellow.
The 40mm square dial is another visually striking touch, while 330 feet of water resistance nods to the water-minded design of this handsome watch.
It would seem on the surface that this watch is worthy every penny when it comes to style and functionality.
The latest from Shinola retails for the lofty price of $3,500, a step up for Shinola and a serious step up for your watch collection (and perhaps, your next boating-centric ensemble).