This Swiss-Made 'Space Pirate' Sapphire Ultra Watch Is Out of This World
Each six-figure stunner takes 350 hours of painstaking labor.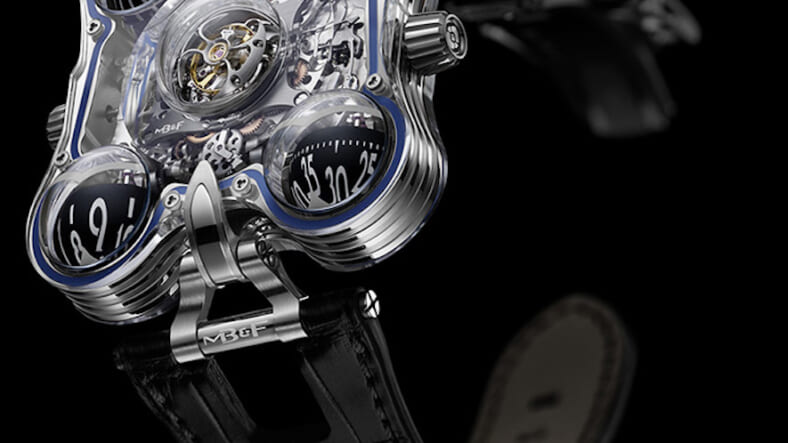 When it comes to ogling incredibly extravagant bespoke timepieces, you can't go wrong with something called "The Space Pirate." 
Swiss watchmaker MB&F first unveiled its original HM6 Space Pirate in November 2014, and the $230,000, spaceship-inspired bauble's dazzling design and intricate construction clinched the 2015 Red Dot: Best of the Best award, which lauded it as a four-eyed "friendly alien from outer space."
Now the Geneva-based MB&F  has dreamed up an even more elevated upgrade with the HM6 SV, which replaces the original's titanium and gold armor with a crystal-clear sapphire shell—all the better to see the 500 finely-finished pieces moving inside. The sapphire covering consists of 11 glimmering crystal domes encircled by a red gold or platinum case band, depending on the well-heeled owner's preference.
The super luxe timepiece also features a 60-second flying tourbillon, revolving hour and minute spheres and "shock absorber" turbines linked to a hand-crafted winding motor. 
MB&F says that each HM6 SV takes 350 hours to assemble, and only ten will be made. For the exact six-figure pricing, best to contact the company directly. 
In the meantime, feel free to watch this oddly fascinating video about what inspired the Space Pirate's design. You know you want to. 
https://vimeo.com/110570015″ tml-render-layout="inline" tml-embed-thumbnail="http://i.vimeocdn.com/video/495287696_1280.jpg