Swiss Watchmaker Debuts $15,000 'Joker' Timepiece
RJ Watches channels the dark side with this luxury watch tribute to the clown prince of crime.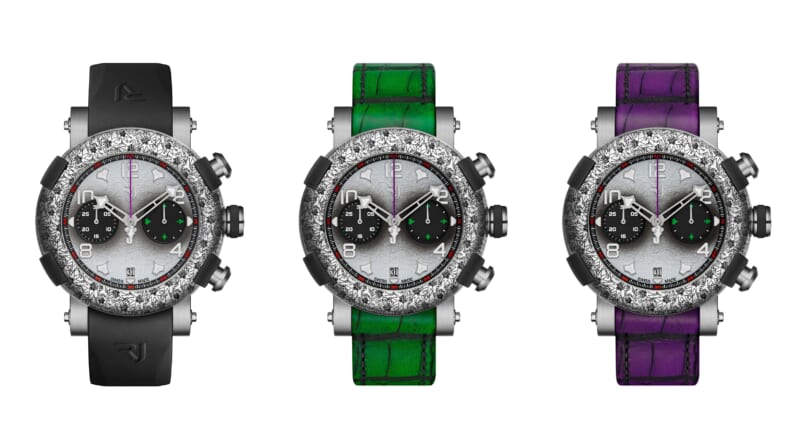 RJ and Watches Switzerland
RJ Watches loves nothing more than an out-of-left-field collab with a pop culture twist. They've gone to the superhero well in the past with a Spider-Man twist and now the Swiss luxury watchmaker has done it again — in an eye-catching and stylish way — by partnering with Warner Bros. and DC Entertainment for new DC Comics Villains watches,
The DC Comics Villains watches don't just pay homage to the title character of Joaquin Phoenix's Joker, which is out in theaters today, but also to Batman archenemy Two-Face, who is probably too gross to get his own tentpole franchise. 
This type of collaboration isn't new for RJ — they've partnered with DC in the past to put out the Skylab Batman watch. 
And while these are luxury timepieces, it isn't just their Swiss pedigree that makes them must-haves for any committed collector — there won't be that many of them to choose from, either. 
RJ Watches explains:
Each watch will be produced in a limited edition of only 100 pieces and both The Joker and Two-Face versions will be the first collaborations to be presented in RJ's all-new ARRAW watch case, the base for our signature collection. The Joker will be a self-winding chronograph and the Two-Face watch has a manual winding movement in striking skeleton format.
RJ Watches CEO and Creative Director Marco Tedeschi said in a press release that it's "a statement of confidence in RJ's place in both popular culture and watchmaking that Warner Bros and DC Entertainment have collaborated with us to bring their most infamous villains to life as rare, limited edition collectors' watches."
Tedeschi noted just why audiences are flocking to movies like Joker: "The villains of the DC Comics universe have always appealed to audiences around the world for their evil brilliance and ability to shock and thrill in equal measure." 
"We believe," Tedeschi concluded, "that our first two DC Comics Villains watches will be a fitting tribute to their spirit of anarchy and disruption." 
Some stats on The Joker chronograph:
It comes in a satin-brushed 45mm titanium version of RJ's ARRAW case
The case is ringed by a titanium bezel that's been laser engraved with a Joker motif.
Equipped with anti-reflective sapphire glass
The dials of these limited-edition pieces have been hand-painted
The case back is also laser-engraved with a classic comic rendering of The Joker
Every watch has been numbered as 'One of 100 Limited Edition'
The Joker is for sale at Watches of Switzerland and it retails for $15,700 USD.