The Best Blazers To Upgrade Your Summer Style
'Tis the season to suit up.
You might say duty calls this summer. That is, your duty to step out in style and put your best foot forward during summer weddings, board room meetings and well beyond. One way to do that? With a great summer blazer, of course. As easy to wear with light wash jeans as with linen trousers, a lightweight, sharply-designed blazer is a wardrobe workhorse everyone needs.
Opt for comfortable fabrics, perhaps a pop of color and details like patch pockets, and you'll be all set for plenty of tailored #OOTD scenarios, each and every day of the week. Here's a slew of summer blazers worth investing in right now.
JOE Joseph Abboud Slim Fit Peak Lapel Sport Coat
Joseph Abboud adds some affordable flair to any look with this handsome peak lapel blazer in a sharp double-breasted cut. $199
SuitSupply Light Blue Havana Blazer
SuitSupply's reputation precedes itself as far as quality and a sense of dashing refinement is concerned, and this eye-catching blazer is no exception. $599
Relwen FlyWeight Flex Blazer
Your classic navy blazer gets an update that's ever-so-slightly rugged via the good folks at Relwen. As a bonus, this patch pocket sport coat can double as a highly useful travel jacket. $298
Uniqlo AirSense Jacket
Uniqlo takes the timeless silhouette of a khaki blazer and flips it on its head with ultra-lightweight fabric, ideal for hot and humid outdoor weddings or rooftop cocktail parties. $79.90
Grey Clothiers Custom Sport Coat
Dial in the details and the proper fit with just a few clicks via this elegant custom sport coat from New York City's Grey Clothiers: Plus, they'll send a tailor to take your measurements anywhere in the U.S. Starting at $349
Five Four Nomad Blazer
Looking to save big in style this summer? Look no further than New Republic and the FiveFour brand, which delivers a crisp, modern take on the navy blazer at an insanely cheap price point. $44.99
Taylor Stitch Sheffield Sport Coat
The makers of your favorite shirt designed a super-stylish, distinct blazer, boasting 100 percent linen construction and a refined cream color. $298
MR. P Garment-Dyed Cotton Twill Blazer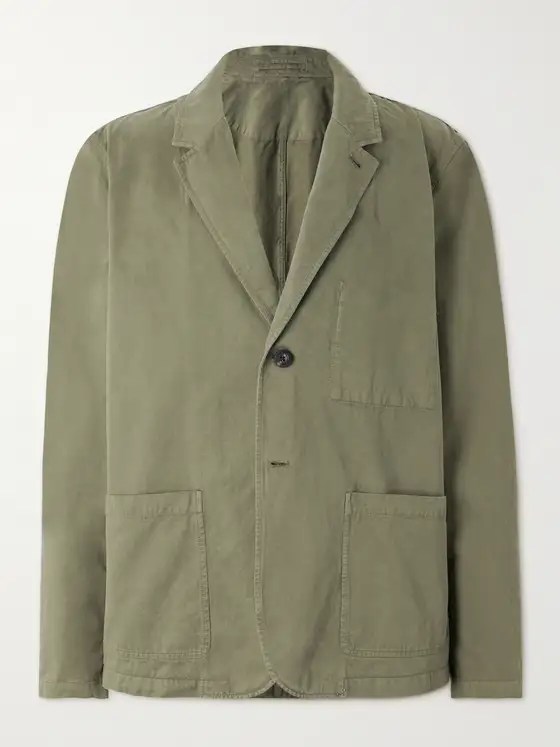 Garment dying adds a touch of laidback, casual cool to this option designed by the in-house team at luxury retailer MR. PORTER. $340
State and Liberty Athletic Fit Stretch Blazer
State & Liberty designs its menswear with athletic guys in mind, as the name implies, and the only thing better than the fit of this blazer is the vibrant light blue color. $450
Mugsy Jeans Morgan Everyblazer
Mugsy delivers an incredibly stretchy, comfortable and breezy blazer at a highly agreeable price, and its lightweight design means you can even wear it on the plane to that summer wedding. $128
Buck Mason Carry-On Jacket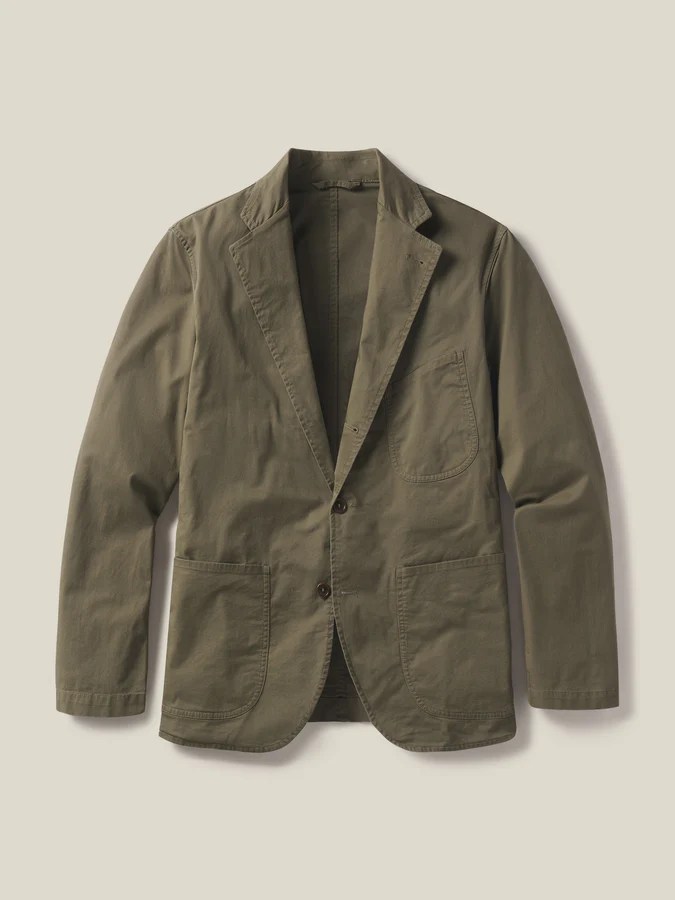 Buck Mason's Carry-On Jacket is about as easygoing and yet polished as it gets, with an old-school feel and timeless design details. $178