The Best Chambray Shirts Add Rugged Style To Your Spring Wardrobe
This classic, comfy workwear shirt is as spring-ready as any shirt in your closet.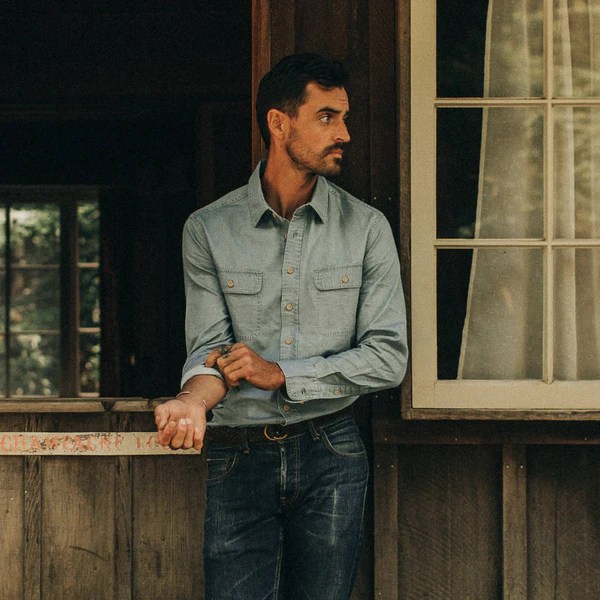 You assuredly know all about the importance of stocking your wardrobe with one of the coolest jackets for spring, since blustery, breezy weather hits you right in the face as you step out the door. What about the shirt underneath said jacket, though? Go back to your closet and rethink your collection: The workwear roots of the chambray shirt make it ideal for the confines of spring.
Cotton chambray, with its interlocking white and blue weave, has been a go-to choice for workwear shirts for decades (does the term "blue collar" ring a bell?). It's seen a lot in fall — the combination of a shawl cardigan and a chambray shirt is timeless — but spring is just about the right time to wear a chambray shirt, too.
Even in more standard designs, it can serve as an overshirt on cool (but noot frigid) days, and the rest of the time, it's a fine casual shirt to throw on with black jeans or tan chinos — at home or on the road. And because we're all more used to dressing in easygoing fashion these days, a chambray shirt falls right in the middle of the style Venn diagram for your next day at a casual office — neither overly rugged nor overly dressy. These are our favorite chambray shirts for style that's the equivalent of a spring home run.
Taylor Stitch Ledge Shirt in Sun Bleached Chambray
Chambray is made to take a beating over the years, but Taylor Stitch has done a bit of that work for you already with this soft-washed, organic cotton chambray shirt. Note the flap workwear pockets, plus the midweight construction for layering over your favorite tee. $128
DSTLD Chambray Shirt in Dark Blue
DSTLD specializes in all things denim, and they've turned that considerable expertise into a hard-wearing chambray shirt at a low, low price. Reinforced contrast pocket stitching really drives home the old-school feel of this no-frills shirt. $27
J. Crew Organic Cotton Chambray Shirt
For a long while, it seemed like every guy had some variety of a J. Crew chambray shirt. They're about as classic these days as the brand's tailored Ludlow suiting, with a much more casual edge. For under $100 in a variety of sizes and fits, this should prove a spring wardrobe mainstay. $59.50
Bonobos Stretch Riviera Short-Sleeve Chambray Shirt
Sure, chambray has traditionally been used in long-sleeve shirts you can wear to take on real-life work, but it's also a wise bet in a short-sleeve iteration, like this easygoing Bonobos number. Who said chambray shirts can't be fun? $79
Todd Snyder Japanese Chambray Workshirt
Chambray, although typically a weave of blue and white fibers, doesn't always have to come in shades of blue. The chambray shirt gets a downtown edge via NYC's Todd Snyder, thanks to the use of black Japanese chambray fabric. $168
State & Liberty Fowler Grey Buttondown
Here's a bit of a cheat code: Wanted the flecked, textured look of a chambray shirt with just a bit of a twist? This cotton-spandex blend stretch buttondown is so comfortable, you'll forget you're a buttondown shirt entirely – yet you're still getting that casual style provided by a more traditional chambray piece. Sans workwear pockets, it's a dressy yet still easygoing number. $88
Sunspel Button-Down Collar Cotton Chambray Shirt
Sunspel is perhaps best known for its heritage-quality knitwear — and for being the official polo of one James Bond. This revamped take on the chambray shirt borrows from the Oxford-cloth buttondown in terms of its collar, and turns up the spring vibes even further with an electric blue color scheme. $210
United By Blue SoftHemp Chambray Shirt
Out of all the brands making chambray shirts we love, United By Blue might be the most sustainable. They use a blend of soil-regenerating hemp and organic cotton to craft this shirt, and they commit to removing trash from oceans and waterways with each product sold. $88
Filson Chambray CPO Shirt
Filson workwear is tough as nails and truly legendary, trusted for generations. They haven't cut any corners here with this decidedly handsome, rugged shirt based off military Chief Petty Officer shirts trusted by the U.S. Navy. This is one chambray shirt made for plenty of work, what with helpful chest pockets featuring tool slots for your EDC. $125
MR. P Organic Cotton Chambray Shirt
If you want a luxurious chambray shirt without breaking the bank, MR. P is your best bet. The in-house brand at MR. PORTER doesn't go over the top in terms of eye-catching designs or wild prices — they specialize in premium upgrades to everyday staples, be it your bomber jacket or your organic cotton chambray shirt. The faded black color here is a nice change of pace, too. $180