Activewear Alert: The Best Men's Joggers And Jackets For Spring
Get comfy with the coolest new athleisure jackets and joggers.
Spring signals the return of many things, chief among them more relaxed, leisurely dressing — instead of bundling up in a parka for days on end. That doesn't mean it's OK to step out in just anything, though. The best activewear helps you bridge the gap seamlessly between play and performance as you step back out into the world.
Think: All of the comfort, none of the fuss and a healthy dose of style points for whatever lies ahead, be it marathon road trips or casual days about town, from the coffee shop to your favorite brewery patio.
Today's activewear is anything but boring, with comfortable performance fabrics, streamlined cuts and versatile style in spades. You're going to be busy this season, so get yourself some gear that looks as good as it feels, without the baggage of typical athletic logo sweatpants and jackets. Here, we've rounded up our favorites in both categories, and they're anything but sloppy.
Vuori Clothing Sunday Performance Joggers
Vuori is a favorite of plenty of off-duty celebs, including Chris Pratt. Steal the Jurassic World star's style with these tailored sweats, made from surprisingly luxe fabric and featuring handy details like a side zip pocket for your EDC. $89
Goodlife Contrast Loop Terry Joggers
Turn your typical gym sweats into a pair you can actually wear outside of the house with these old-school contrast stitching joggers. Made from a comfortable poly-cotton blend, they wear very well with a Goodlife pocket tee and retro runner sneakers. $135
WOLACO Warren Pants
For a true athletic pant feel in a streamlined cut, go with what WOLACO calls its luxe performance pant, with moisture-wicking properties and a lifetime guarantee. These are so comfortable, you'll want to get a pair for the gym, a pair for road trips and a pair for days around town. $118
Melrose Place Westgate Fleece Joggers
Sold by New Republic — quickly becoming a one-stop shop for all things menswear — these joggers feature a seriously cool webbing belt system and ultra-cozy fleece fabric. We're all about them. $59.99
State and Liberty Down Bomber Jacket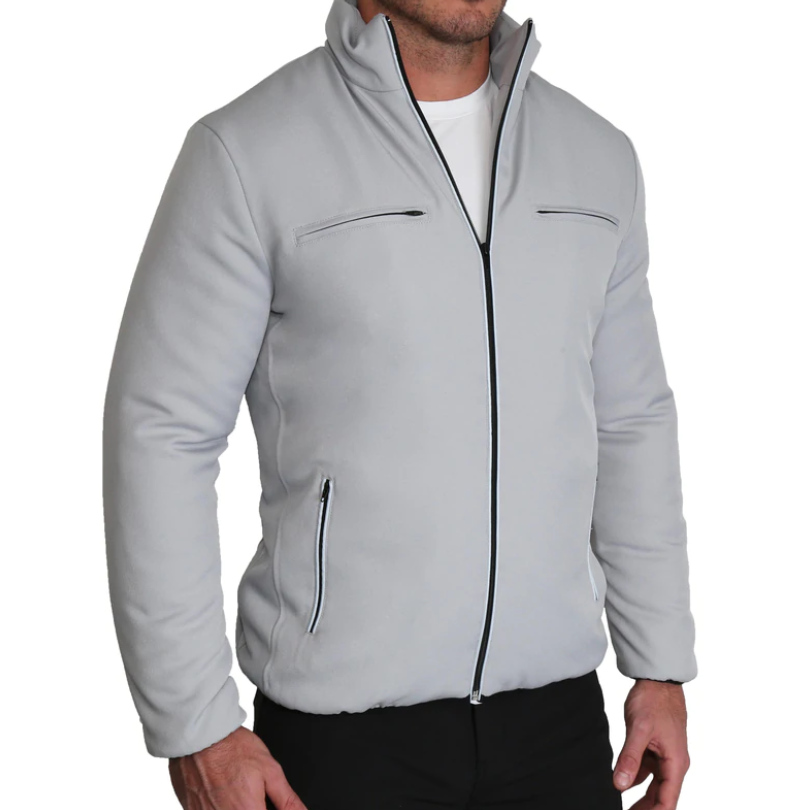 Less a typical track jacket and more a go-anywhere, sleek-as-can-be style move, this bomber jacket wears well for long-haul travel and provides extra warmth on chilly spring days thanks to the insulated design. $325
Buck Mason Brushed Loopback Track Jacket
Buck Mason takes heritage styles and makes them splurge-worthy, as evidenced by the retro cool of this handy, versatile zip jacket. Pair it with slim light wash jeans for a bit of a throwback look, but be sure you're wearing it over one of Buck Mason's rugged henleys. $95
Myles Apparel Elements Jacket
Hitting the trail this season? Or packing for a weekend outdoors? Make sure this durable, breathable waterproof jacket — with the option for a useful hood — is with you every step of the way. Bonus points for the fact that it's on sale right now. $174
Ten Thousand Tactical Over Zip
If a quarter-zip is more your style, this insanely well-designed layer (developed in consultation with U.S. Special Ops Forces) is as good as it gets. Note the ripstop shell detailing at the shoulders and arms, and rest easy that it's both warm and breathable thanks to innovative Polartec fabric. $128