The MB&F LMX Paris Edition Pays Tribute To A Watch World Legend
The $138,000 "Deep Purple" dual chronograph is a wearable tribute to timepiece titan Laurent Picciotto.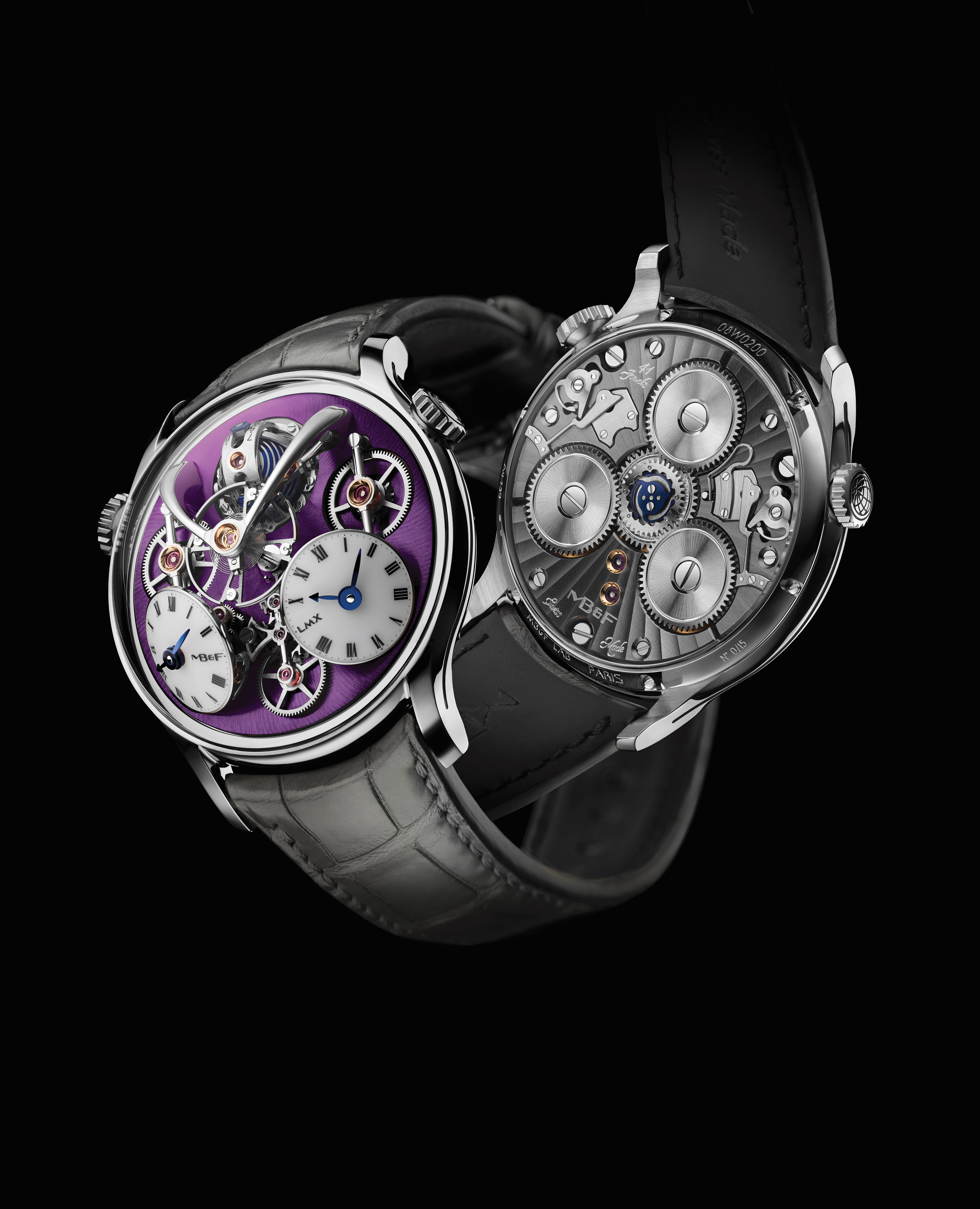 Maximilian Büsser, the man behind some of the most fantastical and avant-garde timepieces ever made, could have simply branded his Geneva-based watch company "MB" upon founding back in 2005. He instead went with MB&F, which stands for Maximilian Büsser & Friends, one of whom is celebrated in peak horological style with the $130,000 LMX Paris Edition.
The extremely limited-edition dual chronograph is a wearable tribute to Laurent Picciotto, another titan of the luxury watch industry. Picciotto is founder and President of the Chronopassion boutique on Paris' historic Rue Saint-Honoré, where he curates a collection of fine watches chosen freely, without any discernible brand allegiance or influence from industry trends.
As Fabienne Lupo-Magnaudet, then-president of the Fondation de la Haute Horlogerie, told the New York Times back in 2013, "Laurent is considered a trendsetter for the fine watchmaking world. He is one of the pioneers of new horology."
Picciotto is also widely cited as a co-founder of Richard Mille—he knew Mille while he was Head of Watchmaking at French jeweler Mauboussin—and was an early supporter of Büsser's, to say the least. Picciotto reportedly placed an order for MB&F's inaugural watch, the Horological Machine No.1, two years in advance and paid 30 percent up front.
Today, Picciotto's Chronopassion is home to MB&F's Parisian "Horological LAB" (i.e. retailer), and he is the inspiration for the LMX Paris Edition. "I have known Laurent Picciotto for 33 years," Büsser tells us. "The opening of the Paris MB&F LAB with him and the creation of the LMX Paris are just one part of a wonderful journey."
This is the fourth iteration of the LMX, which MB&F debuted in 2021 to commemorate the 10th anniversary of its Legacy Machine collection. The first Legacy Machine, simply named LM1, marked a diversion from the totally radical Horological Machines that initially brought MB&F reverence and acclaim.
Instead of the elongated "double-bubble" shape of the HM1 or jet-engine-inspired double barrels of the HM4, the LM1 features a design language that's more typical of models from legacy Swiss brands.
It boasts a round case, white lacquered dials, blued hands, and a domed sapphire crystal, as well as boundary-pushing elements like a world-first vertical power reserve indicator, completely independent dual time zones, and an eye-catching flying balance wheel.
The LM1 and its successors are Büsser's answer to the question, "What would MB&F have created a century ago, during the golden age of watchmaking." Over a decade-plus in the current century, they've won multiple awards at the Grand Prix d'Horlogerie de Genève, including the LM1's Best Men's Watch Prize in 2012, the LM Perpetual's Best Calendar Watch Prize in 2016, and the LM1 FlyingT's Best Ladies' Complication Prize in 2019. Which brings us to the LMX.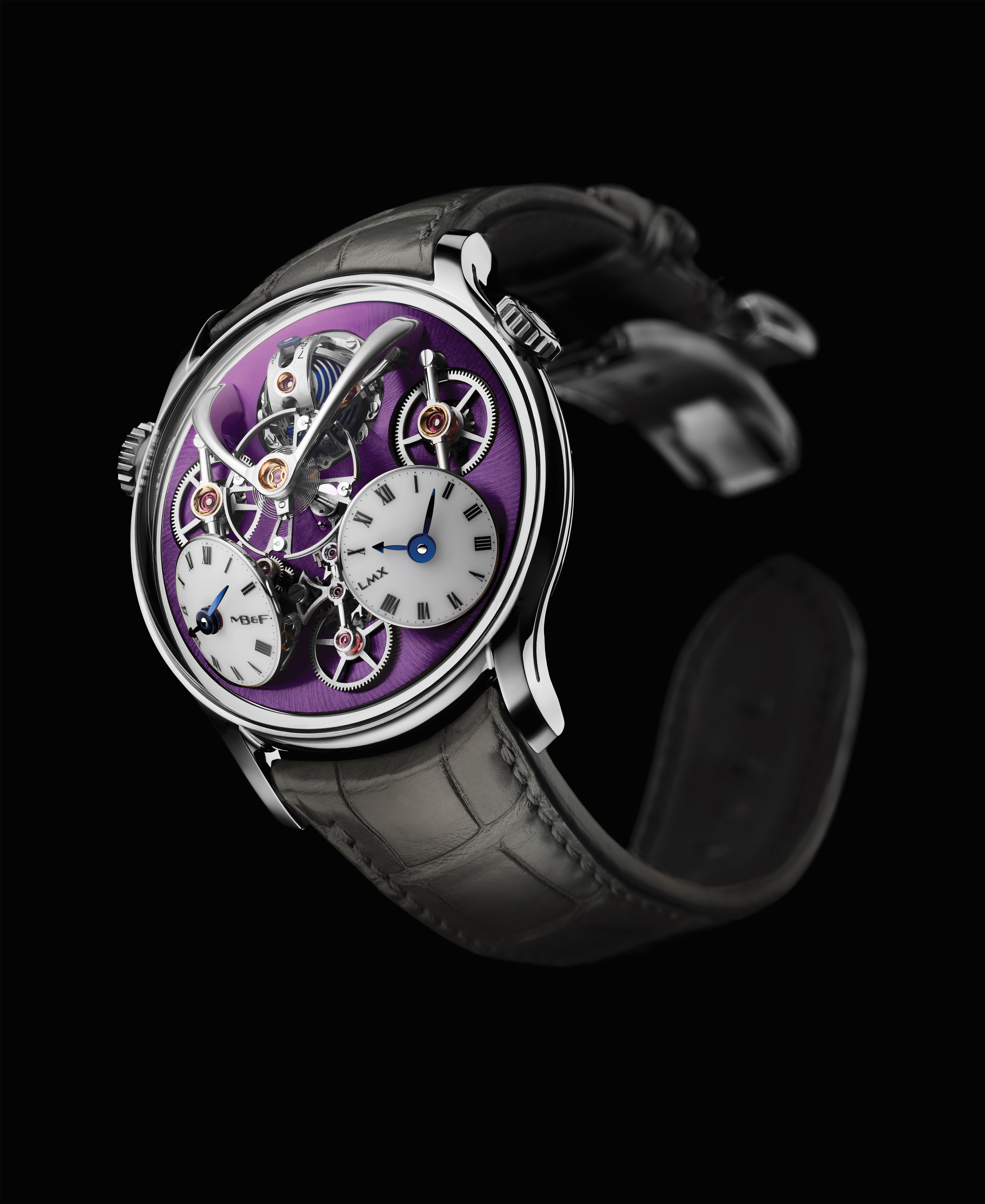 An evolution of the LM1, it still features two dials set at 2 and 10 o'clock, allowing the wearer to track two time zones. But for the LMX, the dials are tilted at an angle, requiring the transfer of energy from horizontal to vertical planes via conical gears. The dial plate is also skeletonized, revealing functional bits such as MB&F's signature battle ax-shaped escapement bridge and a gargantuan bespoke balance wheel that, with a diameter of 13.4mm, offers a gaze-drawing departure from traditional screwed balances.
For Picciotto's LMX Paris Edition, the case is white gold and the dial plate is rendered in "Deep Purple," a simultaneous reference to the legendary rock band and Picciotto's lifelong love of guitars, which recently led him to invest in France's Sauvage Guitars. "On top of watchmaking, Laurent is incredibly passionate about electric guitars," Büsser adds. "It just seemed natural that his LMX would therefore be the 'Deep Purple.'"
Limited to 15 examples, the MB&F LMX Paris Edition is exclusively available at—where else—Picciotto's MB&F LAB inside Chronopassion. As Deep Purple's Ian Gillan croons in the band's most famous track, "Swiss time [is] running out."