Todd Snyder & Timex Reissue Classic Mid-Century Watch Just in Time For Father's Day
The Welton Bi-Metal combines 1950s elegance with the latest in timekeeping technology.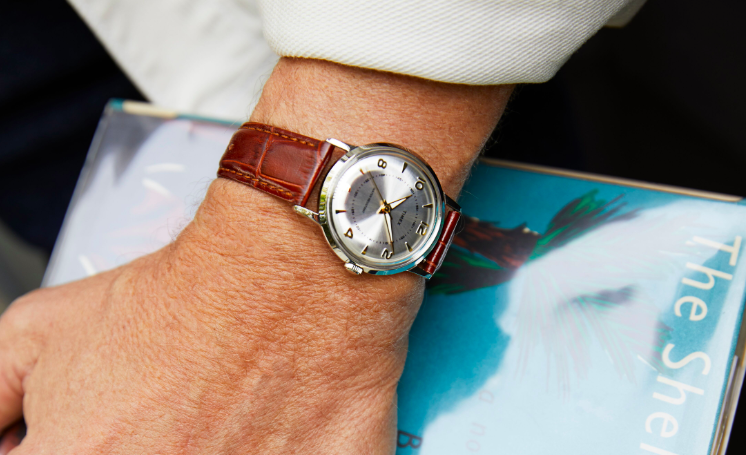 Timex
Todd Snyder's arrangement with Timex frequently has him digging into the venerable watchmaker's archives, and that has resulted in some beautiful reissues in which true classics once consigned to history come back, but with better timekeeping tech than ever. 
Most recently he was struck by ads from the mid-1950s for a model once called the Mercury, and was reminded of his own father's taste in timepieces. That's how the Welton Bi-Metal began its journey to store shelves. 
The Welton has that streamlined 50s look but on the inside, it's a product of the 21st century. It was originally powered by V-Conic mechanical movement back in the day, a design that was part of Timex's rep for toughness—legendary slugger Mickey Mantle supposedly once taped a V-Conic-powered watch to his bat and rattled off 50 homers during batting practice. 
Great as it was, quartz is the standard now and that's what keeps the Welton going. That quartz movement is protected by a stainless steel case with a domed acrylic crystal that's rated up to 30 meters. Bound up with an elegant leather strap, it makes a pretty ideal Father's Day selection—to subtly request, if you're a dad, or to give to your own old man.
This reissue is yet another in a series of Timex models that aren't concerned with size, but instead come with slim 34 mm cases and 18 mm lug widths—they're the definition of cool, classy, and understated. 
The Welton Bi-Metal will be sold at the New York City Todd Snyder flagship store on Madison Square Park and exclusively at ToddSnyder.com for $158. It launches May 29th.