Todd Snyder Teams Up With Timex for His 'Gentleman Explorer' Line
The rising designer talks about his rugged new collection and working with the classic watch brand.
Todd Snyder has been touted as the next titan of menswear. His commitment to fine tailoring and use of luxe fabrics have introduced many Americans to the possibilities of high-end fashion. And miraculously, the Iowa-raised designer hasn't sacrificed his all-American ruggedness in the process.
Snyder's latest fall collection is testament to the fine line he toes between the high street and the Corn Belt. Dubbed the "Gentleman Explorer" by Snyder, his brawny collection evokes mountain expeditions with rough-hewn jackets and reimagined activewear essentials. And for added effect, Snyder teamed up with storied watchmaker Timex, which became a byword for durability with its now-retired slogan "it takes a licking and keeps on ticking." 
For his Fall 2016 show, which closed New York Men's Fashion Week Thursday night, many of Todd's models donned these collaboration Timex watches. A series of timepieces with Red Wing leather straps were displayed alongside a revived Bullseye, a classic military wristwatch from the 70s. Timex design director Giorgio Galli told Maxim, "It's a mutual benefit. We really think Todd is one of the best classic American designers, and that fits perfectly with Timex."
We recently caught up with Todd before the big day at his New York showroom, where he gave us the rundown on his fall collection, his team-up with Timex, and the evolution of American menswear. 
You collaborated with Timex in the past during your time at J. Crew. Why did you regroup for your eponymous line?
We had talked about it, but for a while it felt too close to home. But about a year ago, I stumbled upon a watch at their design studios in Tokyo, and I was like, "What is that?" It was Red Wing leather made in the U.S. but with a Timex watch. I was like, "That's genius!" I was mad at myself that I hadn't thought of it. I said, "Is there any way we can bring this to the U.S.?"
How do Timex watches compliment your brand?
I was always obsessed with Timex because a lot of them are military watches. A lot of these designs originated because Timex would supply the military during the World Wars with wearable watches. For me, that's a real attachment to my brand because I'm very much about heritage and utility. There's a sense of basic necessity.
How did the importance of utility shape your fall collection?
I always start with a scene and a place, and I let it go from there. The whole collection is called "Gentleman Explorer," and I was inspired by Mount Everest expeditions. It's got a mix of gentleman with suits but styled underneath these jackets, so it's a very active sensibility mixed with tailoring and vintage.
Back in the '40s and '50s when people would climb mountains, it was cold, and it's not like they had tech fleece. It was really about wearing layers and making sure they had the right gear on. So, you would see a lot of down and a lot of shearling to cut out the wind and to keep the warmth in. So, we're mixing these active colors–oranges and yellows–with quilted and down jackets.
So, you're elevating active wear, essentially?
Exactly. And that's a lot of what we're doing with Champion, like taking a sweatshirt and modernizing it a bit.
How does that fit into the evolution of American menswear? 
It's an interesting time in menswear. I do feel like there is a shift where you see brands like Public School, who are friends of mine, that are coming from nowhere and are becoming pretty relevant very fast. I think they're ushering in this new way that guys are dressing–less formal but still dressed up. You're seeing minimalism come back and a real shift towards this active way of styling. I find myself wearing sneakers now more than anything.
Why do watches remain so important?
We don't have a lot of things to wear, and I think it's the one thing guys appreciate–a good watch. I don't wear jewelry, and I think most guys don't, so it's the one thing you can play with.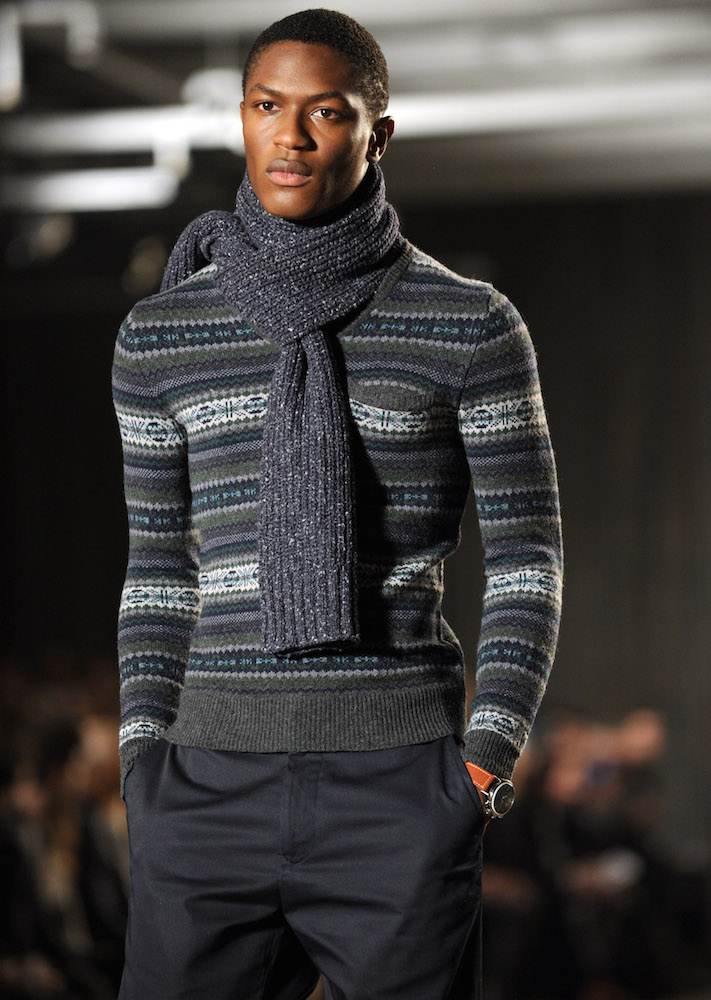 You've just been acquired by American Eagle and are set to expand exponentially. What can we expect to see in your stores, including the upcoming New York flagship? 
I want a destination for guys to go where they're getting the best style and the best edit. We'll have the best sneakers, the best shoes, the best watches, the best jeans, and it's not so expensive. We'll be working with different brands and mixing them in ways that are unique. I wanted a place where a customer could go and get something for the gym or something for going out at night and feel like we've got them covered.