Tom Ford Updates Ocean Plastic Sport Watch With Camo Strap
A sustainable, stylish upgrade for a key Tom Ford timepiece.
Over the years, it's become clear that there's little that can't be improved upon in the hands of famed fashion designer Tom Ford — that goes for everything from movies to denim to one of the most sustainable watches on the market, the Tom Ford Ocean Plastic Sport Watch.
And just in time for Earth Day, the sleek, eco-conscious watch gets even better via a seriously cool camo strap.
It joins a range of five other vibrant colors, but the camo is especially eye-catching and noticeable on-wrist for the spring and summer months.
The range is impressive beyond just matters of style: The designer's Ocean Sport line became the first luxury timepiece line made entirely of 100 percent ocean plastic upon launch about two years ago, including the case and a jacquard strap.
And in January, the designer introduced the Ocean Sport Plastic Watch with an automatic movement (also featured in the new camo watch edition).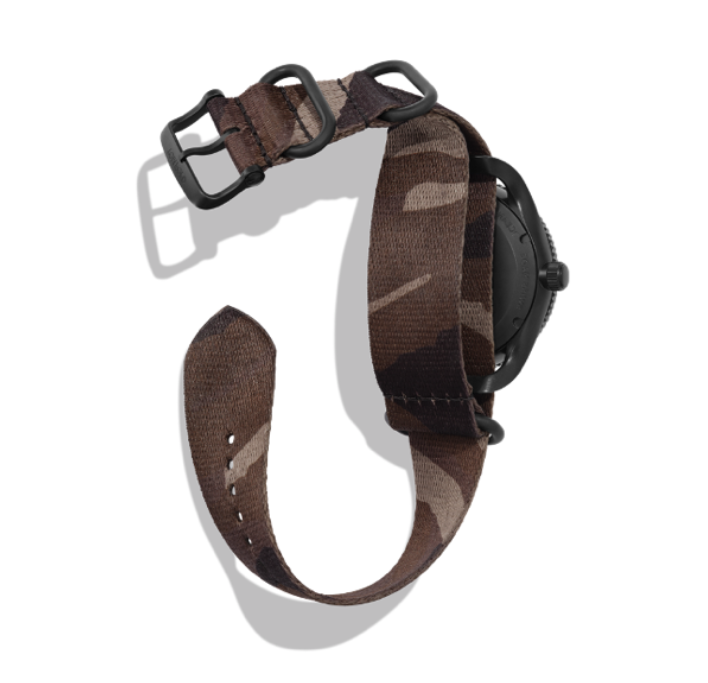 The series features watch options in matte black or crisp white (reflected in both the case and the dial), with both models featuring SuperLuminova numerals and hands.
For good measure, the Tom Ford Ocean Plastic Sport Watch boasts 100 meters of water resistance, all the better to add a dimension of sport-ready performance style to your packing list for a tropical getaway.
Whether you select the vibrant orange strap or the tactically minded new camo strap for a watch upgrade ahead of Earth Day, you're getting some serious bang for your buck.
The Tom Ford Ocean Plastic Sport Watch retails for $1,495, an agreeable price for a rugged and highly sustainable timepiece that's as sustainable as it is eye-catching.