Tour the Canadian Rockies in This Glass-Domed Luxury Train
Rocky Mountain High.
rockymountaineer.com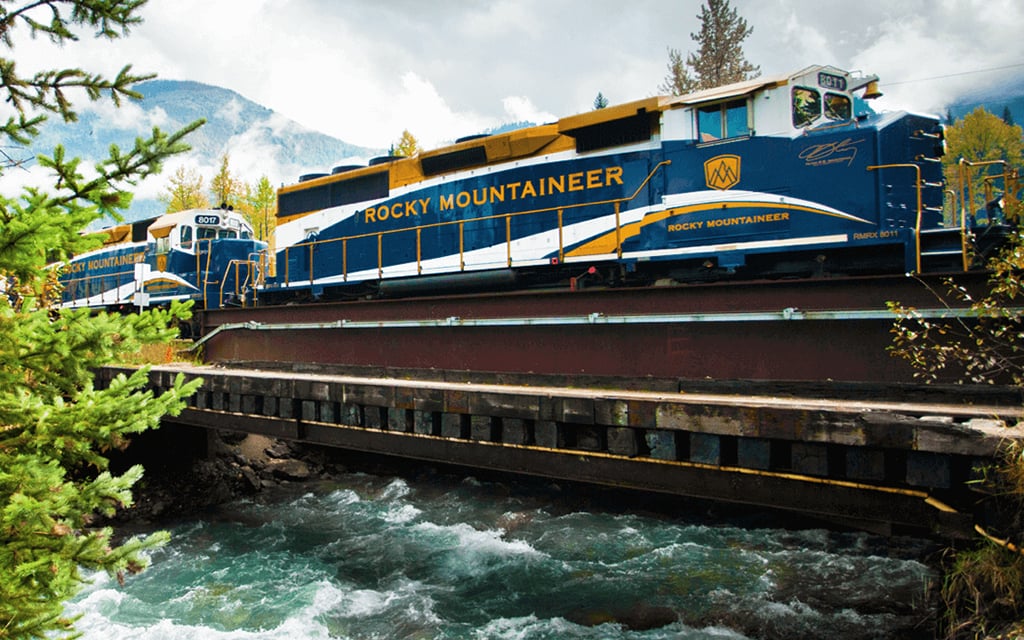 The Rocky Mountaineer has been ferrying passengers in luxury through the glorious Canadian Rockies for nearly three decades. Over time that's a few million people who have had the pleasure of traveling a variety of routes by train to view the scenic wilderness stretching from Vancouver to Banff.
It wouldn't be such an interesting trip if you were merely viewing these mountains and forests from a conventional train window. The thing that sets the Rocky Mountaineer apart is its glass-domed, bi-level rail cars, which provide a breathtaking opportunity to really take in the scenery in a truly memorable way.
Of course this is Canada we're talking about—it's not like the tracks are clear year-round. That's why the Rocky Mountaineer begins tours in June and continues until the end of October—a trainload of sightseers trapped in December mountain snows wouldn't be a good look.
To book your own passage for this truly unique experience, check out either Journey Through the Clouds, the two-day trip that takes you from Vancouver to Jasper, or First Passage to the West. 
https://www.instagram.com/p/BxkuWF9hSLf
First Passage is also a two-day jaunt, and the opportunity to see Banff, truly one of Canada's natural crown jewels, is easily worth the price of admission.
According to Inside Hook the on-board experience is complete with amenities like breakfasts and lunches from gourmet galley kitchens, and those come with a selection of British Columbia's finest wines—though passengers take care of their own dinners when the train stops at night. 
Also, Canadians always have a considerate eye on the weather, and even in high summer, the Rockies in the Great White North could be pretty cold—so the comfort factor is dialed up by heated seats from which you can gawk at some of the most impressive scenery in all of North America.
https://www.instagram.com/p/Bv2BrFNH3JG
It's not a simple, passive experience, either, as local experts and storytellers are along for the ride.
So what are you waiting for? Grab that passport and head to the border if you're in the states—but not before booking passage here.