Urwerk's New Skeleton Watch Is An Extravagant 'Star Trek'-Inspired Stunner
The watch features a dial design that's truly out of this world.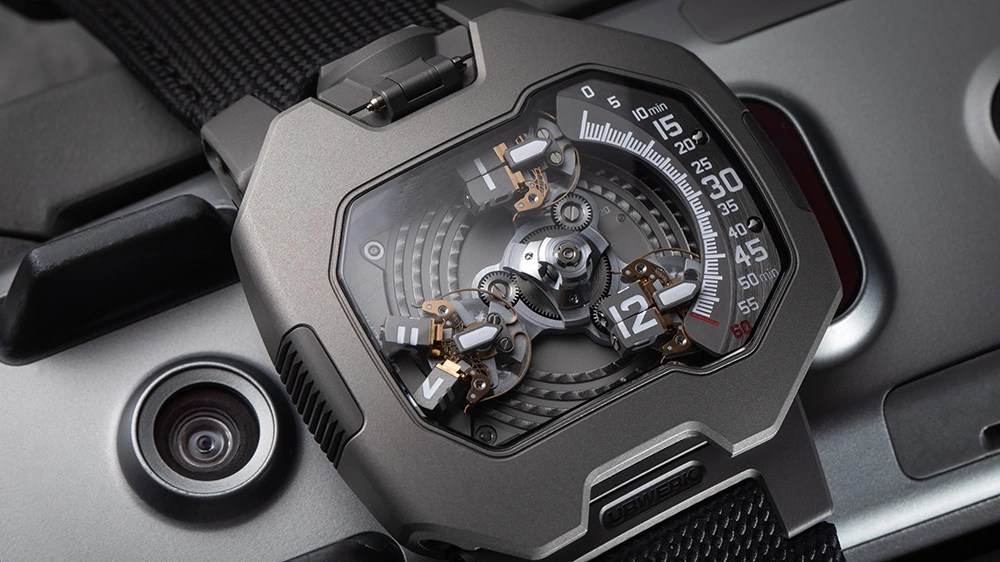 The art of intricate watchmaking has never looked as futuristic and boundary-pushing as in the hands of Swiss watchmakers Urwerk — witness the fact that its latest timepiece, the Urwerk UR-120 features a display inspired by Star Trek, with the specs to match.
What does the world of luxury watches have to do with the cosmic adventures of Spock and co.? Look closely at the $100,000 Urwerk UR-120 dial, for starters.
The display is made of three shifting planetary gears equipped with a satellite, and the left-most satellite splits into a shape worthy of Spock's Vulcan salute.
It's a complicated bit of watchmaking, to say the least, calling to mind the triple-carousel dial design and movement of this year's Urwerk UR-100, as well as other insanely intricate timepieces from the haute horology specialist.
The design of this galactic timepiece wasn't undertaken lightly, said Urwerk Co-Founder and Master Watchmaker Felix Baumgartner.
"Our biggest challenge has always been to manage forces. At the exact moment of the salute, a lyre-shaped spring opens and then closes the satellite. Managing energy then and there is complex and very subtle," Baumgartner said in a statement.
The extremely precise design, featuring the company's UR-20.01 movement, rests within a remarkably durable sandblasted titanium and steel case that clocks in at a rather subtle 44mm (considering the overall design of the rest of the watch, that is to say).
A ballistic-textured leather strap finishes off the watch in durable fashion, while the curved sapphire crystal dome nods to more conventional watchmaking practices.
Needless to say, it's a thoroughly impressive watch that's about as rare as it gets: One imagines only a handful of the Urwerk "Spock" will be available on the market.