Vacheron Constantin Just Dropped One of the World's Most Complicated Watches
It's a stunning follow-up to last year's riveting record-breaker.
Last year, Vacheron Constantin released the Reference 57260, memorably touted as "the most complicated watch in the world." 
The buzzed-about timepiece, which was eight years in the making, had 57 complications and more than 2,800 parts in its movement. Although there was only one ever produced, its design was a springboard for further innovation.
Now, the venerable Swiss watch house has roared back with the Maître Cabinotier, which boasts two of the complications watch snobs dug on the Reference 57260: a double retrograde system and an armillary tourbillon.
The double retrograde system, which incorporates retrograde hour and minute indications, has instant flyback. In other words, hands for hours and minutes flick back to zero after hitting their mark. This not only means that the clockwork is constantly running but also that additional care went into the lightweight and resistant titanium used to make the hands.
The armillary tourbillon also turns heads. It is a perpetually rotating sphere on two axes, housed under a sapphire crystal dome. Its spherical balance spring, which was first developed in 1814, is a rarity in the current watch market. This can all be observed on the side of the wristwatch through a sapphire crystal opening.
The backside of the case has likewise been etched from transparent sapphire crystal, which gives you some bonus vantage shots of this unbelievably tricky timepiece. To luxurious effect, it has been outfitted with an 18K white-gold case and a black alligator leather strap. See below: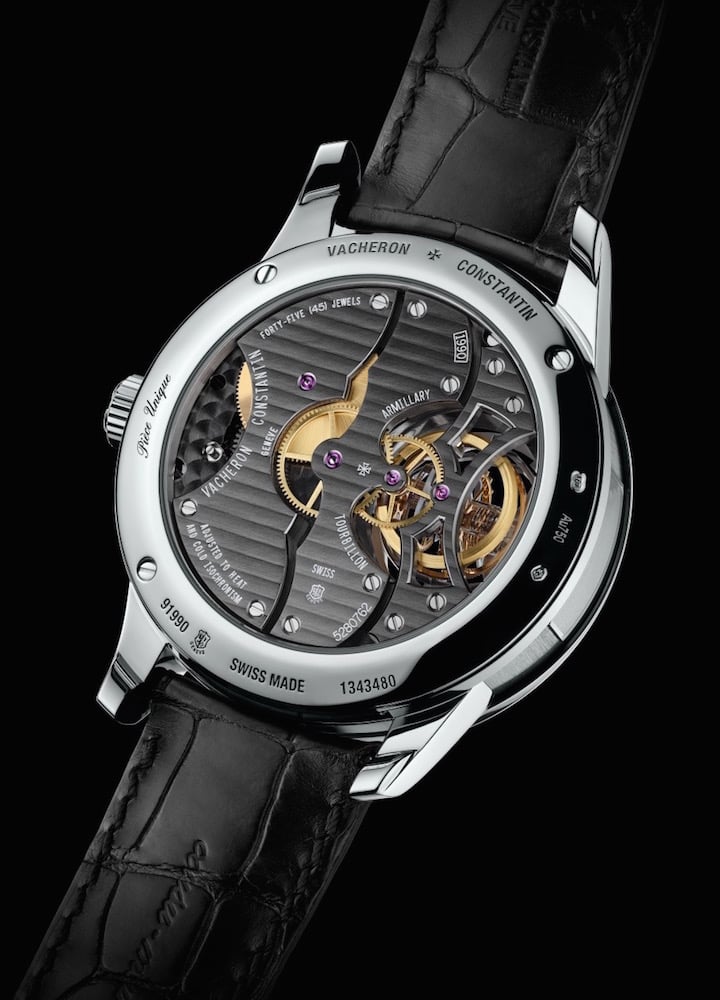 The Maître Cabinotier retrograde armillary tourbillon watch is yet to hit shelves, and it has four pending patents in the pipeline. When the deal is sealed, we expect this complicated gadget to be the envy of many a watch geek.