The Vans Ultra Range Is The Brand's Most Comfortable Sneaker Ever
Think of it as a modern-day Old Skool that can tackle any terrain.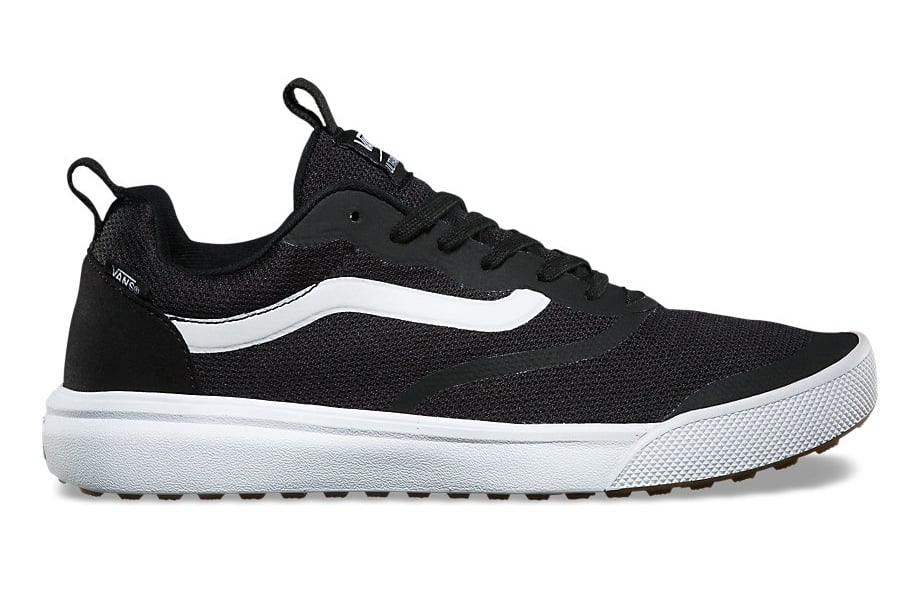 The Vans Old Skool has been a hallmark of skater and surfer culture since the 1970s. But the California sneaker giant is kicking things up a notch with its newest model—the Ultra Range.
The two-tone colorway and that recognizable "jazz stripe" are largely similar to that of the beloved Old Skool. That said, Vans has thrown in a few finishes to make the Ultra Range a stronger option for athletic types who need kicks to wear outside the halfpipe or the beach.
For one, its UltraCush LITE midsole and LUXLINER sock-fit construction provide added comfort and limit rubbing. This is a significant upgrade given that—as many sneakerheads are well aware—classic Vans aren't exactly the comfiest kicks you can own.
Its REVERSE WAFFLE LUG tread pattern will also help athletes keep their footing, no matter what the outdoor activity is.
Vans is hyping up the "Rapidweld" edition as the go-to version of the UltraRange. The $80 option features a breathable mesh upper and is available in three colorways: black/black, black/white and "madder brown" (burgundy/white). 
For a few extra bucks, a $90 edition boasts a charcoal and black design from Nathan Florence, brother of Hawaiian surfing prodigy John John Florence. The collaboration makes sense given that Vans designed the UlraRange with "top surfers' need for a versatile shoe that provided comfort for long journeys around the world" in mind.
The UltraRange Pro is for anyone who wants all the sporty capability of the UltraRange but just can't divorce themselves from the dressy suede of the Old Skool. The Pro is available for $90 in the classic black/white, white/black and teak (brown)/black/white.
While Vans can never replace the OId Skool, looks like there may be a new sneaker invading the skatepark soon.
Learn more about the all-new UltraRange sneaker on the Vans website.