Inside The World's Best Luxury Barbershops
Check out these beautifully designed bastions of men's grooming.
It had all the earmarks of being a passing fad – surely after all the hipsters shaved their beards off the new breed of "cool" barbershops would also be consigned to the rubbish bin. 
But the design acumen of these bastions of elegant grooming, now to be found everywhere from the famed Hôtel de Crillon in Paris to Bangkok's Black Amber Social Club, is only getting better as they pop up in all corners of the globe. 
In fact they are now defining a new kind of luxury for men, elevating a personal ritual that might have once been a chore to a sybaritic experience worth anticipating with excitement.
https://www.instagram.com/p/Bu_-r9KHtl7
With some dispensing single malt Scotch, other haircuts costing hundreds of dollars, and most offering various customized feel-good treatments as well, these are places that you want to spend as much time in as possible. 
Straight razor shaves with artisanally-crafted Damascus steel blades are now par for the course, as are perfectly packaged in-house grooming products like the ones found at the posh Pankhurst London, which has leather barber chairs upholstered by Bentley Motors and whose owner Brent Pankhurst has cut the hair of Daniel Craig, aka James Bond himself.
The black and gold-bedecked Barbería Royal in Mexico City is perhaps the most beautiful barbershop in the world – it faces Reforma, the ceremonial boulevard created in the 19th century by the Emperor of Mexico, and royal references abound – but closer to home The Argyle League in Houston and Pittsburgh's House of Handsome rival anything overseas. 
Which is saying something when you consider Dolce & Gabbana's Fellini-esque barbershop in their London men's tailoring boutique and Freemans Sporting Club in Tokyo are among the competition. 
https://www.instagram.com/p/BeMXhkzlhaG
"Being well groomed isn't enough anymore," as Pankhurst tells Maxim. "People want to enjoy the experience" as well. 
That has brought on demand for the "iconic ways of styling with classic wet shaves as enjoyed by the greats such as Frank Sinatra becoming more appealing to men than a quick shave in front of the mirror at home," Pankhurst notes. And "going to 'your barber' who [also]
happens to be an expert in head-to-toe style gives you a bit of an edge and an attitude, it helps you stand out from the crowd."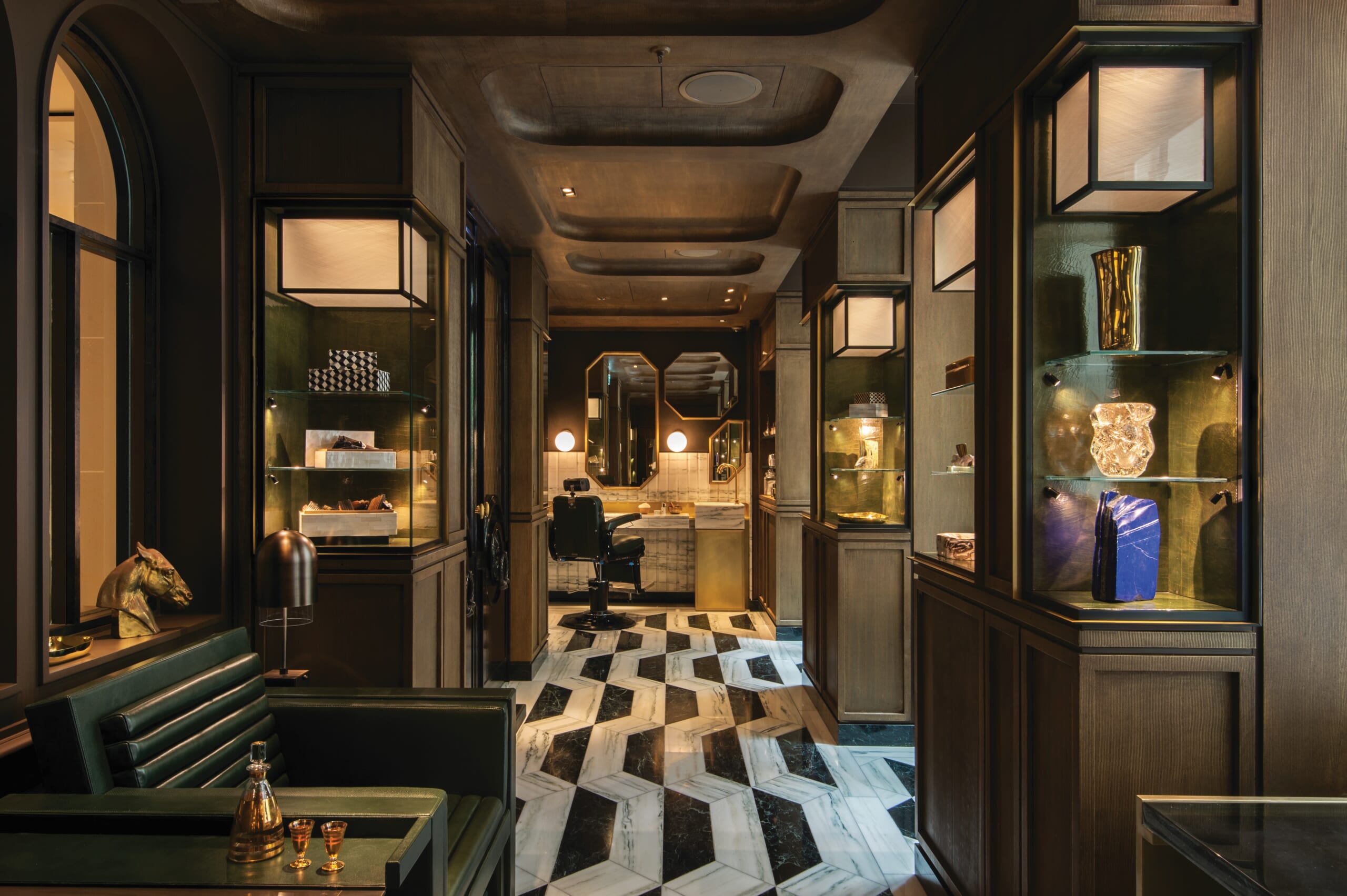 While a barbershop might seem a bit out of date at a luxury hotel these days, Marc Raffray, managing director of Hôtel de Crillon, a Rosewood Hotel, says it's a great fit. 
"At Hôtel de Crillon, we pride ourselves on offering authentic and immersive experiences that surprise and delight our discerning guests," he tells Maxim. 
"At the same time, our community is at the heart of everything
that we do, and we look to provide local Parisians with special services and ample opportunity to enjoy the hotel as well.
https://www.instagram.com/p/BjroZ57lnJh
"It is for these reasons that we chose to bring La Barbière de Paris to Hôtel de Crillon. The institution is regularly regarded as one of the best in all of Paris, and its impeccable reputation and incredible variety of treatments are consistently celebrated by visiting guests and locals alike." 
And afterwards you can repair to one of the most famous bars in the city, located just across the lobby. Whichever barber you choose to patronize, as author and style expert David Coggins notes in his book Men and Manners, good grooming should never be taken for granted. 
"A man who takes care of himself is communicating a lot to the world," he notes. "Which is good to remember because you never know who you're going to run into on the street: your possible employer, or your ex- or future wife or girlfriend" – or both.