Touring Nashville With Triumph Motorcycles & Gibson Guitars
"The Distinguished Gentleman's Ride" was a great time for a worthy cause.
I was riding a Ducati 955SP the night I walked a handful of people into a movie premiere at the Cannes Film Festival with no invite, no wristband, no list—just a lot of chutzpah and a fantastic black suit. Think a blond version of Neo in The Matrix, only with sidekicks who looked like an aging Nic Cage and perky Page 3 versions of Margot Robbie.
On the way home I nearly learned the meaning of life as the speedo indicated the north side of 160 mph and I realized the chicane at Juan-les-Pins was fast approaching. Tires scrubbing the curb on the wrong side of the road I came to a halt on the far side of life, heart pounding, drenched in sweat. The feeling was much like the first time I had my prostate tickled by a young lady at a fancy Upper East Side doctor's office in Manhattan. This was a hell of a lot more fun, though there are parallels to be drawn, as you'll discover shortly.
All of which is why I was in Nashville for the Distinguished Gentleman's Ride. One part petrol, one part fancy dress, and one part charity, this festival of mustaches, gasoline and glory was started in Sydney, Australia in 2012 by Mark Hawwa. Inspired by a photo of Don Draper astride a classic bike wearing a bespoke suit, Hawwa decided an annual themed ride would be a great way of connecting niche motorcycle enthusiasts and communities while raising funds to support men's health issues that none of us ever hope to meet in life (thank you, doctor).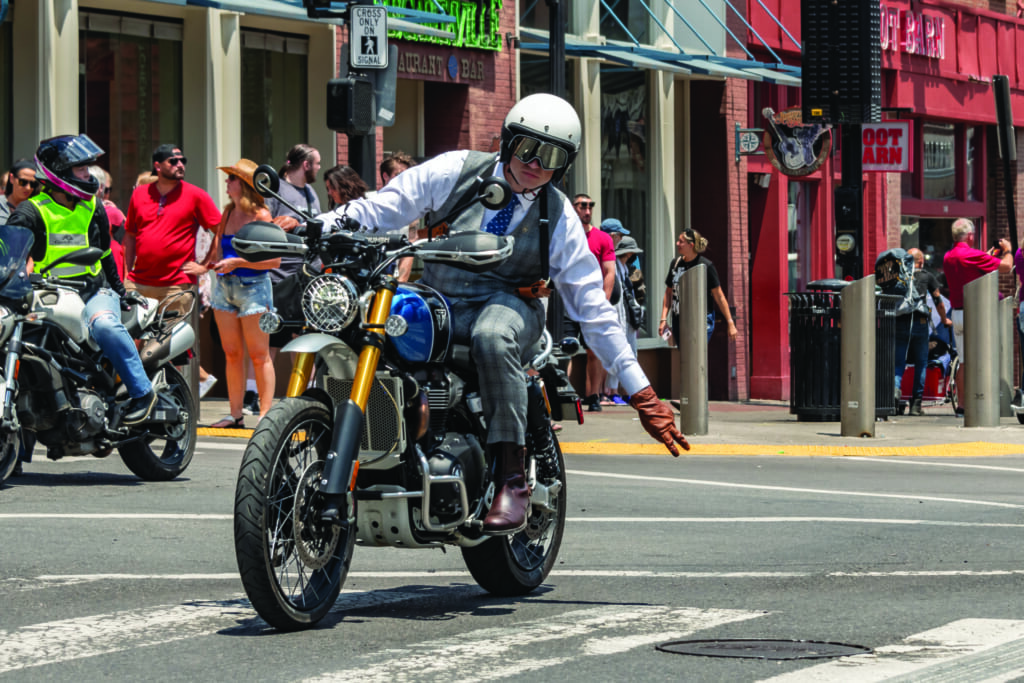 I was of course all for it from the start and have partaken in the DGR as it's known whenever I've had the chance. A greater collection of motorcycle-riding characters from all walks of life one cannot find. From simple beginnings the DGR has now expanded to 107 countries around the world, and raised over $37 million for men's health issues since its inception.
As it grew the vision expanded to encompass not just physical health but also mental issues affecting men. But who are these guys riding around for the greater good? As Hawwa puts it, "The distinguished part comes from inside. It doesn't necessarily matter what you wear or what you ride. For me it's the guys that are willing to get up off their seat and give it to someone that's a little bit elderly; it's the guys that are willing to pull over on the side of the road and help someone else out. So, the fashion aspect is a great means for us to break that stereotype and look distinguished on motorcycles."
He adds that, "The true meaning of being a gentleman to me is someone that's willing to go out of their way to help other people and someone that's willing to leave the world a better place than they actually came in. And I think that's the sort of ethos that we carry with everything that we do, and that's what people, the general public, see on a ride. When you've got someone trying to cross the road and it might not be at a crossing but all the guys are pulling up and going, 'Yep, after you'. It's a cool vibe and if you get the opportunity to take part in it, I'd definitely suggest you do."
I swung my leg over the spanking new red hopper Triumph Speed Triple 1200RR and pondered all of this, and more, as I joined a motley crew of the great and the good of Nashville, Tennessee on their Sunday morning DGR excursion.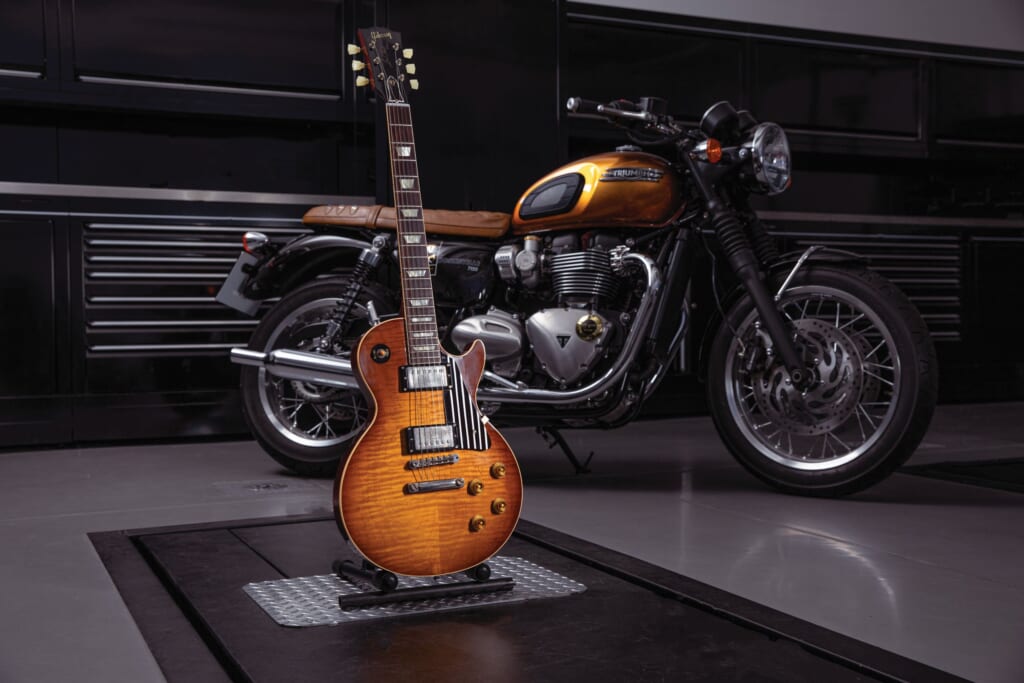 Suited, booted, tattooed, mustached, bearded and bespoken, they had risen to the challenge on everything from humble clunkers to hand-built retro 1970s Hondas with 750 Gixxer motors transplanted into them.
By the time I had reached The Gibson Garage, home to Gibson Guitars, and slumped into the sofa of their secret green room to chat with CEO James Curleigh, I was ready for some honky tonk.
What I got was insight into why Gibson, Triumph, and DGR are the perfect mix, and how the spectacular grand prize for the highest fund-raiser of the 2022 DGR came about: a 1959 Legends custom edition Gibson Les Paul Standard Reissue and a Bonneville T120, featuring a host of beautiful hand-detailed custom touches, complete with a bespoke 1959 Legends Editions certificate of authenticity, signed by Triumph CEO Nick Bloor, and Cesar Gueikian, Brand President of Gibson Brands. For those who didn't reach such heady heights of fundraising there were still Triumph bikes, signed Gibson guitars, and hand painted guitar cases by Nashville artist James Willis.
Dress up, ride bikes, hang out with your mates, support a great cause, and end up with an epic bike and equally spectacular guitar if you are top dog in fundraising. It doesn't get more distinguished than that.
Triumph Speed Triple 1200RR
The Speed Triple 1200 RR may be the prettiest bike Triumph has ever built. It's a modern rendition of a 1970s bubble-faired café racer with killer looks and a fierce 177 HP on tap from its 1160cc, three-cylinder motor.
A litany of the best parts available to man complete the package, including the most advanced production Öhlins suspension, race0developed Brembo brakes, high-performance Pirelli Diablo Supercorsa SP V3 tires, a lightweight castaluminum chassis, and state-of-the-art Optimized Cornering ABS and Optimized Cornering Traction Control systems.