Check Into These Stunning Spanish Island Hotels
Treat yourself to luxury stays at hotels in Mallorca, Ibiza and Menorca.
A trip to Spain's beautiful Balearic Islands just got even more tempting, thanks to new non-stop flights and luxury hotel deals. The sun-addled archipelago east of the Spanish mainland is famously anchored by the gorgeous island foursome of Mallorca, Ibiza, Menorca and Formentera, which have long ranked among Europe's most beguiling destinations.
United Airlines recently launched thrice-weekly nonstop flights between Palma, the capital of Mallorca, and Newark Liberty International Airport, making visiting Mallorca easier than ever for U.S. travelers. Spain's Meliá Hotels International is further sweetening the deal by offering special discounts at its Mallorca and Ibiza properties through the MeliaRewards program, and just opened a new five-star luxury hotel in Menorca, the Villa Le Blanc by Gran Meliá.
The non-stop flights and hotel deals seek to lure tourists to the picturesque Mediterranean paradise known for its crystalline waters, glorious beaches, chic shopping districts, party-hearty nightlife and stellar cuisine—all of which have made it Spain's most popular island destination.
Read on for a closer look at Melia's luxurious trio of Balearic Island hotels.
Hotel de Mar Gran Meliá-Palma, Mallorca
Designed in 1963 by legendary Catalan architect José Antonio Coderch, the five-star, adults-only Hotel de Mar Gran Meliá features sweeping sea views from the terraces of every room. Also known as the "Chocolate Building" due to its distinctive appearance, the seven-story hotel is set amid gorgeously-manicured gardens overlooking the tranquil turquoise waters.
It notably features three pools and four restaurants, a Clarins spa with a gym, pool, hot tub and sauna, and its own charming beach cove. The 142-room stunner is located in a quiet residential area of Illetas just a 10-minute drive from Mallorca's lively Puerto Portals marina and nightlife district, and is close to some of Mallorca's best beaches and golf courses.
The Hotel de Mar features jaw-dropping views of the sea and gardens from private balconies, the pool areas and outdoor dining areas. Lounge in a stylish striped cabana or daybed, or take cover under natural straw umbrellas on a semi-secluded beach cove.
The elegantly-appointed rooms are divided into Deluxe, Premium and Red Level categories, along with four different kinds of luxury suites. All rooms are sea-facing and come with spacious terraces to soak up the glorious views.
And whether you're marveling at the majesty of the hotel's exterior while relaxing poolside or snacking on cured meats, sausages, cheeses and pastries at the hotel's lavish breakfast bar—which sometimes features a tuxedo-clad piano player providing an elegant soundtrack–consider that you're luxuriating at a bonafide historical landmark.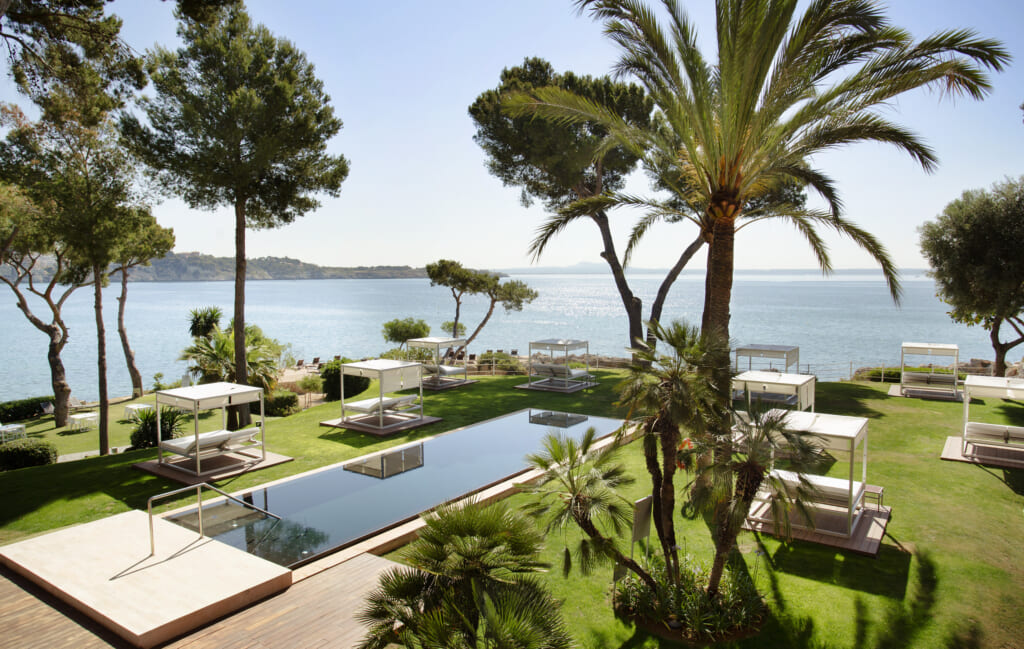 The hotel's distinctive design is considered to be such an icon of Spanish hotel architecture, that local lawmakers have forbidden renovations from altering the original design and concept of the building.
Book a stay at Mallorca's Hotel de Mar Gran Meliá here. Rates start at $354 per night.
ME Ibiza
As Ibiza is widely considered to be Mallorca's wild-child sister island, it's only natural that the ME Ibiza exudes a more hedonistic vibe than Hotel Del Mar. Located in Santa Eulalia del Río, a town on Ibiza's Eastern coast surrounded by water and easily accessible by boat via a nearby marina, the all-white, L-shaped hotel is ready to party from the get-go.
Topless sunbathers are commonplace throughout ME Ibiza's bustling main pool area, which thrums with a DJ-driven soundtrack during the day as revelers pop bottles of bubbly and swill tropical cocktails. The 205-room hotel's rooftop bar offers a more laid-back option, with a sleek Infinity pool and a bevy of Bali Beds and mini-plunge pools.
As with the Hotel Del Mar, the sprawling, buffet-style breakfast is designed to satiate even the most hungover guests, while the poolside Bianco Mare eatery boasts an original stone oven from Naples, Italy to serve up freshly-made pizzas.
The hotel's four styles of modern/minimalist rooms and four styles of luxury suites—including some with private hot tubs and pools—are suitable for couples, families and even pets. Activities like daily yoga classes, spa treatments, personal training sessions and even private day trips to Formentera aboard the ME boat are available for those who want to escape the lively pool scene.
The ME Ibiza is about 30 minutes from the airport and the must-visit Ibiza Town district, replete with an armada of docked superyachts, vibrant nightclubs, tasty Iberian eateries and plenty of shopping. Keep in mind that both the Hotel Del Mar and ME Ibiza close in November for the season and re-open in the spring.
Book a stay at the ME Ibiza here. Rates start at $299 per night.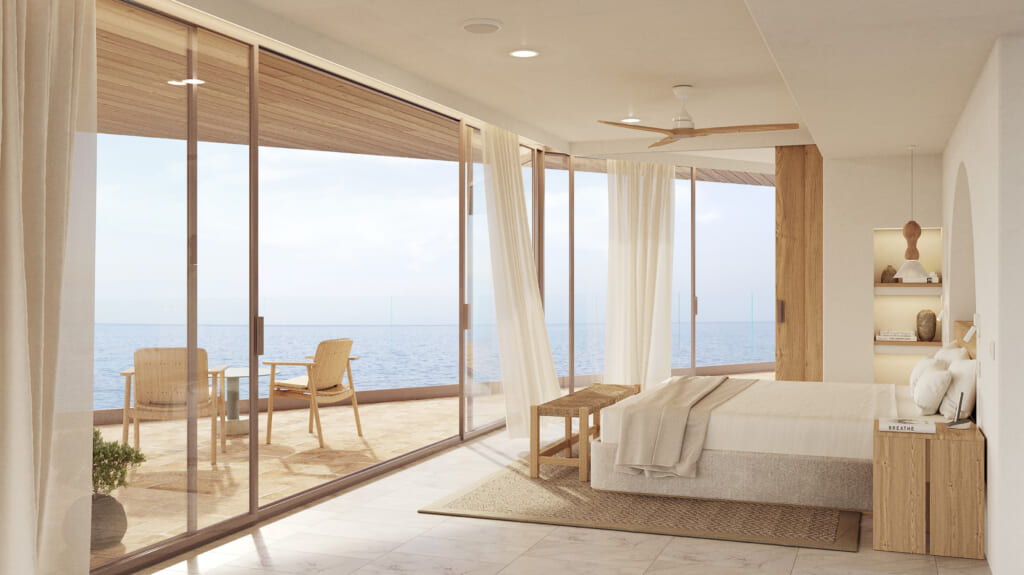 Melia's latest luxury Balearic Island hotel is its most aggressively eco-conscious yet. Located on Menorca's Santo Tomás Beach, this five-star stunner features 159 guest rooms–including 45 suites–all boasting private balconies and many with their own pools and rooftops.
Already tapped as a member of the Leading Hotels of the World collection, the Villa Le Blanc By Gran Meliá's white-and-blue stone facade faces the Mediterranean and is designed to blend seamlessly with the natural environment of Menorca's southern coast.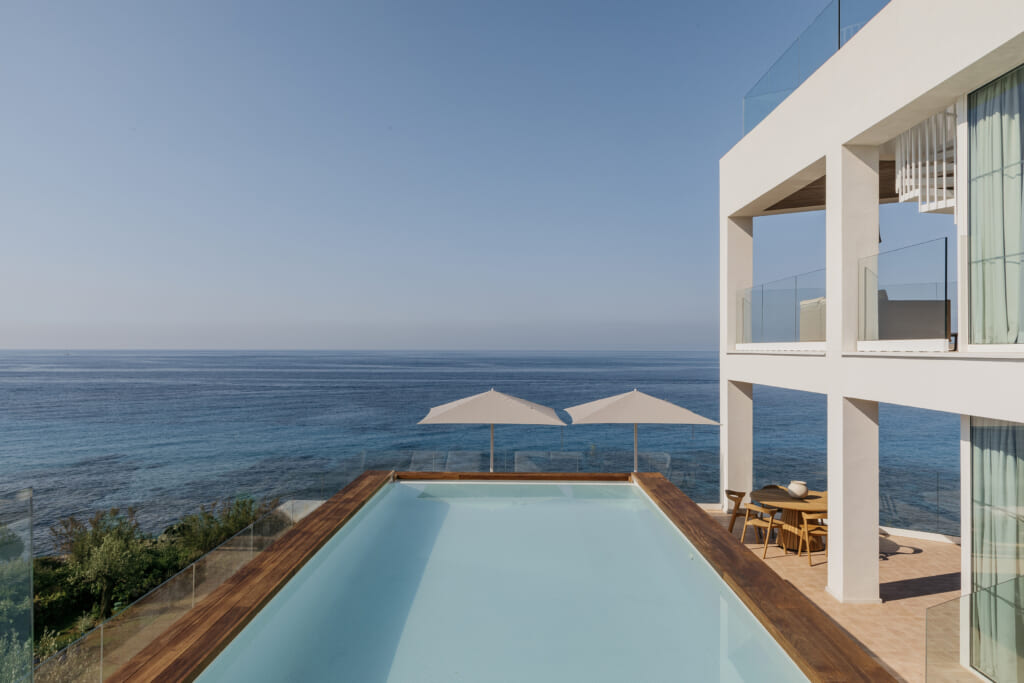 The hotel's ambitious sustainability project aims to achieve a carbon neutral footprint by incorporating facilities and technologies that will enable it to drastically reduce emissions, including reducing waste by "reusing, repairing, refurbishing, and recycling existing materials and products." For example, residual heat from air-conditioning systems will be used to pre-heat hot water and heated pools, while pool water will be re-purposed for cleaning, and rainwater irrigates the garden.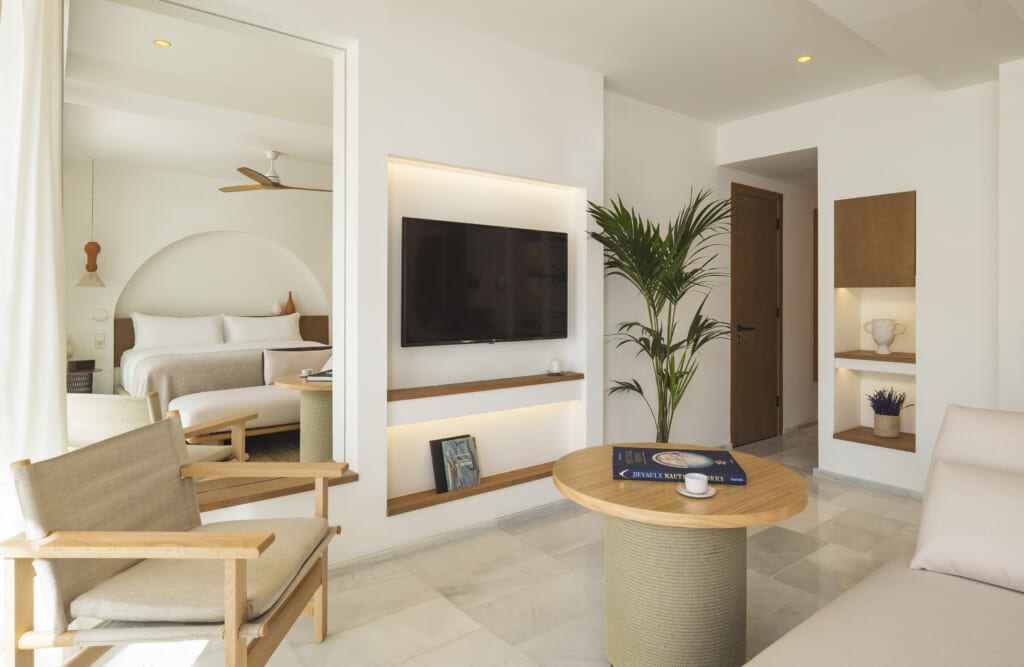 The Villa Le Blanc also boasts a sustainably-sourced seafood restaurants from Menorcan seafood specialist S'Amarador and chef Joan Canals's Cru, as well as an opulent Anne Semonin Paris spa featuring a hydrothermal circuit with a full-sized pool, Jacuzzi, sauna and steam room.
Depending on which location you prefer, there's a luxury Balearic Island getaway for practically everyone.
Book a stay at Menorca's Villa Le Blanc By Gran Meliá here. Rates start at $760 per night.