Check Into Greece's Coolest New Coastal Hotel
The W Costa Navarino is an eco-conscious crown jewel of this Mediterranean paradise.
"Epic experiences, bold hotels, the hottest destinations"—luxury hospitality leader Marriott International has been busy rebranding some of the top properties in its W Hotels portfolio as W Escapes, and adding some cool new spots to the collection, which includes Aspen, Bali, Barcelona, and Punta de Mita, Mexico (among others).
And the latest and coolest is the new W Costa Navarino, the first-ever W Hotel in Greece. Situated between the Ionian Sea and the Peloponnese mountains in Messinia, Costa Navarino is one of the most unspoiled landscapes in the Mediterranean. And the beachfront W Costa Navarino, set on 32 acres with 1,500 feet of shoreline overlooking the historic Bay of Navarino, is its new jewel in the crown.
Olive groves, some with trees that are hundreds of years old, are interspersed with stone and wood structures, some with planted roofs, designed to evoke both a traditional Greek coastal village and a more contemporary beachside aesthetic, which harmoniously blends into the picture-perfect landscape and emphasizes the ocean views.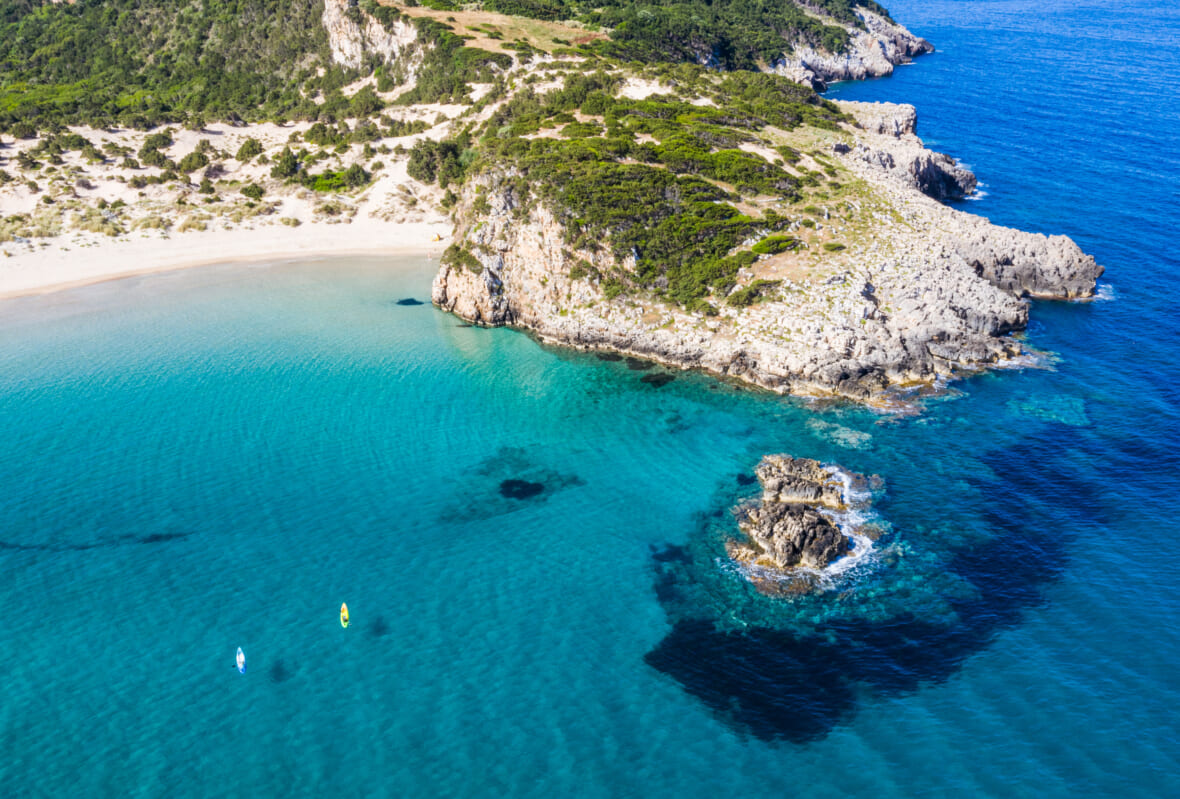 In landscaping the property, thousands of olive trees were repositioned rather than removed to ensure the integrity of the pristine environment that the region is known for. The stone comes from local quarries, the timber from local mills, and other elements are drawn from the surrounding area so that nothing seems incongruous or out of place; and the overall effect is one of unspoiled natural beauty.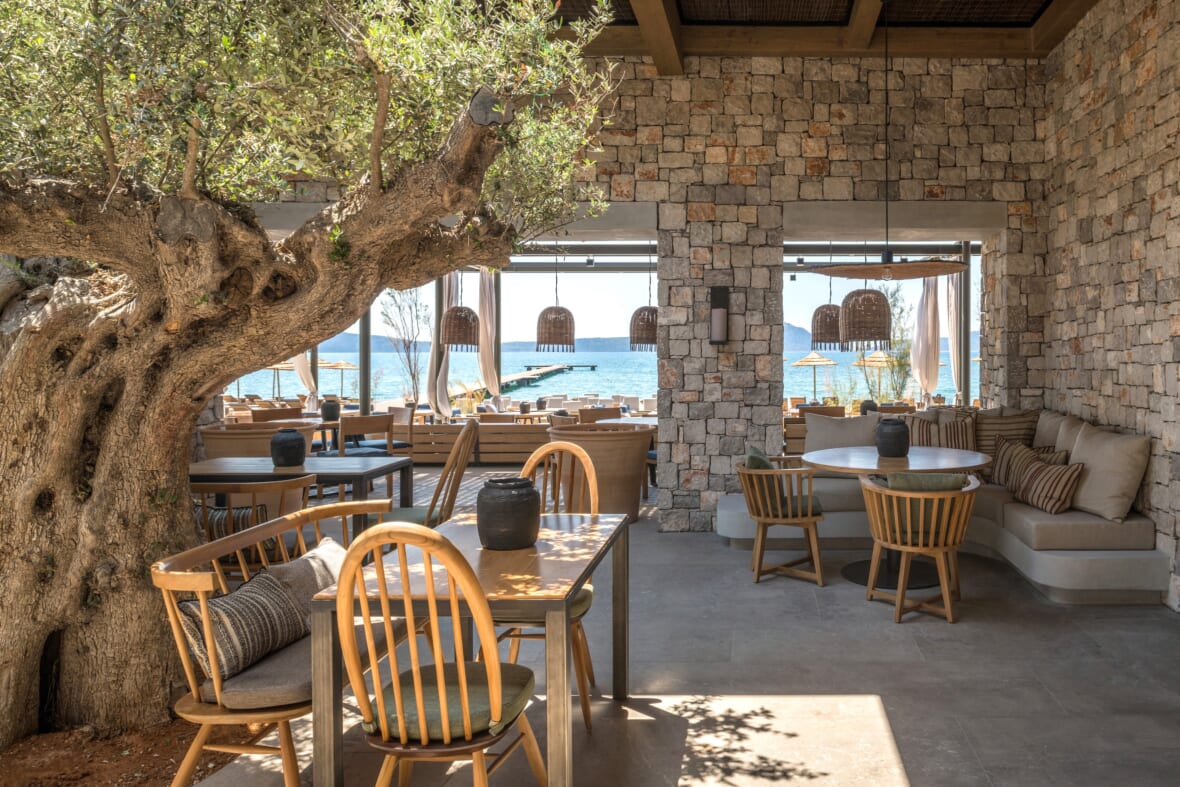 The adults-only resort is meant to be "a place that fosters creativity, individuality, and freedom of expression," and eco-consciousness pervades every aspect of the property.
"From upcycling materials to a bioclimatic design, W Costa Navarino features sophisticated architecture that leans into the broader sustainability efforts" or Costa Navarino, says Benoit Racle, Vice President of Brand Management, W Hotels Worldwide.
The goal, Racle says, is to "present international travelers and local tastemakers an opportunity to capture the energy of Mediterranean culture [with] world-class dining and immersive programming promising an unforgettable, one-of-a-kind experience," be it at the beach, in the spa, or one of the impeccably executed bars and restaurants.
With architectural design led by renowned Greek architects Tombazis and Associates, set off by the lush indigenous landscaping, the ethos is one of timeless, tranquil luxury and the serenity of being by the sea. And the first thing one sees when arriving at the property is a custom-made, giant W logo or "totem," "crafted with reclaimed wood collected from old fishing boats" as a nod to Costa Navarino's maritime heritage.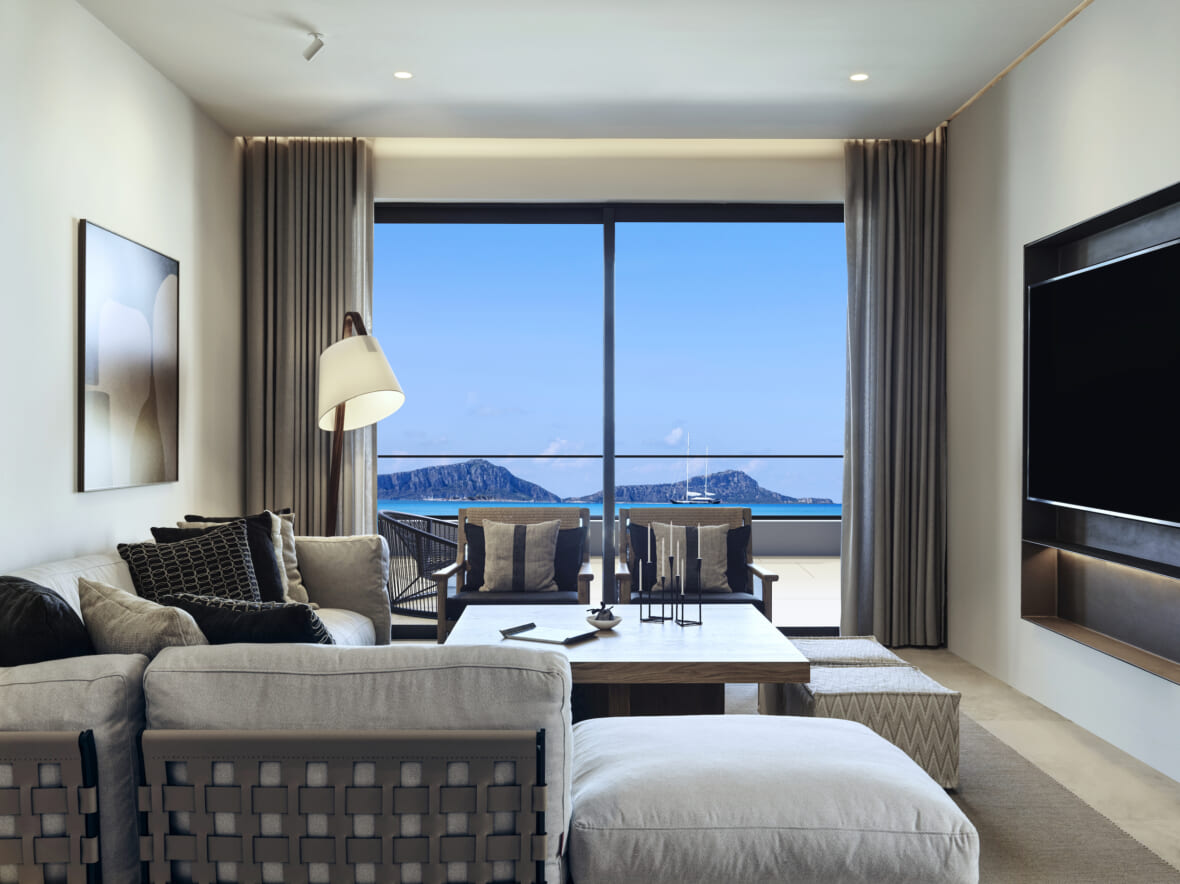 "Infused with the unexpected, thoughtful design elements of W Hotels," the interior design across the resort, including the public areas and the central culinary courtyard called Platía, a playful spin on the traditional Greek food market, was led by "London-based, globally focused" studio MKV Design, who brought a sense of European sophistication to the project while keeping it firmly rooted in local aesthetics.
The stunning architectural design of the hotel's beach club Parelía was created by Tombazis and Associates and Athens-based K-Studio, with the latter also leading interiors at Parelía. The interior design at the seaside / poolside, sunset restaurant and bar, called Between, meanwhile was created by Interior Design Laboratorium as the ideal venue for cocktails and light bites, accompanied by live DJ sets and a cocktail menu focused on seasonality and simplicity.
All guestroom, suite and villa interiors are designed to "celebrate the heritage of Greek artisans with a palette of neutral tones [and] occasional with pops of color," along with "modern yet refined interpretations of traditional craftsmanship," can be seen in the lighting, flooring," numerous referenced to time-honored Greek basket weavers, and even leather chairs that "offer a contemporary interpretation of regional saddle-makers' art."
The accommodation options at W Costa Navarino include swim-up rooms, adjoining rooms with a pool you can share with friends or family, high-end suites with private rooftop pools, and three bedroom villas with private beachfront pools as well, all designed to make every guest feel like a VIP. Service is excellent and totally competent without ever being intrusive.
"From the thoughtfully refined and locally inspired design, with a strong focus on art, to diverse and energetic programming, W Costa Navarino is ready to make a mark in the Mediterranean hospitality scene," says W Costa Navarino's General Manager Nassos Papazoglou. There are, simply put, no bad rooms or any public spaces that were overlooked or not given a carefully considered personality.
Designed to "relax and re-energize the body and mind," the resort's signature W Away Spa offers a variety of therapeutic treatments, including personalized massages that rival any five-star spa in Europe, while the fully equipped Fit gym features a heated 80-ft. lap pool of its own. There's also a program of workout classes and wellness experiences designed for any fitness level, including beach boot camp, yoga sessions, meditation practice and Pilates.
All with epic views to enjoy, W Costa Navarino is home to a number of curated culinary options. The sophisticated W Lounge, located off the lobby one floor above the infinity pool level, offers a "globally inspired menu alongside a range of palate cleansing spritzers, aperitifs and locally inspired, eco-conscious cocktails," and it's the perfect spot to take in the awe-inspiring sunsets.
The property's beach club, Parelía, is set to be the new social hot spot of W Costa Navarino. It serves contemporary Greek Mediterranean cuisine, "focusing on delectable sharing dishes accompanied by unexpected cocktail collisions."
With DJs playing a mix of genres alternating with live music throughout the day, Parelía "naturally evolves from a casual beach mood for swimming and unwinding, to a high-energy venue for late night fun, dancing and partying by the sea."
The opening of the W Costa Navarino marks the next chapter in the evolution of one of the Mediterranean's most desirable destinations. The Costa Navarino enclave, which has its own film festival and which has attracted the likes of A-listers including Willem Dafoe, Prince Albert of Monaco, Jean-Paul Gaultier and Brunello Cucinelli, now comprises five distinct sites featuring five-star luxury hotels, world-class private residences, and a total of four signature golf courses.
Navarino Dunes, the first to be established, is home to The Romanos, a Luxury Collection Resort, and The Westin Resort Costa Navarino, as well the luxury private properties Costa Navarino Residences. Navarino Waterfront is home to the new W Costa Navarino. Next up, Navarino Agora is scheduled to open in 2023, while Navarino Bay is set to welcome the Mandarin Oriental, Costa Navarino in 2023.