Check Into Nobu's Stylish New London Hotel
Robert De Niro and partners' latest Nobu hotel has everything from the brand's signature sushi to a posh penthouse suite.
Nobu Hospitality, the luxury brand founded by superstar chef Nobu Matsuhisa, actor Robert De Niro and movie producer Meir Teper, recently opened its newest and poshest property in London, expanding its portfolio of high-end hotels. It's one of the latest landmarks under the company's ambitious global expansion plans, which will eventually bring their total number of hotels to 30.
Nobu Hotel London Portman Square, the third collaboration between L+R Hotels and Nobu Hospitality, occupies a prime piece of real estate in the chic Marylebone neighborhood. The 249-room property includes a signature Nobu Penthouse, a Nobu Pilates studio, and of course a supremely stylish Nobu bar and restaurant.
"A contemporary approach to both aesthetics and hospitality is employed throughout," the brand notes, "taking inspiration from Japanese architectural disciplines and minimalist design, whilst utilizing a refined color palette influenced by heritage Japanese color combinations."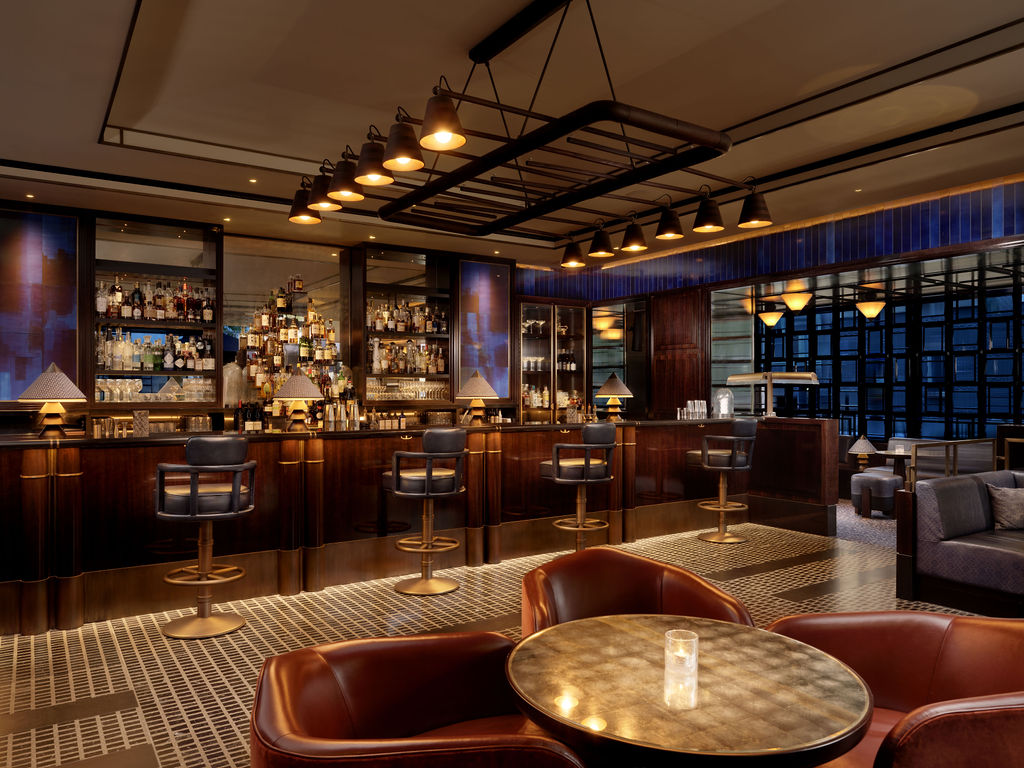 Decor transitions from the bright and airy lobby to the darker and sexier rooms. The award-winning David Collins Studio is responsible for the hotel's public spaces as well as the bar and restaurant. "Central to the unique aesthetic of Nobu Hotel London Portman Square is a focus on exceptional craftsmanship, from hand-blown glass chandeliers and bespoke lighting to large scale sculpture and original artworks," they note.
The Nobu bar is located on the first floor, with the main restaurant one floor above. In clement weather there's also a Roku Japanese Gin Garden treating guests to "an authentic taste of Haru (Japanese spring) from the floral and sweet aroma of cherry blossom in the Roku Gin cocktails to the unmistakably spring-like ambience found on the terrace, ornately designed, for this exclusive experience."
The hotel's opening also sees London's iconic Nobu Berkeley Street restaurant move to its new home in Marylebone. "Continuing a 15-year legacy of exceptional culinary experiences, the Nobu Restaurant at Nobu Hotel London Portman Square brings the flagship's signature handcrafted approach to cuisine and service into a brand-new space," the brand declares.
Here guests can experience signature Nobu dishes like the famous Black Cod Miso and Yellowtail Jalapeño, along with Berkeley Street favorites like Lobster Tempura with creamy lemon and red Jalapeño; Chilean Sea Bass with wasabi lime miso; and Crispy Pork Belly with apple wasabi salsa. That's in addition to the full complement of sushi and sashimi, and Nobu's famed omakase multi-course tasting menu.
The hotel's beautiful rooms and suites fall into seven distinct categories, with many featuring terraces with views overlooking Portman Square. At the top end, the four suite categories range from the One Bedroom Suite, Zen Suite, and Saijoukai Suite, to the celeb-worthy two-bedroom Nobu Penthouse located on the top floor, with incredible 360-degree views of London.
Rooms and suites interiors are the work of Make Architects, designed to echo the "distinct character and allure" seen in the rest of the hotel. Key elements are "striking wall prints, bespoke lighting and intricate [carpentry], set against the backdrop of a subtle, textural palette," with "an abundance of natural light and materials creating a sense of place that is calm, bright and warm."
Throughout the entire hotel guests and visitors will find a museum-worthy collection of contemporary art pieces, many of them custom commissions, from the massive polished steel suspended helical sculpture called Parabola by Ivan Black that dominates the lobby, to more intimate creations. Many of them reference traditional Asian art and and Japanese craftsmanship, rendered in thoroughly modern mediums and modes of expression.
The overall effect is one of restrained elegance, purity of design, a unique sense of place, and layers of aesthetic interest. Whereas many branded luxury hotels do not go invite you to delve beneath their glossy surface, Nobu Hotel London Portman Square offers something new to discover with every visit, as well as a plethora of compelling reasons to return.