Check Into This Historic Luxury Hotel From 'Midnight in Paris'
The 5-Star Le Bristol was the first-ever hotel to receive France's coveted "Palace" distinction.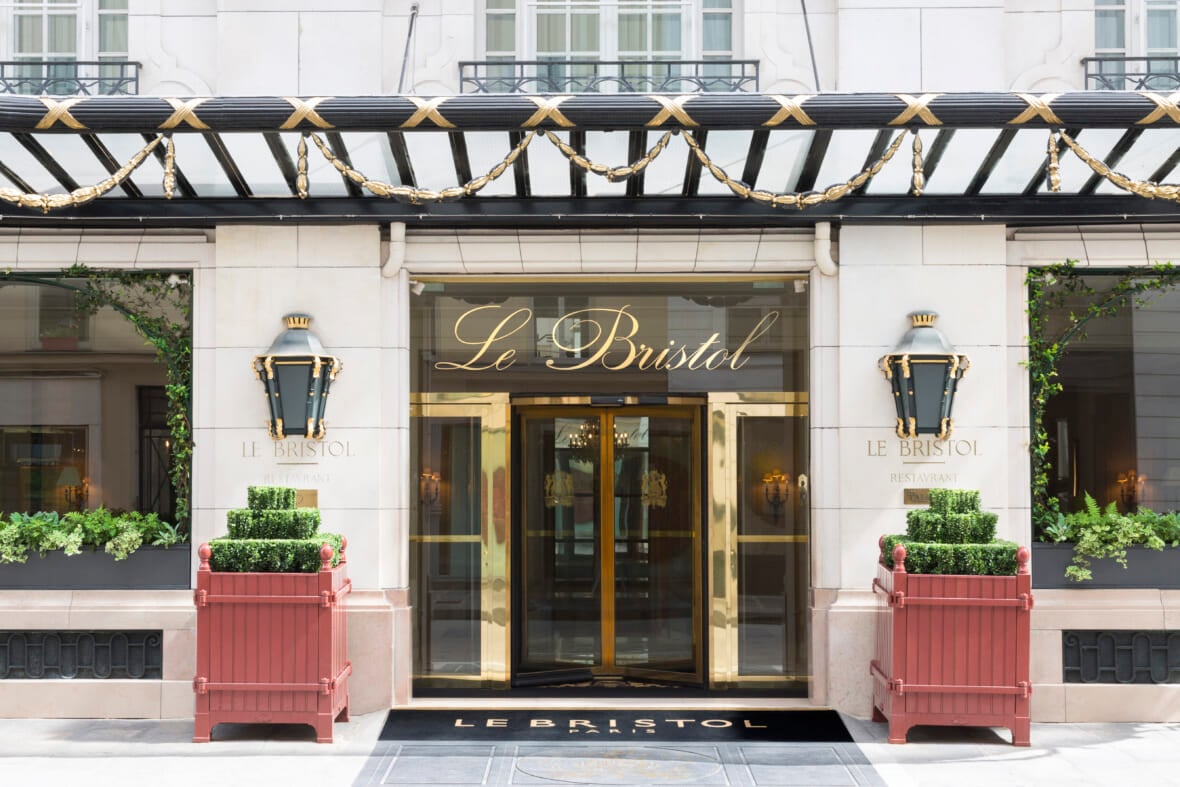 Fans of Woody Allen's brilliant 2011 film Midnight in Paris, starring Owen Wilson as a writer who encounters the likes of Ernest Hemingway and F. Scott Fitzgerald late at night in the City of Lights, might recognize the ultra-elegant Le Bristol hotel as the location for many of the movie's scenes.
Coincidentally, that same year Le Bristol became the first-ever hotel to receive the "Palace" distinction awarded by the French Ministry of Tourism, that designates French hotels that are in fact even more exceptional and luxurious than the typical 5-Star designation—beating out the arguably more famous Ritz Paris.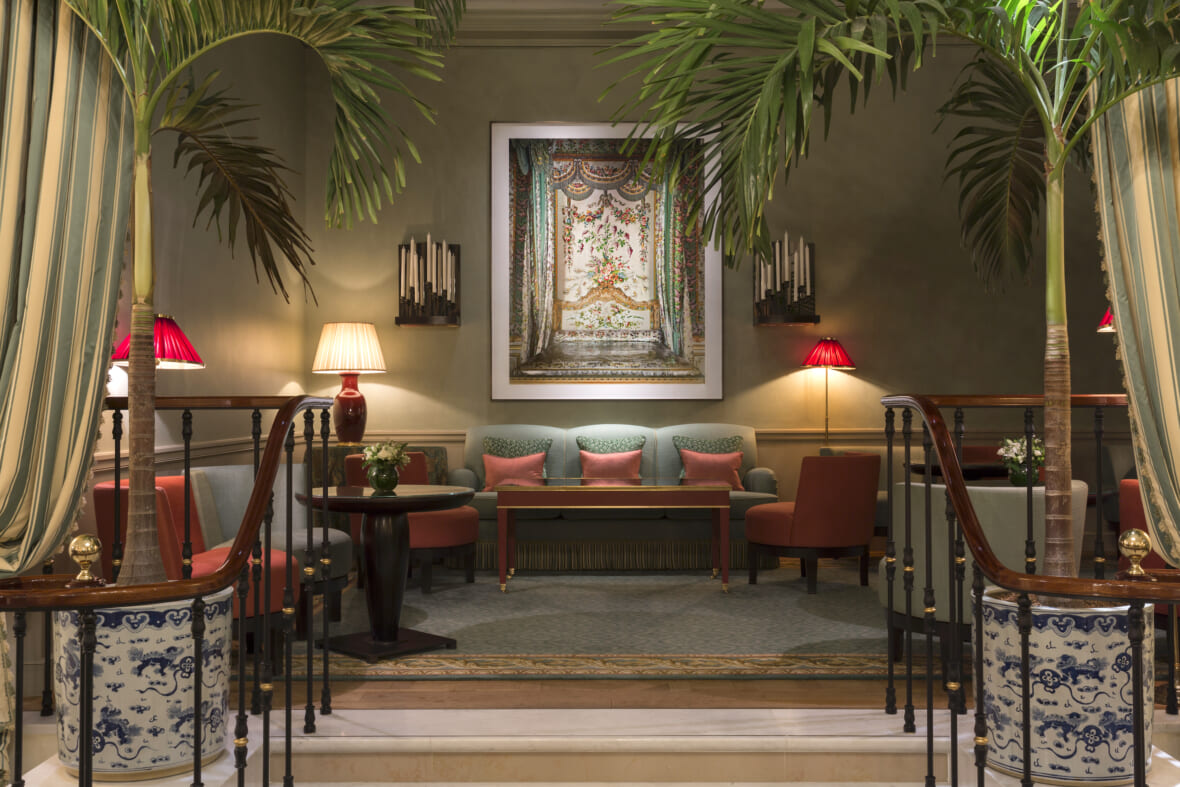 "A Palace is, of course, an exceptional building and location," as Le Bristol's Manager Leah Marshall puts it. "But more than that, it is a state of mind. Made up of kindness, warmth and the true desire to please amongst every member of the team – no matter their job title. It's this authenticity that defines the spirit of Le Bristol. And our guests frequently tell us that they can feel the difference; they are surprised at how immediately they feel at home here."
The hotel's architecture dates back to the 1700s and the Parisian nobleman's mansion that budding hotelier Hippolyte Jammet discovered in 1923. Located at 112 rue du Faubourg-Saint-Honoré, "it was a suitably prestigious location in the heart of Paris, close to the Elysée Palace, yet removed from the bustle of the capital," the hotel's historians note.
Jammet soon set about "transforming the aristocratic dwelling into a refined and luxurious hotel," which he opened in 1925. "Possessing an unrelenting eye for detail, Jammet designed each space marrying ultra-modern comfort with unmistakable accents of French sensibility." He called it Le Bristol in homage to Frederick Hervey, 4th Earl of Bristol, a "prolific traveller and lover of the luxuries and comforts enjoyed by 18th century globe-trotters."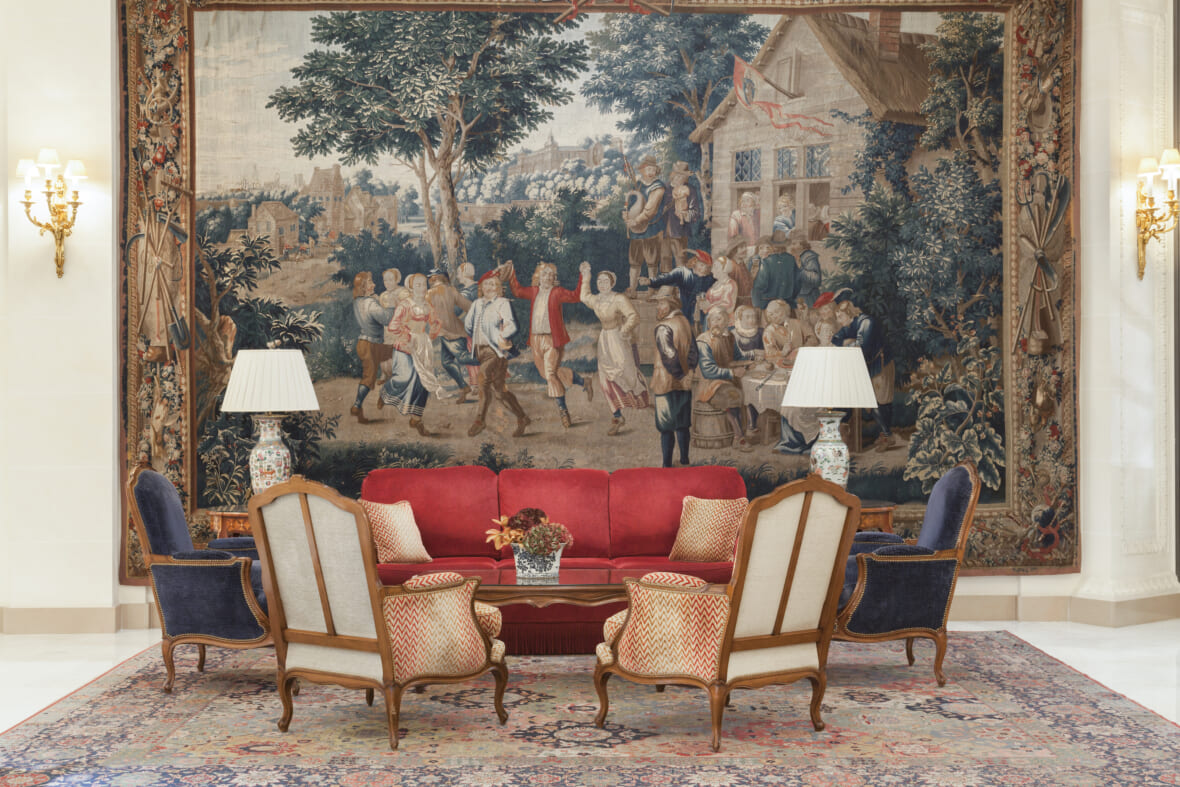 Le Bristol would soon become the first hotel ever to offer room service, "with the help of a dumbwaiter and a maître d'hôtel on every floor." It was also the first to install a climate control system for "cooling the drawing rooms" and other gathering spots. In general, Jammet's missionwas to "offer a limitless approach to luxury, elegance and service from day one."
Le Bristol Paris soon became the place to see and be seen for the Parisian elite, as then notable figures from abroad, as "heads of state and diplomats trickled in during state visits and holidays thanks to the exceptional level of privacy granted them"—a tradition that continues today. Just some of the famous names who have made Le Bristol their Parisian address include Josephine Baker, Rita Hayworth, Grace Kelly, Sophia Loren, Marilyn Monroe, George Clooney, Robert De Niro, Mick Jagger, Kate Moss, and David Beckham.
Since it first opened in 1925, Le Bristol Paris has changed hands only once, in 1978, from the Jammet family to the Oetker family, whose portfolio today includes other legendary properties including Hôtel du Cap-Eden-Roc in Antibes, Château Saint-Martin & Spa in Vence, The Lanesborough London, Eden Rock-St Barths, and Jumby Bay Island in Antigua, among others.
Le Bristol has been expanded several times over the years with the acquisition of neighboring houses and even a convent, and by 1979 a new wing opened onto the hotel's now-legendary 13,000-sq.-ft. classical French garden. That same year, the hotel added a swimming pool on the top floor, with stunning views over the Parisian rooftops. Another wing was added in 2009.
"Today, the garden view from the interior suites and rooms is completely transformed," by the renovated garden which has become on one Paris' most exclusive retreats. "On the terrace at Epicure, the 3 Michelin starred cuisine of Chef Eric Frechon is served against [this] inspiring backdrop. And the courtyard tables at Le Jardin Français now occupy this new Parisian Eden."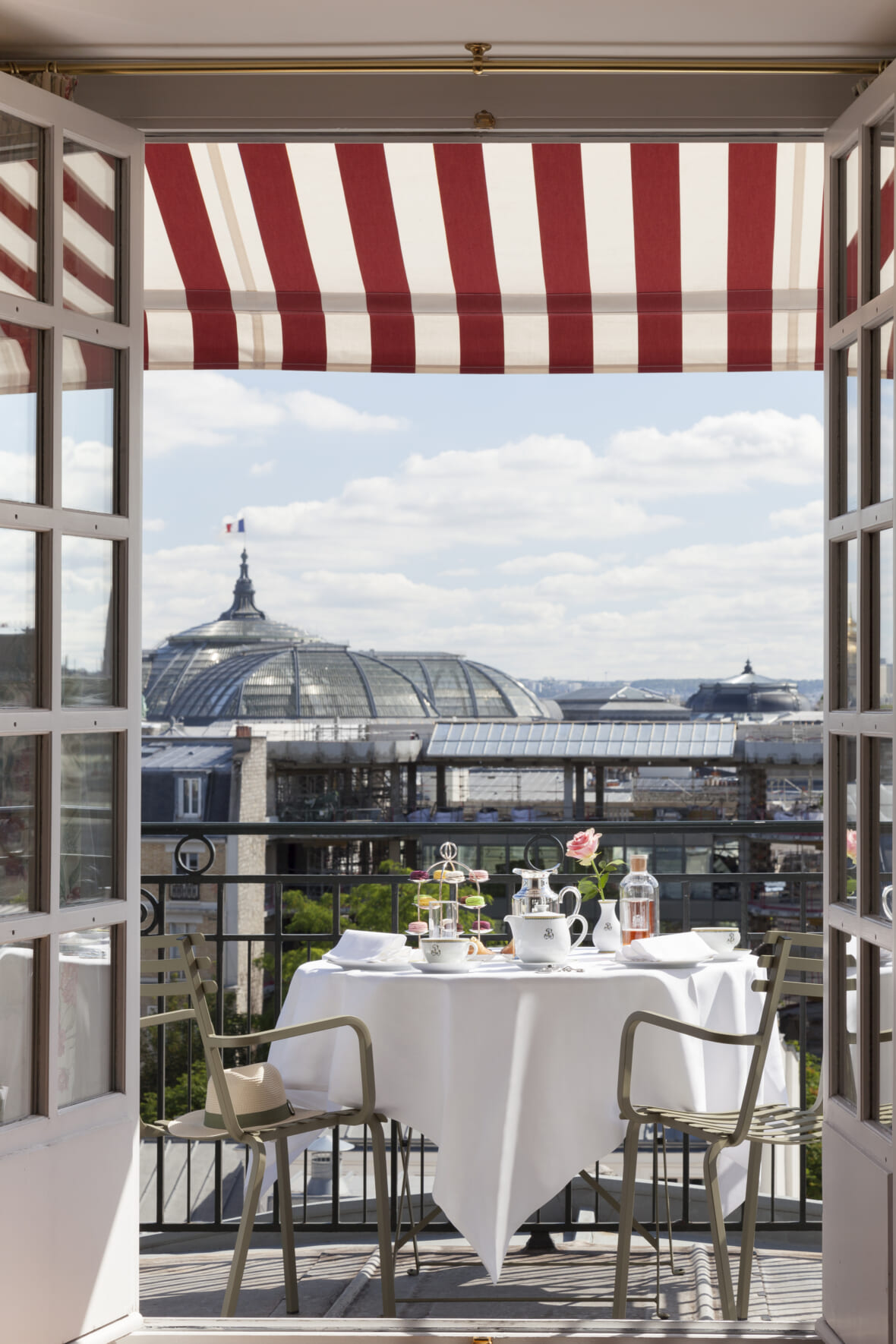 In 2011, Le Bristol Paris debuted a totally refurbished spa and two new suites with interiors decorated by the Oetker family, who designed all of the hotel's spaces. "Since its opening in 1925, Le Bristol Paris has given luxury a new definition: excellence by way of outstanding service," notes Luca Allegri, the hotel's President-Managing Director. "Travelers from around the world come here to experience authentic Parisian elegance because the Palace
is synonymous with French art de vivre."
"From the moment they cross the threshold, it is up to us to anticipate what has brought each guest, couple or family to the hotel," adds Assistant Head of Rooms Division Laure Pichon. "To ensure that they feel immediately welcomed. To assist them and make sure their every need is met….
At Le Bristol Paris, check-in and check-out are not a mere transaction. We are the first to respond to our clients' requests, the first smile of their stay and the attentive presence that opens the doors to their Parisian home."
Tucked away off Le Bristol's decorous lobby is a much more modern boîte: Le Bar du Bristol, "offering a relaxing end to an afternoon or an intimate haunt for glamorous Parisian nights." The space is a blend of the historic and contemporary: "Oak parquet de Versailles floors echo pine panelling [while] winter fires burn in the Sienna marble fireplace, and cosy leopard-print banquettes and bespoke zebra print stools harmonize playfully."
On the walls you'll find a "cabinet of curiosities where shelves, designed like jewel boxes, reveal a private collection of rare spirits, vintage books, botanical prints, seashells and contemporary sculptures"; while above the wood and gold-granite bar, a monumental mirror transforms into a screen each night to display the videos of cutting-edge contemporary artists.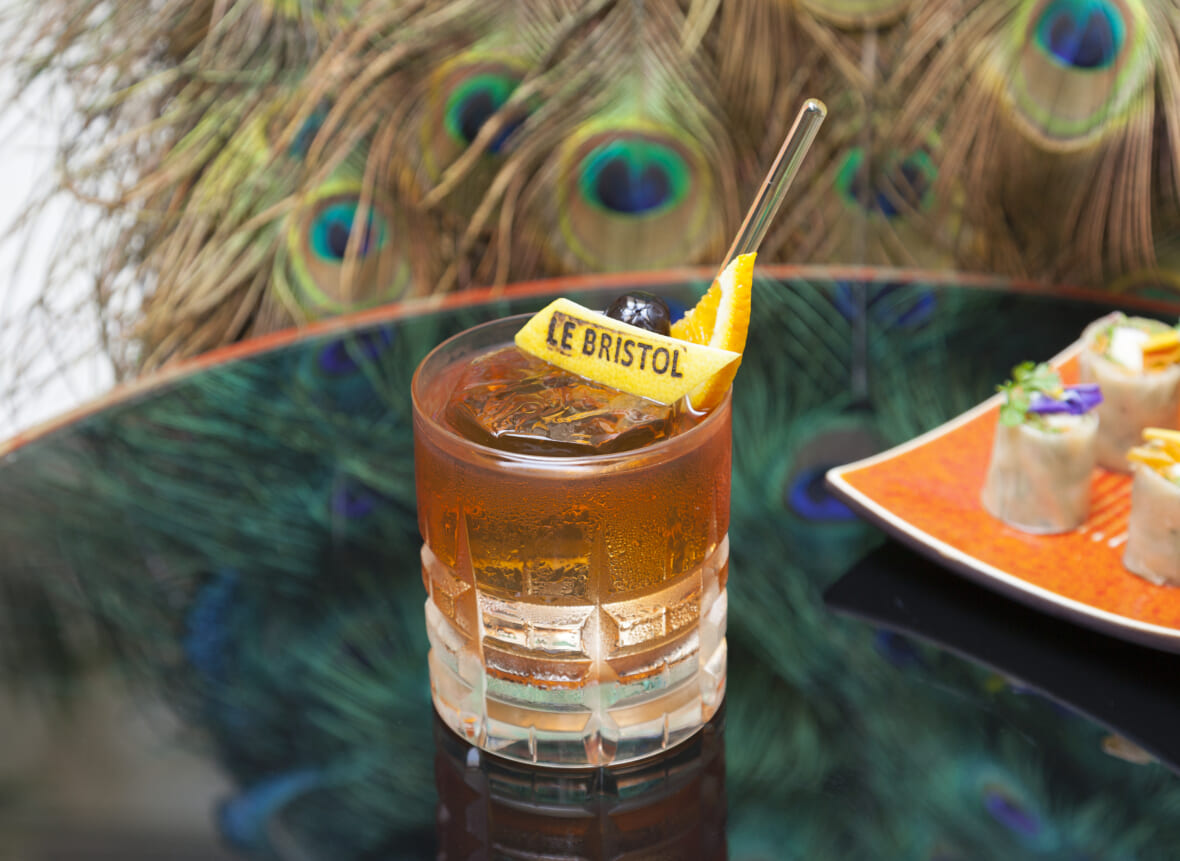 Every evening from Tuesday to Saturday, Le Bar du Bristol transforms into Le Bristol After Dark, a "musical stage with live DJs mixing electro sounds and vintage atmospheres based on a 'sound colour' designed exclusively for the space. During the course of the evening, "luxuriant silk curtains close imperceptibly, enveloping night owls in lavish comfort."
"To reinvent itself, to dare to create and advance our era, those are the essential things in the life of a Palace, even an historic one. That's what we're doing at Le Bar du Bristol," says Bar Manager Thierry Hernandez. "Changing the rules, surprising our guests, bringing a subversive, provocative and offbeat touch to spice up the most refined evenings."
With that notable departure, design-wise, there is a continuity across the hotel's spaces that "plays with soft color, simple lines, refined Louis XVI inspired style and sober décor…. Making elegant use of the look of luxury from past and present, vintage porcelain lamps are mixed with sleek brass reading lights and oak bookshelves in a contemporary design sit side-by-side with rosewood armchairs and tables."
Each of Le Bristol Paris' 190 rooms and suites are unique, from the cozy junior suites all the way up to the 3,445-sq.-ft. Imperial Suite, where movie stars, foreign dignitaries and supermodels hang their hats. With views over the hotel's central courtyard, it features two bedrooms, a living room and a dining room with parquet de Versailles wood floors, and can accommodate up to 12 guests "without losing any of its cosy intimacy."
In 2020 a property-wide renovation was completed, "updating the rooms without stifling their essence" and introducing "refreshing touches that respect the Palace's history. The cosy-chic new look revives the spaces with a soft harmony of color, a gentle balance of shape and a restrained modernity that ensures the comfort and wellbeing of each guest. "Above all, the new rooms and suites offer the most rare and precious of luxuries that only a Palace can: the feeling of being at home."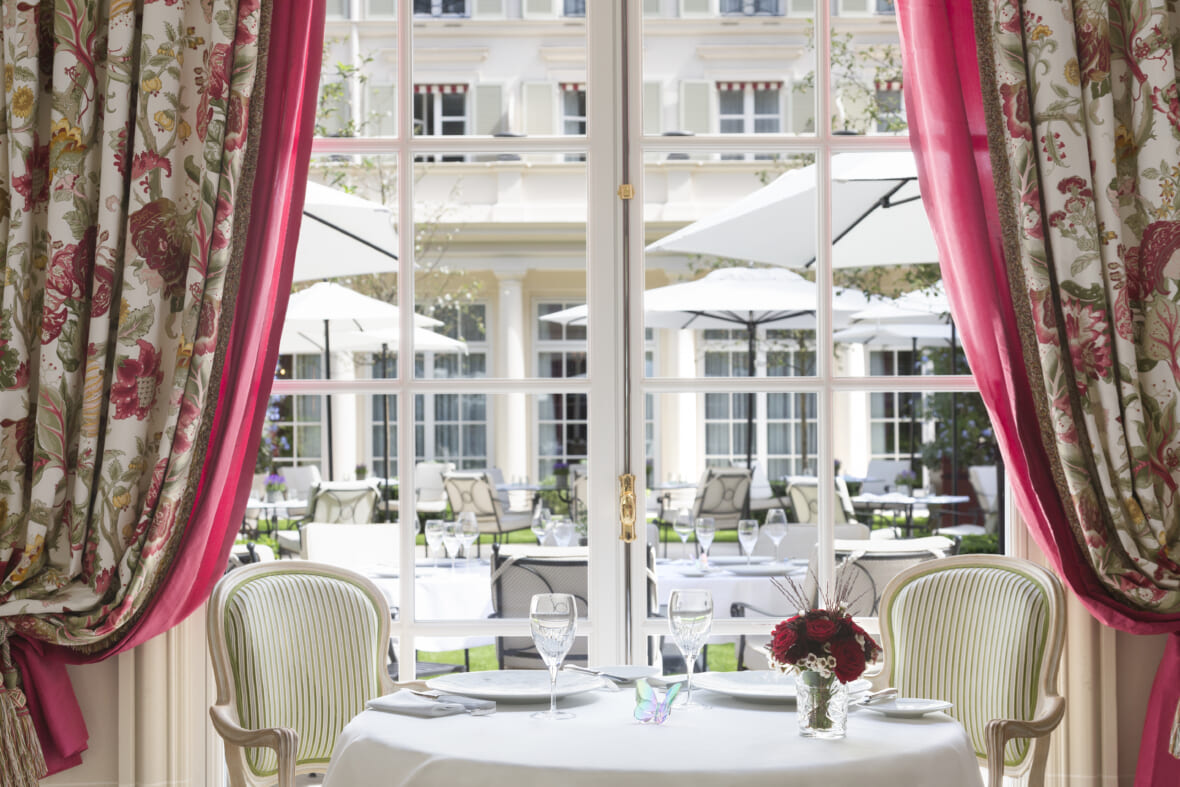 And continuing to ensure the Palace designation is maintained, across the hotel, "there are 120 housekeepers, maintenance persons, valets and florists who work diligently to ensure the highest level of comfort. "They also offer a flawless welcome to new guests," notes Aurélie Martin, Head of Rooms Division. "Their discrete yet warm and attentive presence embodies the family spirit that is unique to Le Bristol. Here, no one is ever just a room number!"